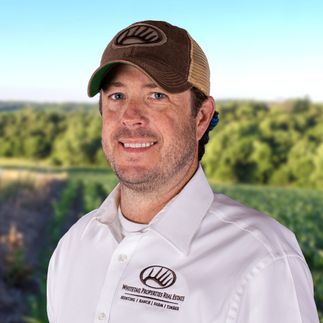 Billy O'Connor
Salesperson, Land Specialist / Licensed in KS, MO
Testimonial Quotes
Billy O'Connor:

What My Clients Are Saying
Billy was very helpful in purchasing my first hunting property. I looked for over 4 years prior to using Billy O'Connor with Whitetail properties. Within 2 months, Billy located several properties that fit my needs. He and I walked all of them together and we compared the positives and the negatives of each. He is extremely knowledgeable regarding the habits of the local wildlife, the native habitat, and he understood that I did not want to just settle and buy something that wasn't perfect for me and my family. I ended up purchasing an excellent farm that was exactly what I was looking for. His no pressure approach, professionalism, and knowledge made purchasing my dream property a breeze. On top if that, he was able to get me a great deal on the two feeders that I needed! I strongly recommend using Billy O'Connor with Whitetail Properties.

Our experience with Billy OConnor was wonderful. He sold our home very professionally and was a super guy. I would refer him to anyone needing to sell home or land in the future.

We chose Whitetail Properties to sell our award winning Rockin Z Ranch because of their great national exposure and multi-media approach to broad base marketing. It was an immediate success! From the initial meeting to final closing in just 37 days. Professional performance with a personal touch.

Being out-of-state we were not sure what to expect when we decided to list our property. I cannot imagine a better experience or working with a better agent than Billy. He communicated with us on a daily basis and walked us through every step from listing through closing.

Billy was great to work with and I couldn't be more satisfied! I had a few trees that were covering my road at the end of the summer, he said he was going to clean it up a little to help with the access to the west end of the property. Billy must have spent 6 hours cutting and clearing the road in 95 degree heat and didn't ask for anything in return. Best experience as a buyer or seller you could have.

Billy and Whitetail Properties

Just wanted to thank you Billy for helping Chris and I. We truly appreciate the time you took to walk us through the process step by step.

We are first time buyers with a lot of questions and concerns. You always made us feel at ease, especially with the 1,001 questions we had…. Please forward this message onto Whitetail Properties..

Again Thank You Billy

Billy was fantastic to work with for a number of reasons: 1) He was always on time, 2) He agreed to meet us multiple times on a Saturday because that was the best time for us, 3) After we looked at the land once, we ended up wanting to look at it again several more times. Billy never once complained. In fact, he loaded up his 4 wheeler so that we didn't have to walk the entire acreage. 5) Whatever questions we had were answered in a timely manner. 6) His communication skills were top-notch. He encouraged us to contact him anytime via cell, or email. 7) Lastly, Billy is just a super nice guy and easy to converse with. He is extremely knowledgeable about real estate, and I would recommend Billy and your agency to anyone. Job very well done!!

Billy went above and beyond to help us with the land purchase....He walked us through the process step by step. We will be passing Billy's name on.

Christopher and Shayla Brown Properties, L

Billy did an amazing job selling our property. He helped us sell our property at nearly our asking price within 2 weeks of listing the property. He was very helpful and answered all of our questions in a timely manner. He guided us and helped us sell our property very quickly. I would highly recommend Billy.

Billy was top notch, worked hard, accessible, communicated well and has a great demeanor. I will recommend him without reservation.

Billy was and is awesome. Tried to answer all questions in a timely manner and always responded to my texts and calls.

We enjoyed working with Billy. He was patient, knowledgeable, responsive, and fun to work with. He attended to all the appropriate details. Would highly recommend him.

Billy is Awesome!! Great guy and very honest.

One of the most pleasant and easiest real estate transactions I've ever been through. Billy made it easy and fun.

Billy did a great job and made adjustments to his schedule to accommodate mine. Thanks!

Billy is a great guy to work with!

Billy is definitely a trustworthy person who helps bring honesty and integrity back into the real estate agent world. If I would have known of him before hand I would not have wasted time trying to sell the place myself. Thanks so Much!

Billy is a top notch agent! Thank you for a great sale experience. Very professional.

I contacted Billy over a year ago to look at a property. Although it wasn't what I wanted, Billy kept looking for me and sent me information when a property came up I might like. He was always helpful and patient, and looked for the specific things I wanted. Anytime I wasn't interested he encouraged me that we will find the right property.

Billy was thorough, professional, patient, etc. through the process. He did a tremendous job keeping us informed and recommending things to do to enhance our opportunities to sell.

Very nice agent. Felt comfortable with Billy.

Very good. The property sold in 2 days.

Great, Billy worked extremely hard to ensure he got me on properties. He has been the best agent I've worked with yet. Great dude!




Billy was awesome. Very knowledgeable and helpful at all times. He made the process very easy for me to do.



Contact Agent
Thank you
We'll have an agent contact you shortly.
Contact Agent
Thank you
We'll have an agent contact you shortly.