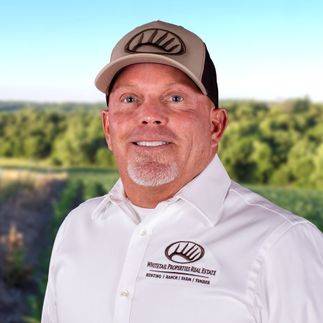 Brian Whitt
Associate Broker, Land Specialist / Licensed in OH
Brian Whitt Land Specialist Team
Testimonial Quotes
Brian Whitt:

What My Clients Are Saying
Brian did a good job explaining property to us and how to QDM it. He was very helpful and knowledgable about the property.

Brian was wonderful and I couldn't have asked for a better agent. I am very very satisfied overall and would recommend your agents for any Real Estate need. Thank you so so much for your service.

I have dealt with numerous real estate agents as a result of a commercial rental business I used to own. Mr Whitt was extremely helpful and knowledgeable and made the entire process seamless. Your company should feel honored to have Mr Whitt as part of your team. Mr Whitt is an asset and outstanding salesman for your company.

Brian was very knowledgeable and made it a smooth process from start to finish. Would highly recommend Brian Whitt and Whitetail Properties.

Another excellent transaction by Brian Whitt and the team at Whitetail Properties LLC.

It was a pleasure dealing with Brian. Thank you!

I just want to say how much I enjoyed working with Whitetail Properties and Brian Whitt on my recent land purchase. Brian went above and beyond to help with everything from the negotiations to marking the property lines. I strongly recommend Whitetail Properties. Sincerely

This is just a line to say thanks for all the thought, effort and good advice we received from your good house… Brian Whitt is a stellar gentleman that put great effort in finding us just the right property to suit all our requirements. He guided us every step along the way and if I ever decide to buy more land or sell this property, you can bet I will call on your expertise again. Best regards,

I'm not too far away from the one year ownership of my farm. It is a process that took many years on my own. I did have a realtor at one point but soon realized that was not going to work so I continued on my own until I was interested in a Whitetail Properties property. Shortly after, I began talking with Brian Whitt. I had recently lost my leased farm for hunting and he understood my need to find a place. But, it had to be the perfect property. We would talk regularly as I continued to find properties I was interested in and he quickly understood what I was looking for in a property. Brian took me to many properties to walk. He did convince me to walk a property that I was unsure of because of the layout. He was right, it was what I was looking for in a farm. There are several things that stand out to me looking back at the process. I changed drive time and size on him several times. He changed his focus as mine did. I expressed my frustration with the lack of a place to hunt for the up coming season because of the lost lease. I was in the process of introducing both my boys to hunting when it happened. He offered to let them hunt his personal property if we did not find one in time. Finally, we still speak and discuss ways to improve the property. He shares my excitement in developing the farm to its full potential. I have planted fruit trees and soon I hope to plant crops. He has offered to visit the farm and help me find trails and the wild life. I have been sharing with him trail cam pictures. I have images of deer, turkey, squirrels, fox, possum, raccoon, coyote and bobcat. Thank you for your time.

I want to thank Brian Whitt for his wonderful work when selling my property. He is a very professional salesman and I would recommend Brian for any Real Estate needs. Thank you Brian.

Great experience! Brian is top notch. I will definitely recommend Brian and Whitetail Properties.

We would really like to thank Brian Whitt of Whitetail Properties for being professional and personable. Brian put our property out there for people to see and sold it in a short time. He has also been very patient with us not being to tech savvy. Brian has become more like a friend than a business associate. If you are thinking of selling your property then Brian Whitt and Whitetail Properties is the company to call.

Thank you,

I purchased a 20 acre parcel adjacent to the family farm. It's a wooded creek bottom that connects the hardwood ridges to the south to the corn/soybean fields to north. Its a key travel corridor for deer and turkey entering/exiting the corn/soybean fields. I've wanted to buy this parcel for a long time. Brian helped make that possible.

I wanted to take a moment to reach out and express my appreciation for you, your company, and to specifically address Mr. Brian Whitt's customer service. As you are aware, any land sale requires lots of paperwork, finance administration, and communication to ensure a timely and efficient closing, all of which must be done without error or that, somewhat brief timeframe, will not work. Brian's open communication, willingness to take calls at any time to answer questions, and all his sacrifice's during this process made my closing a reality. Please understand, I am an out-of-state active duty military guy...I'm enlisted, not an officer, and have a family to provide for. I don't make a ton of money. But I love hunting the Midwest and it is my dream to one day own a larger farm somewhere in this country to hunt deer and call my home. The old adage "you gotta start somewhere" truly applies in the land market, and without Brian's sacrifice and your companies' assistance, my start would've been a loss of both time and effort. You've helped me start a life legacy that I plan on passing to my son, one deer season at a time. Thank you. Sincerely,

I can tell you first hand that Brian Whitt is hard working, honest and does things by the book. It is also reassuring that he is a hard core bow hunter and understands what we as hunters desire in a property. I purchased a property last year and I wasn't 100 percent sold on the property in terms of what I may see on camera or in the field. Another Great point that both the seller and I (the buyer) are now friends, and are both happy with the financial outcome of me purchasing the property. Brian also secured a "right of way" which has become very important to my approach routes and games recovery. Brian is very up front and will answer all your questions truthfully.

Just a note about the great experience I have had with Whitetail Properties, specifically Brian Whitt. Brian turned me onto an affordable first timer buyers property which hopefully will produce great results. When or If I have a property need in Southeast Ohio, Brian will be my first contact. Thanks Brian!

The process of working from start to finish with Brian of Whitetail Properties was a smooth process, everything was explained and shown perfectly. Brian kept in contact with me the whole time and did much more than expected. He knows these properties through and through and you can guarantee the time was spent when Whitetail Properties picked these tracts up, they all have great attributes in every tract. I will definitely be working with Brian and the Whitetail team in the future.


Thank you for all your help in making a tough sell easier for me. I would highly recommend Brian Whitt and Whitetail
Properties to anyone selling or buying recreational property. Thanks again for your patience and hard work.


Brian did an amazing job finding the property my wife and I were looking for. He always return our phone calls in a timely manner.

I wanted to thank Brian Whitt of Whitetail Properties for the absolute wonderful job he did when I called and he listed my property after a horrific experience with another realty company that lists recreational properties. He brought a buyer back in that had tried to go through the previous listing agent and successfully put a deal together. I would highly recommend Brian as he is honest and very dedicated to showing both seller and buyer respect. The staff at Whitetail Properties was always friendly and willing to answer any questions or concerns. Thanks to Sara Martin as well. I couldn't have sold my property without your willingness to listen and your generosity. I highly recommend Whitetail Properties! You won't be disappointed.

Our agent, Brian Whitt, was awesome, he totally went above and beyond for us and we appreciated his efforts.

Brian has gone out of his way to present my property in Southern Ohio as a prime piece of hunting property. He covered every positive aspect of my property with both creative verbiage and outstanding photographic presentation. In my case, the property sold much faster than even I had hoped for. Brian was very positive about how things were going and what potential buyers were saying about the location and other aspects. As a client of Whitetail Properties I feel that Brian sets the standard by which all other agents should be judged. Truly an outstanding agent and man.

Thank You,

My agent was outstanding in every way. Brian sets the standard for what other agents should aspire to become.

Brian went above and beyond to make this purchase happen for us even when he had easier options. He stayed in and worked hard to provide the best possible situation for us the purchaser and also the buyers. He has answered every call (I'm sure I made a lot of them lol) and helped us every step of the way. He also managed to keep me from having many breakdowns through all of this, which, by the way, he should get a metal for haha. Keep ahold of that one; he earns every penny.

Brian knew the property well and walked all over it with me. He knew the trees, the bordering properties, and the history of the area. He was fantastic. Thank you

Everything was conducted in a professional and timely manner

We would like to thank Brian Whitt and Whitetail Properties for working with us on the sale of our home. Brian and his associates worked really hard and got our home out there for people to see. They done an awesome job and we made new friends. Brian is very knowledgeable about what he does and he has the personality to go with it. If you have a home or land you want to sell give Brian a call he's the man. Thank you

Just wanted to thank Brian Whitt from Whitetail Properties for helping achieve one of my life goals. I purchased a property from him last year and it has changed my life. I did harvest this buck this year on my new property, and it was a very rewarding day. I spent over 250 hours in a deer stand this year from Manitoba to Ohio, (looking for that trophy animal) and to end my season on a remote ridge on my own land is just incredible. Though this buck is not my biggest, he is one one of the most memorable. I spend hours at my property, walking, setting up stands, and hopefully soon, preparing food plots. I cant wait to see what this tiny little piece of Scioto County turns into. This property has so much potential, I was skeptical at first, but Brian is a hunter, and he explained the advantages and disadvantages of this property. I learn something new about deer and the property every time I visit. My only regret is that I didn't purchase sooner in life. I've included some assorted pics from throughout the year. The anticipation from checking cameras on your own land is incredible. Knowing that I have the ability and rights to protect and nurture these animals is a great feeling.
If its a life dream to own property, do not wait, find a way, do what you have to do, sell the Harley, give up the unnecessary expenditures in your life, get a part time job, make the kids get a job, lol. ... You only live once...Thanks again Brian Whitt.

Knowing the property was 3 hours away Brian walked the property for me before I made the drive. Most agents wouldn't do that but it was a good buy. Knowledgeable on area, timber, builders, etc. Will work with Brian on future properties.

I wanted to take a moment and tell you about my experience with Brian. I bought a piece of property in southern Ohio and it was a true pleasure working with Brian. There were a few issues that I needed resolved and he was professional honest and very timely in dealing with the issues between the seller and I. He is very knowledgeable and a joy to be around. He walked the property with my two sons and my wife and I and it was like we had known him for years. You have a really good guy in Brian and I just wanted to drop a note to provide my feedback to you. Have a great day and a prosperous 2018. Sincerely,

It was a pleasant experience working with Brian Whitt in the sale of my property in Gallia county, OH. Everything went smoothly, Brian seemed knowledgeable, and very helpful. It also went smoothly working with the Title Company. Thank you, and will consider Whitetail Properties for future transactions.

I would like to take the opportunity to thank Whitetail Properties for helping make our dream of owning land a reality. I contacted Brian Whitt on a Saturday and he called me back a very short time later. After speaking with him I felt very comfortable and I could tell by talking to him that he was a straight shooter and he was the person to work with. Brian showed me the property I purchased on short notice. He was very knowledgeable, answered my many questions, and made the process very easy. I also want to thank Sara Martin who was also very accessible and knowledgeable on the process and was very pleasant and prompt on every step of the way. My experience with Whitetail Properties, particularly Brian and Sara was outstanding. Thank you for all your help. Regards,

I just wanted to let Whitetail Properties know what a good experience we had purchasing our land with Brian Whitt. He really took care of everything and it was all seamless!! I would highly recommend him to anyone looking for property.
Thanks again,


My agent, despite challenges presented by the seller, worked in a professional and honest manner. He made sure that our satisfaction came first and that we were treated as family not just a transaction!

I wanted to take a few minutes and thank Whitetail Properties, and specifically Brian Whitt. When making the choice to spend hundreds of thousand of dollars on an investment for your family and loved ones, it can be stressful, and there's nothing worse than a realtor that doesn't listen, constantly tries to talk you into buying outside your budget, isn't punctual, isn't honest, or isn't attentive when together. Brian was the exact opposite of these examples... Throughout the entire process of looking at properties, negotiating our transaction, and closing our transaction, Brian was always upfront, honest, and punctual, as well as demonstrating many other attributes throughout our experience. For business owners of five companies, parents of four children, and living about three hours from our property of choice, these things are critical for a smooth and pleasing experience. So smooth in fact, we were even able to get engaged at our new property on the day of closing.We highly and proudly recommend Brian for anyone looking to make a purchase on there own little piece of paradise. Sincerely, Greg and Betsy (future) Hayes

We checked with others companies before choosing Whitetail Properties to sell our farm. We chose Whitetail Properties because Brian had a better understanding of the value of our farm. Ultimately, that understanding allowed Brian to sell our farm for us in about a week for much more than his competitor would even list it for. He brought qualified buyers to the table quickly, allowing us to move our property at ease at a top price. I would highly recommend using Whitetail Properties to get the best value when selling your property.

I just want to say a few things about my experience buying property from Whitetail Properties. I am 63 years old and this was my very first property transaction. Working with Brian Whitt was very enjoyable. He was very knowledgeable about the property and the surrounding properties. He truly is a professional and very comfortable to work with. We had many questions for Brian and he answered them in a timely fashion. I knew nothing about all the paperwork that is involved today when it come to purchasing a property and Brian Whitt and Sara Martin were very helpful.

Thanks again, Lou PS: Now the FUN begins....Can't wait to get started

I am writing to express how happy I am with my recent purchase of 118 acres in Vinton county through Whitetail Properties Brian Whitt. Brian was extremely responsive and very knowledgeable. I closed on Wednesday (2/28) and he is going to meet me this weekend to ensure I am comfortable with the property boundaries. I can't tell you how much I appreciate him going the extra mile. Spending this type of money is a once in a lifetime event for me. He made me comfortable by helping me understand all of nuances that go into selecting land and the purchase itself. Regards,

Property was listed on a Thursday evening. I called Brian on Friday morning and met him at the site about 1:00. Made the offer on my 3 hour ride back home and had a text later that night that my offer was accepted. Nice job by all.


Sarah I just wanted to thank you and Brian for being so kind to me and helping me. Brian was a great realtor and I appreciate it very much. You guys were great.

Super easy and fast, great real estate transaction, support staff (Sara Martin) also made the transaction go smoothly, Thanks, Brian

I just wanted to tell you how very happy I was with my my real estate agent Brian he was very kind he helped me in every way and so did the title people. Thanks again

We had an awesome experience with Brian, he work hard to sell our property. He's great to work with. Thank you so much

I would like to tell you about my recent experiences while listing our property. A neighbor had sold a larger parcel through Brian Whitt, and he highly recommended I contact him regarding our property.
We only owned a small 3.09 acre place with an older mobile home on it. We felt like Brian was as interested in this small sale the same as he was on the larger sale. We had terrific response and was able to close just below asking price by $500. This came at a critical time for us and was expedited very quickly. I will definitely contact Brian for future transactions whether selling or buying property. Thanks to you Sarah and Brian! Respectfully,

Sara,(Brian's assistant) just wanted to tell how much I appreciate Brian, you and your company and what you have done to make our dream as land owners come true. Brian's knowledge of the woods and QDMA has set myself and my family up with what I think will be the most amazing hunting we can possibly have. He wasn't afraid to walk around on a very cold Feb day and show us what would become our land. He even taught this old deer hunter a thing or two on the way. I can't say enough about our experience with him and Whitetail Properties. Thank you very much


I just wanted to drop a note to Sara and Brian letting you know how much your efforts were appreciated in helping us acquire the property in Wellston, OH. It has been a pleasure working with you and Brian, two people in my opinion that are a very professional class act! Thanks so much.

I learned a lot from just walking the property with Brian. He is truly a Whitetail Specialist!


I would like to personally thank Whitetail Properties and Brian Whitt for selling one of my 200 acre investment farms. Brian is a passionate knowledgeable agent with a thorough understanding of connecting buyers and sellers. Brian stayed focused and consistently sought the right individual for this piece. If you are looking for land to buy or sell-consider Whitetail Properties and Brian Whitt-great company with great people. Thanks

Brian was very helpful before and still is after the sell. Great to deal with.

I just wanted to tell you my experience was great. Brian Whitt was so very good. He walked us around the property and showed us the boundary lines, and he gave me this app that helps me know where the boundaries are in the future if I need it later down the road. He also gave us some good info. Where to look at places for building a cabin and an excavator person. He told me if I had any question about anything to just let him know. He is a great guy. Sara and all the people that did the paper work, thank you all so much for working with me. That was our first time doing it electronically and I guess I'm old school. Thanks again, I hope down the road we can buy again near this property.


Brian was wonderful to work with; he had my best interests at heart and always kept me informed with the process. Brian went above and beyond and even helped us with the price by taking some out of his commission. He was a wonderful agent and would definitely recommend him!

My experience with Whitetail Properties and Brian was a prefect buying experience. Brian is very helpfully in describing the properties in great detail and works hard to find the perfect property that suits your needs. He can answer just about any questions you might have towards the properties and the purchasing process. My experience couldn't have better.

Thank you at Whitetail Properties for getting us connected with the property seller and a successful purchase. Brian connected all the dots and crossed the T's as well. Great job you guys! Gratefully yours,

Everything worked great, super experience!

My experience with Brian Whitt has been nothing short of extraordinary. Prior to contacting Brian I had reached out to several over companies, and what made Brian different from everyone else was his attitude and drive towards customer service. While I could not get anyone else to meet and talk with me to answer questions, Brian went above and beyond by meeting up with me, walking a piece of property with me and answer all questions I had. Once we had found the piece of land we decided to purchase both Brian and Sara Martin were there for me every step of the way. I would recommend Whitetail Properties, specifically Brian to anybody looking for land.

Very prompt, knowledgeable and professional interaction with Brian and Sarah.

He answered all our questions and concerns. He was very nice.

I would like to thank you and Brian for seamless ease in purchasing and selling recreational property. It has been my pleasure working with Whitetail Properties to realize a dream of mine in owning my own hunting property. Unfortunately, due to a new employment opportunity, I found I was unable to continue to own the property. Selling the property through Brian and Sara was as easy as purchasing it; if I ever do get a chance of owning my own recreational property you guys will be my first call!
Sincerely,

My experience with you guys and Brian has been great! Looking forward to years of fun on our new property. Thanks again

After a year of trying to sell the property myself, I started searching for someone to take care of it. After talking with some of the higher profile brokers I felt Brian and Whitetail Properties were by far the most energetic. My feeling turned out to be valid as Brian had many hits and a buyer within a month. Between him and Sara, my part in the ordeal was very simple. I was highly impressed with the whole experience and will recommend Whitetail Properties to anyone I meet. Thank you for all your work.

Working with Brian and Sara made our property sell within a couple weeks with no problems or issues. Very easy to deal with and a lot easier than trying to sell myself. Everything went thru without a glitch and we did very little on our end. Thanks,

I would like to thank Brian Whitt and Sara Martin for their efforts in making buying property a positive experience. Contacting them was a breeze. If I left a message, I got a call back quickly. They did not pressure me into making decisions or bend the truth to sway my opinions. I received professional guidance throughout the process and was able to secure property that our family will enjoy for years to come! Thanks again for all that you did for us! Max Norris and Family

Thank you Brian Whitt of Whitetail Properties and the complete thoroughness of the purchase of hunting land in Ohio from start to finish. He always answered or returned my calls promptly and found answers for me. I was impressed with his knowledge and cordial presentation. I would recommend him and Whitetail Properties team to anyone with land and hunting needs. Great experience for me. Thanks

I enjoyed working with Brian and Sara throughout the entire process of finding the right piece of property. Brian is very knowledgeable and worked hard to find the answers to all of my questions and concerns and made sure they were resolved to my satisfaction. All through the process, I felt Brian kept my interest top priority. Sincerely,

I enjoyed working with Brian. Very knowledgeable and found answers to all of my questions/concerns about the property.

My wife and I purchased 60 acres from Brian in southern Ohio. Being first time homesteaders, the prospect was daunting to say the least. Brian's knowledge about all things connected to rural properties was comforting and calming. He listened and presented the properties he felt would be suit what we were looking for. He is personable and efficient. For me though the most important factor was rapport and trust of my new agent. We both grew up in smaller farm communities not far from each other, but had he not treated me as a person, I would never have known that. I have had other agents during three other home purchases and Brian is by far head and shoulders above them all combined. Maybe it was the slick and impersonal way my prior purchases were handled. My trust is coming into play again, as my wife and I are selling property now and Brian is the only agent we would consider. I won't trust my future to anyone else, I feel he is not just my agent, but a friend also. I recommend Brian to anyone seriously considering property in southern Ohio.

Recently we purchased a property in the Hocking Hills and worked with Brian Whitt as the Seller's Agent. Brian was very prompt and attentive to our inquiries and really took the time to help us get all questions and issues resolved. Brian was professional and helped tremendously to see that the experience had a positive outcome and we are very pleased with our new property. We would highly recommend working with Brian.

Just want to thank the whole Whitetail Properties team on helping me achieve my lifelong dream of owning my own property to hunt on. Brian Whitt actually recommended a property to me that I didn't know about at first. After looking at the property that I first called about and finding out that it was not the property that I wanted, I went and looked at the property that Brian told me about. Once on the property, I could tell that it had great hunting potential and could be the one that I have been looking for. After thinking about it for a few days I contacted Brian with a few questions and concerns about the property. When he answered my questions, I cold tell he knew the area well and was confident that it was a great hunting area. I never felt pressure from Brian to make an offer, but I knew I was interested. Brian even worked on a holiday weekend, when I was out of town and hard to reach, to get a purchase agreement. Once we had an agreement, everyone that I dealt with from Whitetail Properties was very helpful in the closing process. Overall it was the easiest closing on a property that I have ever gone through. After talking to Brian several times, I realized that he has the same passion for the outdoors that I have. I now have a property to hunt on that I dreamed about for too many years. After doing a little work on the property and setting up trail cameras, I see that Brian was right about the property. Now the fun begins for me on "My" property and not enough people know how great it is to say that. Brian was great along with everyone else. Overall a great transaction and excited to have my own hunting land. Again thanks to Whitetail Properties, I am a very satisfied customer and know who to contact or recommend in the future.

I want to say thanks to Brian Whitt from Whitetail Properties. He is "Top Drawer", he used his extensive property and hunting knowledge to find me exactly what I was looking for at a price I could afford. How could you ever ask for a better agent than that. Thanks Brian, Roy Guidry

Brian was great! He took time to hike 40 acres with me to help find boundaries, and it was tough terrain at times but we did it. We were there several hours hiking and he was knowledgeable about the property. I would recommend him to anybody looking to buy real estate. Thanks Brian, Sincerely

Brian was great to work with. Never met him in person but he contacted me regularly on progress or offers. Let me know what to do to property to make more saleable. Great guy to work with. Thanks

I want to thank Sara & Brian for working so hard on selling our property. You both did a phenomenal job!! We appreciate the help. Warm regards,

I wanted to thank both Brian and Sara for all your assistance with my purchase. From the first contact with Brian Whitt on several properties that I was interested in, Brian took the time to truly understand what I was looking for and why. When I traveled to Ohio from Las Vegas, Brian had multiple properties lined up for me to look at. I will say that all in all, what Brian had lined up for me made it extremely difficult for me to decide. They all were great choices. I finally chose the property in Jackson County and we went from there. I know if the opportunity presents itself I will contact Brian Whitt and Whitetail Properties with any future land purchases, as well as recommending others. Thank you Brian. Thank you Sara. Sincerely,

Great experience overall other than closing through the mail had a hiccup. Brian did a great job getting the buyer to where I wanted to be on the price. The part I liked about the deal was the boots on the ground, giving me the opportunity to schedule getting away to look at the property before someone else put a contract on it. Will definitely work with Brian in the future.

Thank you for working with us through our ups and downs. My experience was truly a blessing.You kept your word Brian and I thank you.You did what you said you would do. I would recommend you and the company Whitetail Properties to anyone looking for a dependable Realtor. Thank you Sara for you work too. God Bless,

I want to thank y'all for the sale of my property in Jackson County. Y'all did a great job and I would and will recommend y'all. Thank you

Brian was working with us through thick and thin. He promised to help find us a place in southern Ohio. Promise kept. Thank you Brian!

Brian was a good communicator and was prompt to getting back to me. He was Pro-Active with me, we walked most of the property together and he was very welcoming and knowledgeable.

Whitetail Properties did an awesome job in helping me find my small piece of heaven. Brian was excellent in communication and helping me through the steps along the way. Hope to do business again someday in the future!

Recently, I had the pleasure of working with Brian Whitt and his team at Whitetail Properties to purchase a track of land specifically for deer hunting in Jackson County Ohio. I found Brian to be extremely knowledgeable, professional and very helpful in assisting me throughout my purchase. Brian's enthusiasm and knowledge of whitetail hunting is tremendous and it helped make my overall purchase experience very enjoyable. I would highly recommend Brian's service and Whitetail Properties to anyone looking to purchase high quality hunting properties.

Brian Whitt and Sara Martin (Broker Assistant) were both wonderful to work with. I had some title issues with the property that prevented an immediate sale of the property; but Brian and Sara diligently and professionally worked with me to resolve the issues with the title. They always promptly informed me of any issues and answered any questions that I had. I wish that all realtors, land specialists, etc. conducted business like they do. I definitely would recommend them to anyone trying to sell (or buy) property.

I just wanted to express my thanks and appreciation to Brian Whitt and Sara Martin for their professionalism and hard work. I had listed some real estate property that I owned in south Webster Ohio for sale with Brian Whitt. There were some problems that came up in the title search; and it took me quite a while to clear up. Brian and Sara were wonderful to work with as they helped me clear these title problems; and Brian was able to still sell the property even though so much time had passed. I would definitely utilize Brian Whitt's and Sara Martin's service again if the need would arise in the future; and I would definitely recommend their services to any prospective purchaser out there! Best Regards,

Brian and Sara, thank you so much for listing our property and a quick sale on this listing. I like your common sense approach with the property we needed to sell and helping us understand who our buyer would be. I was excited to hear from you when you had an offer for us. It was a good offer and happened quicker than I expected. This was the easiest closing I have experienced. Thank you for handling all the necessary requirements for us. It was nice to have good communication as well. Thank you for everything. I know that you will have continued success because buyers and sellers are looking for someone like you and your company. Sincerely,

Sara, to you and Brian Whitt. Great service, professionalism and very fair commission with my sale of 17 acres in Ohio. I have worked with other realtors in this business and hands down you will get my next listing. Best of luck. Thanks,

Hi Sara, I wanted to let you know how very much Rick and I appreciate all your hard work you do for us. You and Brian Whitt are exceptional. Anytime we had a question you both were right there ready to help. Brian is amazing. He always goes the extra mile for us. Words can't express how much we appreciate him and you. You two make a winning team. So from the bottom of our hearts we say thank you for everything.

I just want to say that selling my property with Brian was a great experience. He worked hard to get the job done.

The agent was great and worked hard.

Very professional, easy transaction.

Selling was a great experience. I am active duty military and time was of the essence due to a duty station transfer. I had multiple buyers interested in the property and some were more financially prepared than others. After having a potential buyer fall through, Brian was able to prioritize my other interested buyers based on a closing date that worked with my transfer time frame and still retain the original offer from the previously interested party.

Hello Sara and Brian, I just wanted to thank you both for helping me fulfill my 25 year dream of owning my own hunting property in Ohio. The 37 acres is exactly what I've been looking for and I love it. Brian and yourself were great to work with and I just wanted to thank you both. Thanks,


Sara, just wanted to let you know that we appreciate the expediency and overall ease of how this process flowed. You and Brian were great to work with. The posting on your website looked awesome and I still can't believe how fast the property sold! Thanks again.


Very good experience. Excellent communication skills. Great attitude. Would recommend in a heartbeat.

He done a great job. He showed our property more than any real estate person ever did.

Awesome experience we had with Brian Whitt and his team. When we decided to sell our property I spent some time researching before I picked who we would be working with. I found some reviews regarding Brian and his previous clients who raved about his performance. After speaking with Brian in person I was convinced he was the guy for the job. With his boots on the ground approach he quickly had us an offer with a backup offer in place if the 1st offer did not materialize. The first offer went through and the deal was wrapped up in no time. We want to say thanks to Brian and his team who he gives a lot of credit to. Thank you Whitetail Properties for putting together a group of professionals that work together seamlessly for a job well done. You all will come highly recommended from me and my wife. Kind regards,

Very nice to work with, responds to inquiries quickly.

I purchased 61 acres in Meigs County Ohio and was very impressed with Brian's handling of the sale from start to finish. He went out of his way to answer any questions I had as well as handle any concerns. You got a good guy working for you. I look forward to possibly purchasing another farm through Brian in 2021.

Candice, I would like to take this opportunity to thank you for your assistance with everything. Brian, yourself and the Whitetail Properties Team has been great to work with. My only regret is selling this property so quickly, I will miss it -- but that is what you were hired to do. Now, if I can just find a new place. Please take care and thank you again for being so attentive and responsive. Many thanks,

Candice and Brian, It was great working with you guys on the Coal Bank Hollow property. Your team made for a smooth and easy transaction. Thank you,

Brian was thorough and made the transaction smooth.

We felt blessed to get this property. Brian gave us our space but was there to answer questions along the way. We would definitely recommend him as a Whitetail Properties real estate Agent.

Candice, I would like to give a thanks to you and Brian Whitt for all the work put in to complete the sale of the Coal Bank Hollow property. Brian sold this to me and also sold it for me as you know. My first impression of Brian from the original sale was first class and that is why I asked him to handle the sale as well. I did not have to lift a finger so to speak, you guys handled it all and did it very professionally I might add. Thanks again, look forward to doing more business in the future with you guys. Thank you,
Contact Agent
Thank you
We'll have an agent contact you shortly.
Contact Agent
Thank you
We'll have an agent contact you shortly.