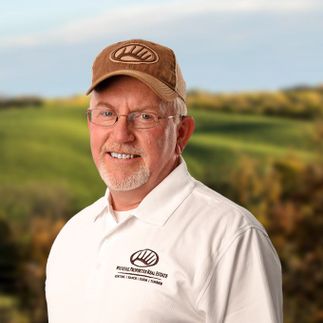 Carl Miller
Sales Associate, Land Specialist / Licensed in KY
Testimonial Quotes
Carl Miller:

What My Clients Are Saying
Mr. Miller is an extremely professional agent, and good man. Even though we entered the buying process unrepresented by our own agent, he gave us the feeling that he was looking out for us every bit as much as the seller, clearly seeking overall satisfaction for all parties. Mr. Miller is a credit to your organization as well as the real estate industry. I now consider him a trusted friend. Because of this I will do my part to steer potential customers to your company and Mr. Miller. We can't say enough about our experience. Thank you

We would like to think Carl Miller with Whitetail Properties for helping our family find a beautiful track of land in Harrison Kentucky. Our experience working with Carl was top notch in that he personally made us feel comfortable and secure. We started searching for land in Kentucky the beginning of September and by the middle of October we were official land owners! Carl was always available to show us properties at anytime and on any given day. He answered our calls and always followed up with any of our questions in a timely manner. He was very knowledgeable with the available properties that Whitetail's has to offer. The two main things we were looking for was a piece of land that the whole family could enjoy and a realtor who was honest, and we got both! We recommend Carl and he will lead us in all of our future land/real estate purchases through Whitetail Properties.

We would like to take this time to thank Carl Miller for all of his time and effort that he took with us in finding land in Kentucky.

Carl was very professional and friendly and spent alot of time helping with every angle of locating and closing the land purchase that we made.

We felt very comfortable with Carl and he always answered all of our questions and returned our calls.

We would recommend Carl highly.

I would like to thank Carl Miller for all of his help in our purchase of the Robertson-Mason property. My wife and I really love the area. I told Carl when we first met that he seemed more like a friend than a realtor. We still feel the same way and hope that if I ever choose to do something like this again, he will be able to assist us. We were really impressed at how well Carl knew and explained the property boundaries. It seemed like he wanted to make sure that we understood every detail about the place. Believe me his presentation was very reassuring. My wife and I felt confident that we were getting what we wanted. Thanks again, Carl is a good guy.

I told Carl shortly after meeting with him and going over the property that he seemed more like a friend that a realtor. He really knew the property well, I was particularly impressed at how well he knew the property boundaries, the surrounding properties and the general geography and nature of the land. I would definitely recommend Carl to anyone and want him back should I choose to purchase another property.

Carl Miler is an excellent agent and a credit to the profession. I look forward to one day working with Carl in the future.


Carl Miller was very professional and thorough.

Very satisfied with this purchase and Carl's efforts.

Carl Miller is awesome, bent over backward for me. Great guy, 1st class professional! I already told him I will use him again in the future!

Carl was great and easy to work with.

Great! Carl met me at the property and the only other thing I had to do was show up at the closing.

Very enjoyable and down to earth.

The privilege to work with Carl was all mine! Carl is very professional, courteous and eager to help in any way. He never left me with an unanswered question, and more importantly, he never gave me a 'non-answer answer'. He was up-front, honest with every answer - that's hard to find anywhere, especially in real estate. In my experience, Carl was representing the Seller, but I felt like he was representing my best interest.
Contact Agent
Thank you
We'll have an agent contact you shortly.
Contact Agent
Thank you
We'll have an agent contact you shortly.