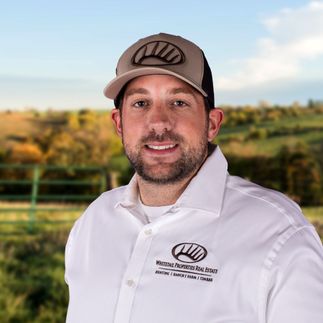 Chris Bennett
Salesperson, Land Specialist / Licensed in AR
Testimonial Quotes
Chris Bennett:

What My Clients Are Saying
No hassle and extremely professional.

Nice, pleasant, very professional


My wife and I were first time property buyers, and Chris, with Whitetail Properties allowed easy and very smooth actions to allow us to purchase our first property! I would recommend any buyer, or land owner looking to sell to get in touch with a Whitetail Properties agent.


Very happy with all and would use again.

You couldn't ask for a better agent! (I wish I had him over here in TN to FIND me a place, because he understands exactly what our needs are). We had a particularly long and drawn out and frustrating closing, due to issues on the buyers end.....but Chris never gave up and, in the end, was our saving grace. I know I worried and pestered him to death, but he was always able to keep me calm and he never lost faith that things would turn out OK. He represented WP with all the attributes that any company would be proud of. As someone that also works on commission, I greatly admired his work ethics, his people skills, his drive and his determination to "get the job done". This boy even kept in contact with us while he was on his honeymoon!! Would I refer him to others.......Daaaannngggg Tootin' - no doubt! God has big plans for you, Chris!!!

Chris went above his duties to see that everything was taken care of professionally, he covered all bases. Really liked Chris

I live in east Tennessee and Chris Bennett took care of everything. I highly recommend him for any real estate transaction.

Chris stayed on top of things and got it done!

Once I talked to Chris, I knew I wanted to list the land with him and Whitetail Properties. Chris went above and beyond his job and was a pleasure to work with.

Chris did a great job, kept everything on track.

I'm not sure I adequately thanked you for your efforts in selling my late father's property. My dad's passing during the property listing along with an irregularity in the original recording of the property certainly complicated the selling process. I was extremely impressed with your patience, professionalism and real-estate knowledge. In spite of the problems associated with the property, you were able to sell the property in a timely manner at a fair price. My recent request, needed for tax purposes, was again provided in a timely and professional manner. Great job Chris! Your work is greatly appreciated ....

That was the only agent that we talked with and he covered everything we had any questions about. He was very easy to work with.

Chris was very helpful and great to work with. He was very responsive and prompt to any questions I had. He was knowledgeable about the property and the adjacent area.

Good communication, Very prompt answering calls and texts.




Chris and I had been talking about myself wanting to purchase my first property. I wanted to start with 40-80 acres and have a chance at a solid return. I was not necessarily concerned on where or what, I just wanted to get that first property purchased. He went to work for me and found this property after getting on the phone and directly calling people to see if they would want to sell. I am pleased with the work he has done and continues to do for me with this property. If you are looking for NE Arkansas land be sure to give Chris a call!
Contact Agent
Contact Agent
Contact Agent
Contact Agent