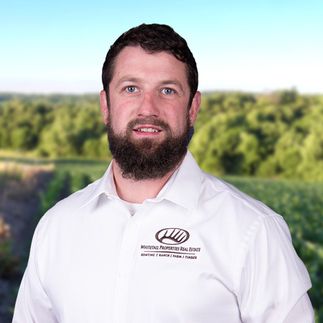 Clint Stout
Salesperson, Land Specialist / Licensed in PA
Testimonial Quotes
Clint Stout:

What My Clients Are Saying
I wanted to let you know how much my wife and I appreciated working with Clint Stout to sell our property in Belmont County, OH. We hired Clint because we knew he would be able to properly feature a hunting property like ours. There were many obstacles presented along the way and Clint's true colors came through as concessions had to be made in order to close the sale. Clint is an honest and trustworthy person who has become a friend for life and we wish him nothing but success at Whitetail Properties and other future endeavors.

Thanks Clint you did a great job! If you ever need a recommendation you can count on me!

EVERYTHING WENT SMOOTH!! THANK YOU!!

Clint did a fantastic job. He kept me well informed throughout every step of the transaction from the beginning until the end.

I located a property that I was interested in viewing and Clint Stout went out of his way to accommodate my schedule. He provided concise directions and met with me when possible. Clint is an excellent representative of Whitetail Properties and I look forward to working with him and the company for a long time.

"Thank you" doesn't begin to cover it. YOU have made my experience in purchasing land through Whitetail Properties an extremely positive one! I've appreciated your communication, your knowledge, suggestions, and "client-centered" demeanor throughout the entire process. As I told you at breakfast on the morning of settlement, I am most grateful that I have gained a "hunter friend" through this process; a friendship that I earnestly would like to continue. Thank you for being so patient with my persistent questions, my knack for details, and presenting yourself as a trustworthy realtor/QDM expert. I'm looking forward to remaining in contact, and I thank you again for providing me with contacts for Jacob and Chris. I'll be spending next week in Nashville, but when I get back, I plan to be back in touch with you. I'm anxious to get started on my management plan. I've also attached a screen shot of the alert I received on my phone today! Words can't express all of my appreciation when I received that message! (Remarkably, today is my son Jaden's 11th birthday and my grandmother's too. Somehow, I think I got the gift)! Stay well, and continued success. You are truly good at what you do! Sincerely, Jamie

Dear Mr. Perez,
My experience with Whitetail Properties was absolutely amazing. As I told Clint Stout, I have been thoroughly impressed throughout my experience with Whitetail Properties. It was a success from start to finish. Although you and I have not met yet, I wanted to express my appreciation for all that your company has done to help me meet one of my life goals: to own hunting land and a property that my family can enjoy for generations to come. I was first introduced to Whitetail Properties as an avid watcher of hunting shows on our local Sportsmans Outdoor channel. Openly, I must say that I am not generally responsive to ads "as seen on TV." However, something in this case prompted me to take a risk, and I am glad I did. As I established contact with Clint Stout, I found him to be exceptionally knowledgeable in QDMA concepts that aligned with my aspired goals to be a hunting property manager. Clint did an exceptionally outstanding job listening to my interests, and providing insight when asked. In fact, I had originally approached Clint about my interest in three different properties listed by Whitetail Properties in northwestern Pennsylvania. After learning of my interests, and responding to my numerous questions, Clint was able to suggest a more ideal property that more closely matched my vision for property ownership. This was very significant to me, as he certainly demonstrated that he really understood my interests and through a thoughtful and deliberate approach, we were able to land on the property affectionately now known as "Armstrong 93." It is almost difficult to comprehend how quickly this transaction was completed. I contacted Clint in mid-January. We visited properties two weeks later, and nearly a month after that, we had a contract executed. I went from "dreamer" to "owner" in less than 10 weeks. Clint was truly professional throughout the entire process. He was extremely helpful in responding to my ownership and management questions along the way. As I'm sure you now might be aware, I provided him with a six-page list of over 20 questions, asking him to respond to each question relative to each of the three properties that I was interested in at that time. As previously mentioned, Clint was patient with me and was super kind and courteous in helping me to gain a better understanding of the investment that I was considering. Since then, I've heard that my lengthy list of questions made quite a buzz between Clint and other Whitetail Properties staff. We especially smile now that the process has come to a conclusion, but I wanted to share that it is important for you to know that Clint Stout did such a tremendous job in helping me close the deal on my Whitetail Property. Beyond just gaining a new and exciting prospect of a hunting tract, I feel that I have gained a hunter friend for life in Clint. He has always presented himself as trustworthy, knowledgeable, and client-centered. I look forward to not only cultivating great land but a great friendship. He is truly good at what he does, and I count myself truly blessed. I wish you, Clint, and Whitetail Properties continued success and success in all your future endeavors! Happy Hunting! Sincerely,

It was a pleasure to work with Clint. He was very knowledgeable and accommodating to our needs.

Clint is a great agent that is professional, knowledgeable, and overall a guy who has your best interest in mind when buying land.

Our agent was the best! A true outdoorsman, he answered all our questions about plants, animals, and the land. Importantly, he focused on our interests. A true professional!

Clint was very helpful in making our experience easier, especially since we are out-of-state. We would highly recommend him for anyone wishing to purchase property in his listing area.

Clint was a pleasure to work with. He provided us with great service and kept us informed throughout the process. He made it easy for us to sell an out of state property.

Thank you for your patience and professionalism. Good luck to you in the future.

We would like to thank Jack Brown and Clint Stout for their outstanding efforts in helping us find the property we love.

We had a very complex transaction involving many cousins on our side, and a difficult to work with realtor on the other side. He gave me advice that I needed, and hung in there with me to see this thing through. I know I picked the right agent & company to sell this property, and one of my cousins said I had done "something really smart" by choosing to work with Clint.

Clint was very helpful and accommodating in our purchase of this property. We enjoyed working with him and would recommend him to others in the future.

I had a great experience working with Clint. He stayed on top of things ensuring they ran smooth and we closed on time.

I has a great experience working with Clint. He stayed on top of things ensuring they ran smooth and we closed on time.

Clint is knowledgeable and is a driver to get the deal done. He was engaged, and remained engaged.

Knowledgeable, Professional, Dedicated and Passions.

Clint was a great guy and put forth a lot of time and effort in showing my property.

Very good, Clint was good to work with. Very responsive.

I worked with Clint Stout of Whitetail Properties who throughout the entire process was a consummate professional and took great lengths to understand exactly what I was looking for. I have been looking to buy a small parcel of hunting ground for over five years. This was a very big deal to me and I have worked very hard to put money aside to one day be able to buy a hunting property to call my own. My needs were very particular with the fact I wanted it to be in a certain region, I wanted to have the right conditions surrounding the property, the type of mix of ground between hardwoods, hardwood regeneration, food plot opportunities, and habitat improvement opportunities. Everything was a factor and of course I wanted to get a good deal. Clint showed me various properties and even came back after looking at some decent properties that he did not think would be in my best interest to purchase based on my wants. This was something I will not forget. To Clint, it was not about just the sale. It was about him wanting to see me be able to be fully satisfied with what I was going to purchase based on my wants and future hunting success stories with my family. Clint also fought for me to get the best price. Trust, integrity, honestly, patience and loyalty are all important traits to me. All of these were on full display in the process of purchasing my Jefferson 50 and I am extremely grateful for the time and effort Clint Stout put into it. One Fully Satisfied Customer,

I had a great experience working with Clint!!! He was very knowledgeable in helping us through the process of buying our land!! Would recommend him and the rest of the staff at Whitetail Properties to anyone looking for a special piece of land to call their own.

Clint was great to work with as our agent. He's very personable and knowledgeable. He also helped us with networking to other resource for sewage, water, etc. We would highly recommend Clint for helping others find their land.

Clint was very informative on the property and helped directing us to the right people and financial institutions that specialize in this type property for closing. Very satisfied!!

Clint was professional, courteous and knowledgeable. He was very patient in answering all of our questions and waiting for us to make decisions as we progressed through the sale. He was key in estimating a selling price and was successful in negotiating a higher price than previous listing companies. We had tried to sell this property previously for a number of years at a lower selling price but were unsuccessful. Clint got the job done and at a higher price than what we had thought was attainable. In closing, our best endorsement would be to say we will not hesitate and look forward to using Clint for any future listings we might have. We will be happy to refer anyone looking to buy or sell property to him.

Clint did all we needed and more.

Great communication, attention to detail, always willing to go the extra mile. With the land and Clint's knowledge, I felt WTP was the best route to go instead of a local real estate agent.

We would like to thank you for the serices that you provided, we were more than satisfied. Clint Stout is a real asset to your company. He was very accommodating, working with him was like working with a friend.

Clint was instrumental in helping me close on this property. He made the process easy for me.

Just wanted to let you know what a. joy it was working with Clint Stout. He never seemed to mind that i asked dumb questions, always got back to me quickly and sold my properties much faster than I expected.

Clint was very good doing our property. We checked on a few others in Armstrong county. No good ones there except Whitetail Properties.
Contact Agent
Thank you
We'll have an agent contact you shortly.
Contact Agent
Thank you
We'll have an agent contact you shortly.