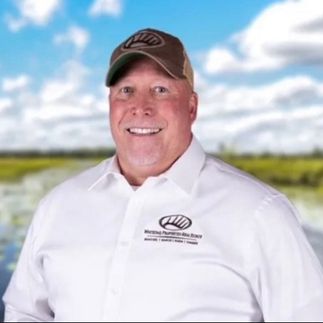 Dale Burley
Broker, Land Specialist / Licensed in GA
Testimonial Quotes
Dale Burley:

What My Clients Are Saying
Excellent! Congratulations Dale and thank you once again for your help on selling our family farm. What I thought was going to be a painstaking experience you made it as painless as possible. Finding a buyer quickly and keeping me in the loop every step of the way was far more than I ever expected. It was a pleasure doing business with you. I will surely be recommending you to my friends and family. Good luck to you in all your future endeavors.

"Dale is awesome! Trusted professional. Have referred him to other sellers and buyers."

Many thanks for your help in obtaining my ideal piece of property at a good price this summer. I had looked for a piece of property to buy for over 25 years that would have excellent hunting/fishing/income for a good price and hadn't found one that worked out. I sold the family farm in Irwin County Georgia a couple of years ago, while continuing to lease 800 acres of exceptional hunting property in Worth County Georgia, in preparation for buying a piece of property that better met my criteria which included being closer to my home. That soon became reality when I saw your listing and bought the farm bordering the Aultman Forest and Little River Plantation. It's really a great blend of unbelievable whitetail and fishing potential, not to mention the ducks, turkeys, doves, hogs, and quail I'm seeing. It will only get better as work is completed on the ponds and CRP is planted in many of the fields. I'd have to say, a couple of months after you helped us through the complex 3 party deal, the property is working out even better than I expected. The help you've given me after the sale with laying out the long-term property plan and vision, putting me in touch with needed resources, etc. has been great. You really have a strong outdoor background and great connections. I look forward to your support in the future.

Dale,
I just wanted to say thank you so much for your professionalism and hard work in helping me get the farm of my dreams. I have been looking for several years to buy a place in Georgia and I have never gotten past just looking. So it is very exciting now to finally have a place to call my own and what a place! It is absolutely amazing how many deer there are on this piece of property. You did a great job of representing it for what it is. You are a true credit to your profession and once again just a big thank you. Hope to see you soon.

Sincerely,

Chip Radebaugh

Approximately three weeks ago Mr. Dale Burley sold my farm in Ashburn, GA. Mr. Burley demonstrated to me from the beginning that he is very competent, honest, knowledgeable and efficient. He also communicated with me regularly regarding the sale. It did not take more than three months to put the deal together and he was careful to design the transaction in such a way that all parties involved were content. In my business experience of more than thirty years, there have been only a few realtors like Mr. Burley, where honesty and trust were displayed. I will recommend Mr. Burley to anyone.

I have to say, I had a GREAT experience in dealing with Whitetail Properties, and Dale Burley in particular, for the sale of my property here in south Georgia! I contacted Dale through an email and he responded within a few hours. The first contact took place on a Thursday, and Dale was going to be in south Georgia for other business on Friday, the next day. He took time out of his schedule to meet with me on Friday afternoon and said that it would be possible to to go out the next morning and take pictures of the property and get it ready to sell, if I agreed to use Whitetail Properties as my broker, which I did. The next morning we met and spent the next few hours riding the property and getting pictures in order to promote it. After we were through, Dale said that he had a person in mind that was looking for some property about the size of mine and that he would contact that person and let him know what I had. Dale contacted the potential buyer and he was interested and went to look at property that afternoon, and it was just what he was looking for, and Dale got me the price I was looking for. Dale was able to put the buyer in touch with a banker that had handled previous land sales for Dale's customers, and in just a few days, the financing was in place and a contract signed. Less than 45 days from contacting Dale, I had a check in hand, and some very happy buyers who were thrilled with their new land purchase! This was, by far, the BEST and most seamless transaction I have ever had. Dale was extremely attentive to all the details, and kept me apprised at every step. We never even had to market this property, as we literally had a buyer within two days of the first meeting between Dale and I concerning this property. I would very highly recommend contacting Dale and using Whitetail Properties for ANY land transaction that you may have. I am extremely satisfied, and couldn't have asked for a better experience! Sincerely,

My husband and I have had the recent pleasure of working with Dale Burley at Whitetail Properties. We were looking for some hunting/investment property in South East Georgia. From the start, Dale was always very responsive and listened to our needs to help us find a property that met our expectations. He quickly found us a couple properties to check out and before we knew it he was helping us make an offer. Dale was excellent in the area of communication and really helped this whole process go quickly without any stress! Dale is the real deal and truly cares about his clients. He is honest and upfront and gained our trust from the very beginning! Overall we had a Wonderful experience! And we would recommend him to all! There is no doubt who we will be coming to the next time we are in the market for property!

Dale is just a great guy and seems to love what he does! Pleasure to work with!

Dale was awesome in all aspects of this land transaction. Strongly recommend Dale to anybody.

Just wanted to thank Dale Burley and Whitetail Properties for everything they did for us. Having bought and sold numerous properties over the years, we had never worked with a realtor that was so accommodating and ethical. Dale's immense knowledge and sound judgement and in the end having our best interest will never be forgotten. The ad was extremely well written with outstanding pictures which really represented the property. We were extremely impressed with the marketing and attention to detail. We would highly recommend Dale Burley and Whitetail Properties and hope to get a chance to work with him again. Sincerely, Kurt & Katie

Dale did a great job representing dual agency. I have already referred two friends to him for finding GA hunting properties.

Dale, Charlene and I just wanted to thank you again for facilitating the quick sale of our recreational property in Taylor county. When we listed with you and Whitetail Properties, we expected it would take several months to sell the property if not a year or two. Little did we realize that your companies nationwide contacts with hunters and sportsmen would result in a buyer from Missouri the first week. Good price, quick sale, GREAT service, it doesn't get any better than that!

Dale seems to be very knowledgeable about his job and communicated all parts of the land transaction well.

Total experience was beyond my expectations.

Dale, was very pleasant to work with and did an excellent job for me. Would strongly recommend him to anyone looking to sell or buy property.

Dale did a great job and everything went super smooth.

When Dale came out to list the property he had a list of potential buyers and with in a couple of days we we're under contract.

Dale Burley went above and beyond the call of duty to help us find our slice of heaven! He was very knowledgeable, introduced us to the wonderful owners, a new banker and set up a flawless closing. He made us feel like part of the family at the closing, it was the easiest
purchase I have ever made. I would recommend Dale Burley to everyone I know. He is a such an asset to Whitetail Properties and a great pleasure to work with! Thank You

Dale was very patient throughout the entire process. This transaction was, without exaggerating, almost a year in the making. I contacted Dale about the property for the first time sometime in March or April of last year. The seller was unreasonable in his terms and I walked away from the deal. Later in the year, I contacted Dale again about the subject property. Through MASSIVE efforts on Dale's end, he was able to work with the seller and myself into a oral agreement. After the survey, in which we found out that the seller had vastly overestimated the acreage (43 acres less than originally listed), Dale was able to keep the deal together at a reduced purchase price. Dale was a fantastic realtor and I will actively use him in the future for any transactions that I may be involved with in Georgia. I believe that Dale was looking for everyone's best interest throughout this transaction and that is a very rare find in a realtor.

Dale has worked extremely hard getting my recent land deal to a successful closing. At every turn he was trying to help both the seller and myself complete the transaction. Every phone call I have had with Dale has been a pleasure, and his knowledge and experience in making land deals successful were on full display throughout the process. My transaction took months to close, and every time we would make headway, we would essentially have to start from scratch all over again. Not one time did Dale pressure me or get frustrated with my request or opinions on how I wanted to proceed with the purchase of the subject property. Dale was not a pushy realtor, which is something that I wholeheartedly respect. I felt like it was truly in my hands as to what we would do moving forward. Dale offered reasonable suggestions along the way, and was often the voice of reason between the seller and myself when we dug our feet into the ground. It was an absolute pleasure to work with Dale, and if I am ever buying or selling property in his area again, I will be utilizing his services.

Working with Dale on this property down in Georgia was so easy. He brought a property that hit on every mark with an incredible data base of knowledge on why it was so.

Dale did an excellent job with everything. Very personable.

Great, very professional and knowledgeable about land, forestry, and market price of land and its existing features and future potential.

Went perfect, start to finish. Gave me all of the information I needed and was there to assist me however needed. Was very helpful in the entire process. Piece of cake.

Dale Burley went far and above on the sale of our property. Thru the hurdles that surfaced and his ability to become a family member not only to us as the seller but also the buyers. Dale is a bulldog with a heart.

Very professioanl, very informative and knowledgeable about sales in my area.

My sister and I would like to thank Dale Burley, Grantson Martin and the Whitetail Properties team for a smooth, fast and very efficient property sale. I was speaking to a friend of mine about some property in Laurens County and he mentioned I ought to check with Dale Burley and Whitetail Properties. Dale is a former student and athlete that I had the pleasure of teaching and coaching. I knew from my past experience with Dale he was a hardworking, great guy that I could trust. I called him immediately. He went to work on organizing the sale of our property. He kept me informed with every detail. He and Grantson did a great job pointing out the many positive aspects of the land and offering multiple suggestions on the best way to sell the property. I actually first spoke to Dale in late September 2020 and the first section of property sold in October. The other 3 sections sold shortly after that. Thanks to all of you! My sister and I again feel blessed and extremely satisfied with the energy, enthusiasm, positive attitudes, and work ethic of your team in helping us sell our property. We would highly recommend Whitetail Properties to handle anyone's real estate needs. With great appreciation. Sincerely,

Cliff Tankersley and Jane Tankersley W

He was very easy to work with, kept us informed thru the whole process.

Dale was great to deal with!

They were referred by a friend and they were both great!

Dale Burley is one of the most hard working agent I have ever seen, awesome experience.

Very easy to get along with both Realtors.
Contact Agent
Contact Agent
Contact Agent
Contact Agent