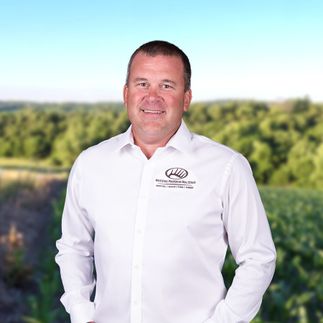 Derek Grimsrud
Salesperson, Land Specialist / Licensed in IA
Testimonial Quotes
Derek Grimsrud:

What My Clients Are Saying
We thoroughly enjoyed our farm purchasing experience with Derek. It is a unique opportunity to look at properties with an individual who is so knowledgeable on whitetail hunting, deer management, and the local deer herd. So often, farm realtors know farming but not the depth and type of information important to someone passionate about trophy whitetails. It was both useful and enjoyable to exchange ideas about QDM type farm development and hunting strategy with Derek. Derek's knowledge, however, did not end with the deer aspect of the purchase. He was very keen to all the facets of our farm purchase and kept us informed during the process. Furthermore, his 'no-pressure' approach to closing the deal was very much appreciated. In short, a person will be glad of their decision to use Derek Grimsrud in purchasing their dream Midwest property.

We had been looking at property as an alternative for a few years, when I came across the listings by Whitetail Properties. Being a novice deer hunter, my goal was to find a parcel that not only offered recreational/hunting opportunities, but provided additional income to help maintain the property. I was thinking not only for myself but to provide opportunities for years to come for our family (grandkids). My wife and I viewed the property with Derek Grimsrud who was very accommodating to our time and schedule. A lot of our communication was via e-mail, texting, and calls, but after meeting him in person to view the property you got the real sense of his passion for deer hunting, land management and commitment to QDM in the area. I felt he also tried to understand our situation and what we were looking for. He followed up professionally on the details to get our questions answered and close the deal, without pressure, walking us through each step. He helped us secure renters for the tillable and provided contacts for resources to help us manage it at whatever level we choose. We enjoyed working with Derek and we are very pleased with the whole transaction. Thanks to Derek and Whitetail Properties we look forward to enjoying our property and to provide recreation for our family for years to come.


Derek Grimsrud was awesome. He can be trusted and looked out for my best interest when looking for my new place .

I just wanted to let you everyone know how good of an agent Derek Grimsrud really is. As of today, Derek has now sold 4 of my farms. I always love working with him as he is so understanding of my needs and easy to work with and talk to. If every one of your agents is the caliber of Derek, you have a great Agency. Thanks so much for everything you have done for me to sell my farms. I have listed several times with other firms but no one can hold a candle to Whitetail Properties. You just have so much more exposure to qualified buyers.

Derek did a great job as always. He has sold 3 farms for me now. I am very pleased.

Derek, I want to thank you for the good work you did in handling the sale of this property. It went about as smooth as a closing can go. I have been through a lot of closings in the telephone acquisition game and they didn't always go so smooth. The old saying, "things like this don't just happen" is very true. You have to make them happen. I wish you good fortune in the Real Estate business and hope to see you again soon.

We want to thank Derek Grimsrud for the can cooker, Buck knife, cap and decal that arrived yesterday. We reached out to Derek because when we initially considered selling our property, we figured that our customer base would mostly be hunters. We sold the home and farm to friends of ours, who will keep it looking nice. We feel very lucky that they were interested after meeting with them twice at our home. Derek did a great job of setting up the necessary phone calls and meetings needed.

Sincerely,

I had been looking for over 3 years for what I would consider the perfect piece of land to spend my retirement on. I found it listed on Whitetail Properties. I immediately called and talked to WTP's agent, Derek Grimsrud. Derek arranged a meeting with the owners of the property in just a few days. Within hours of meeting, Derek made this deal work out for me. I can only say if you are looking for your perfect place, call Derek Grimsrud and he can make it happen in a no pressure situation. His knowledge and expertise in real estate acquisition is outstanding. Derek is the first person I will be calling when I need that second piece of Heaven, he will make it happen. Thanks, Derek you went above and beyond.

Derek was great to work with. He did an amazing job selling our property he was very fast and efficient. Thanks for all your hard work.

I recently purchased a tract of land from Whitetail Land Specialist Derek Grimsrud. Derek is very knowledgeable of the area and was a pleasure to deal with. More importantly, Derek is helping me "after the sale" to improve my habitat. Derek was/is always available to answer my questions and is extremely helpful. I will definitely use Derek in the future and recommend him to others. Thank You for all your help. Mike

Overall, I am very satisfied with the purchase transaction I completed with Whitetail Properties and Derek.

Derek was great to deal with. It's my 2nd purchase thru him and he did a great job. He made this happen and fast. He is one of the best.

Derek did a nice job negotiating between myself and the seller. Derek also did everything he said he would do. Good experience.

It was refreshing working with Derek. He was good to work with and timely in responses.

Nice guy who always tries to do the right thing. Not just the thing that needs to get the deal done. Great morals and empathy with the customer.

Derek was excellent and found a buyer within 2 weeks. The listing included several excellent pictures of the farm and the description of the farm was perfect.

Sold in 3 weeks, excellent communication and can't ask for much better!!

Excellent job! I consider Derek a friend now.

I wanted to tell you how excited I am about my new recreational farm purchase. Your knowledge of this property was very extensive and has lived up to everything you stated it would! The amount of wildlife sign on this property is absolutely like something on TV. I have so many trail photos of shooter bucks and up an coming giants. I also wanted you to know, how much I appreciate the ability to work through the actual purchase of the property. Even when we ran into some hurdles you were able to keep things moving along. I killed a nice buck the second sit of year. I couldn't be more happy.
Contact Agent
Thank you
We'll have an agent contact you shortly.
Contact Agent
Thank you
We'll have an agent contact you shortly.