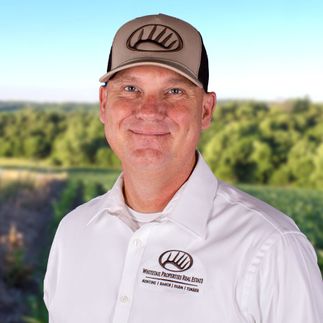 Grant Olson
Salesperson, Land Specialist / Licensed in IA
Testimonial Quotes
Grant Olson:

What My Clients Are Saying
We just finally closed on our recreational property, in eastern Iowa. We had the pleasure of working with Grant Olson. When we first contacted Grant he was excellent at listening to what kind of property we were looking for and he took his time trying to find the correct property to fill our needs. He was very prompt with the answers to our questions and really went to bat for use when things did not look like it was going to happen. He was the voice of reason when needed and made it happen for us. We are looking forward to the upcoming season on our new land and we would highly recommend Grant to anyone looking to sell or buy property.

Thanks again!



Just wanted to say that my experience selling my farm with Grant Olson was a great experience. He had a good grasp of land values, and understood the property very well. He went out of his way to make sure the process was easy and simple to complete, while staying on top of all aspects of the sale! I would recommend using Grant to anyone interested in selling their property. It went a lot smoother than I had expected.

Thanks


We never took the time to thank you on the transaction, so I'm doing so now. I'm just so glad that you were able to take some time out on that Tuesday to run up and take care of us so we could get our offer in. If not, we may have lost out. I feel we are finally settled in out there after owning it a month now. We have the furniture all in and everything is the way that we want it. It was like buying for a whole new house. We got the lawn all squared up and the trees trimmed. I did clearing on the riverbank to open it up, so the whole place is like a park now. The only downside is all of the grass I have to mow. But I have it down to 1.5 hrs, so it's not horrible. The wife has even caught some nice catfish on the bank. The place is so "quiet" at night out there. There are no cars, trains or other noises we here in town. The only thing that we hear is the loud chirping of the frogs.... exactly what we love about the place. So I wanted to say thanks for making this happen and let you know we didn't forget about you. Stop by and visit. If the gate is open, we are home.

We were impressed with Mr Olson. He made every effort to help us in any way he could. We would certainly contact him again.

Grant was very professional and handled the sale of our farm for us expertly.We are located in California and he was always one step ahead of what needed to be done in order for the sale to close with ease. I only wish we had more farms to sell!

Grant did a great job displaying the farm on the website. It sold a lot faster than we thought it would for a great price. Thank you Grant!

Grant did a great job with listing description, pics, etc. He kept us informed as needed. Thank you very much Grant!

Great down to earth agent! Always looking out for us as buyers!

Grant did a great job and got the property sold at a good price.

Grant went above and beyond expectations to answer questions and accommodate inspections and provide information as requested.

Made the process very transparent and easy to understand. Very open and willing to discuss with owner.

Grant was knowledgeable and professional.

Grant is a real pro. He did a great job getting the property listed from a drone video to a complete list of what was staying with the property. He handled all leads quickly and assertively.
Grant did a wonderful job during negotiations and his follow thru till the time we closed.

Did a fantastic job. Always great about following up.

Hats off to Grant. It was a difficult for us only because of our location. We live in Anchorage AK and the land we purchased was in Iowa. I had a million questions and the answers he didn't have he found for us. He made it happen and couldn't be happier with our purchase.

Grant did a good job of keeping us updated during the process of listing and ultimately selling our land.

It was laid back and everything was clear and easy to understand.

Grant. Thank you for your hard work and good counsel in pricing and marketing our property. Thank you especially for your additional effort resulting from us being so far away. Your passion for the outdoors and knowledge of what appeals to fellow outdoorsman makes you especially good at your craft. I am happy that the land appears to have transferred to someone else who intends to preserve it and use it for outdoor enjoyment. I am very pleased with your service and the outcome of our sale. Thanks again,


After a very successful real estate campaign on our "Circle B Ranch", that was orchestrated by Brent,Grant and their team members. I was surprised at how hard Brent worked to keep communications with myself ( seller) and the buyers in a positive direction. The "little things" that sometimes blow up and get out of proportion were handled quickly and in a manner that was much appreciated. This transaction was far from the norm, 1st a good marketing plan, then a re marketing structure, and then a subdivision." not to mention the unknown of the coronavirus" I feel that the buyers are very satisfied and I have had some good conversations with them. I as a seller am also pleased, a good deal is when all parties are happy. I want to thank Brent, Grant, and their Whitetail Properties Team for the ongoing updates, conversations and a bit of seller "babysitting". It was truly a 5 star experience.


I have known Grant for 25 years, running into him at various times preparing or participating in outdoor related activities and have found him to be a reasonable and honest guy. Word got around that Grant was involved with Whitetail Properties, so when I had some timber to sell it was easy to pick up the phone and give him a call. Grant tempered our emotions, made it clear a deal was never done before it closed and that there was a definite order things are to be done. He ended up selling our timber for 40k more than we paid for it 3 years ago which has to be good in anybody's book...BUT, When you add in the fact my timber was in the direct path of Iowas DERECHO wind storm and was sold post Derecho it's really amazing. The mature oak timber park I had created was now a pixistick mess! In this condition we would not have bought this timber. Nobody can argue with that. I also feel the simple fact that Whitetail Properties was the listing agent that potential buyers would see. Grant is also close to closing our purchase of a larger piece of timber. I feel this is a fair deal but like Grant says " Its not closed yet" Because of Grant's positive handling for us personally, I recommended another friend to Grant that I thought would be interested in another property Grant had listed. My friend has thanked me for telling him to call Grant. I understand they are currently under contract with what seems to be another fair real estate deal. A big thanks to Grant and Whitetail Properties!

Absolutely great. Couldn't ask for a better agent. Grant is very professional and works his tail off.
Contact Agent
Contact Agent
Contact Agent
Contact Agent