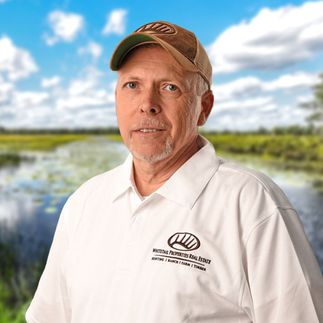 Jimmy Underwood
Broker, Land Specialist / Licensed in NC, Salesperson, Land Specialist / Licensed in SC
Testimonial Quotes
Jimmy Underwood:

What My Clients Are Saying
I just wanted to thank you again for your work in getting my property listed and sold. I had received a few offers over the years where people were offering to do me a favor and take the property off my hands and I even received an offer from a group in Pineville shortly after the buyer had the property assessed.




You really gave me the information and consultation I needed to set the price for my property, and I know you worked hard to get it shown and sold for me and I do appreciate it.

Very positive. Kept me informed, met on property, very knowledgeable. Proven track record of sales in that County

Everything was handled very professional. Mr Underwood was a pleasure to work with. Thank you.

Adjacent land owner tried to interfere several times and Jimmy handled it very professionally. Hats off to Jimmy!!!!!

Jimmy was very helpful and knowledgeable.

Mr. Jimmy was very pleasant to do business with. Very knowledgeable about the property and surrounding areas. Jimmy kept in touch throughout the whole process and let me know what was going on every step of the way, very informative. I am pleased with my agent and the purchase I made through Whitetail Properties. Thanks!

Working with Jimmy Underwood is wonderful. He is an exceptional real estate agent. His knowledge and professionalism, accessibility and expertise, is what got our home sold in record time to a great family.

Excellent! He kept us well informed during the entire process.

Jimmy did a very good job in helping me find the right piece of property.

Excellent experience! Jimmy was very patient, understanding and professional.

Jimmy was a great guy to work with. He was there to answer any of my questions I had at the moment and if he did not know the answer, he would make sure he found it for me. I would highly recommend him and I would definitely use him again in the future to acquire more land if possible. Another thing I wanted to mention was he knew around how much the acre was running at. He has done some extensive research to benefit both the seller and the buyer. Once again, I'm glad I had Jimmy on my side to help me with any questions. I would rate Jimmy 20 stars out of 10 stars.

Jimmy kept everyone involved informed. He was most helpful and, if he didn't know, Jimmy would find out. Very likeable person as well.

Jimmy Underwood went above and beyond to provide me an awesome service. Jimmy never left me stranded, was with me throughout whole process. I highly recommend Jimmy and Whitetail Properties for all the work he did. By far the best agent I've worked with ever! Keep up the good work! He represents Whitetail Properties above and beyond better than anyone else! Thank you Jimmy and Whitetail Properties for making my dream come true!

Jimmy was great to work with and made our buying experience fun and stress free! Jimmy was always available to take a phone call or talk through our questions, he never pressured us to buy a property, he only supported us through the process. A true professional!

Jimmy was great to work with! Detail oriented and very fast turnaround on anything that was needed.

Jimmy was awesome. Very responsive. Kept us in the loop of progress and was patient as we kept looking for a property that was right for us.

Jimmy was very helpful and knowledgeable. I couldn't have asked for a better agent. He helped gather inspectors and surveyors in the area that were able to complete the work in a timely manner, and he even drove to my area to pick up dd and earnest money. He communicated very fast as well. I really appreciated working with him.

I have owned, developed, and sold a lot of property in my career and often worked with different realtors. I still sell over 90-95 % of my own properties. Jimmy was very professional and became a friend taking time to share a hunt or two on listed property. We ended up selling to an adjoining property owner through my contact and efforts, but Jimmy's listing and professional handling of the property were instrumental in placing the added pressure to encourage the final action. I would happily recommend Jimmy and your company if any friend had a similar property and needed a top realtor and company.

From the very beginning Jimmy explained Whitetail Properties and I was very impressed as we had farmland for sale. He kept us up to date through the entire process. He is very professional.

Very smooths & professional transaction.

Flawless, especially since I'm in CA and was trustee of a land trust and responsible for selling the land. Jimmy's passion and knowledge of NC land. His willingness to walk the land with my brother, who was local, and I am in CA. We both liked Jimmy immediately!

Nothing short of fantastic. Jimmy is a true professional. Extremely responsive, knowledgeable, and great relationship manager. As a real estate attorney who has closed hundreds of commercial transactions, it's rare that I look at a settlement statement and think, "that agent really earned that commission." But this is one of those rare exceptions. Jimmy and Whitetail were great to work with, and looking forward to having more opportunities to do so in the future.

Professional, polite, diligent, engaged, communicative, all good! Prepared at first meeting, willing and ready to wear a mask in times of a global pandemic.




Excellent experience, Jimmy kept us updated on the progress toward the sale, he worked to resolve issues that arose with the first buyer and he had another buyer ready who closed on the deal.

Jimmy was great.The sale of this property was contingent upon the buyer agreeing to place a conservation easement on the property. Not your normal land sale. Jimmy handled it with ease.

Jimmy is a wonderful person and agent. He's very knowledgeable and great to work with. He's definitely not your average agent of today. He actually answers his phone and doesn't take days to respond to questions you may have. I'm so thankful I found Jimmy to list our property. I truly believe if not for Jimmy and Whitetail properties we would not have sold our property in a crashing real estate market.
Contact Agent
Thank you
We'll have an agent contact you shortly.
Contact Agent
Thank you
We'll have an agent contact you shortly.