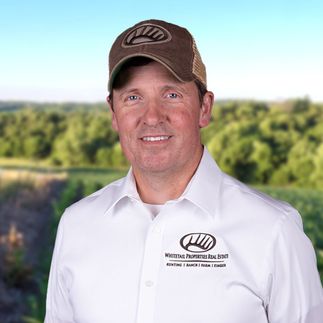 Rob Haubry
Broker, Land Specialist / Licensed in IN
Testimonial Quotes
Rob Haubry:

What My Clients Are Saying
I Had a very good experience with Rob Haubry, Good Guy!!

TTM Holdings LLC Thomas E. Mason Managing M

We really enjoyed working with Rob and he always had answers for our questions. Thanks for selling our property.

Rob did a great job and kept us in the loop all the way.

ROB DID A GREAT JOB AND WAS VERY PROFESSIONAL

Dan was amazing. Nothing but stellar. I also had experience with Rob Haubry, who is also a great agent in every way. Thank you for the wonderful experience.

Rob did a nice job. He was always very approachable, and even came to the closing on his wedding anniversary/birthday!

We reached out to Rob on a piece of property not listed through Whitetail Properties to utilize his knowledge and background.

Fantastic job from start to finish!!

Rob Haubry was a pleasure to work with he was knowledgeable, professional, always answered any of my questions in a very timely matter. My future recommendation of your company is due largely to Mr. Haubry's assistance in the sale of my family's farm. Please forward my thanks to him for me.

Rob did an excellent job with marketing and keeping me informed, from the 1st phone call with John Boyken to working with Rob, it was a very smooth process

Excellent Experience!! Rob did an outstanding job of preparing and presenting comps of land sold in our area. He was also extremely helpful in helping us list our property. Great communication and easy to work with. Excellent skill in negotiation with the buyer.

Mary Ballinger and Jeane W

Rob made a complicated legal transaction very easy to understand and complete.

Working with Rob Haubry was a pleasure. He was very kind and knowledgeable of the property. He was always available for any questions we had. He even walked the property with Ron. We were pleasantly surprised at the speed of the sale and the ease of closing. We would definitely recommend Whitetail Properties to anyone who ask, and Rob of course :) Thank you so much.

Very pleased. Rob Haubry was very good to work with.

The experience was pleasant and Rob made sure we received the amount we wanted for it.

I am an attorney and am 70 years old. I have dealt with a lot of realtors over the years. By far, Rob is the best realtor I have ever worked with. Very professional, courteous, honest, and extremely helpful. He immediately provided all documents we asked for and closed the deal in record time.


We were very happy with the knowledge and advice from Rob throughout the process. While there weresome issues along the way, Rob was very quick to respond and get things back on the right track. With his help we believe we were able to get the maximum value out of the property. We were very pleased with the results. His gift is being well used. Thank you Rob and Whitetail Properties.


My realtor, Rob Haubry, is a double major in forestry and wildlife management. It was a pleasure dealing with Rob and I give him an A+ on my purchase. Rob and I did it! Owning property is one of the most rewarding experiences there is. Making my dream of owning a slice of America come true.

Indiana Outdoor Lover - Joris C

After our latest timber sale, we decided to sell the farm. Rob was on the property for the harvest, and the timing was perfect. The harvester wanted the farm..and SOLD!

The process of closing was efficient, and we had no angst.
Contact Agent
Thank you
We'll have an agent contact you shortly.
Contact Agent
Thank you
We'll have an agent contact you shortly.