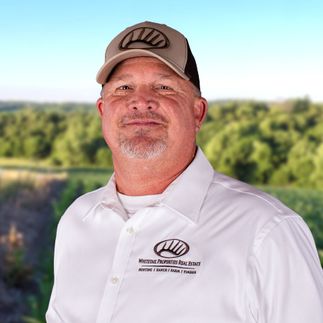 Scott Andrews
Salesperson, Land Specialist / Licensed in MO
Testimonial Quotes
Scott Andrews:

What My Clients Are Saying
Since we live out of state (over 800 miles away) it was critical that we make the right choice in working with a real estate agent….and we did. From the first phone call to our champagne cork-popping closing it was a pleasure to work with Scott. He helped us find properties that met our requirements, arranged for us to walk them and then helped us make a final decision. As a fellow hunter and native of NW Missouri, he understood exactly what we were after….prime hunting land with beautiful views and revenue generating spaces. He was able to anticipate our needs and coordinated a variety of services including the survey, changes to the CCRs and final negotiations. Never pushy, always prepared, you won't find a more professional agent to work with. Whether you're buying, selling or both, you'll never second-guess your decision to work with Scott Andrews.

Scott Andrews was a great help in my purchase at Whitetail Properties. He is prompt and efficient and answered all of my questions. I will definitely use him again. Great service.

Dear Whitetail Properties, When I phoned Scott to see if he would list our property, I knew we needed an agent with a positive personality to present an unusual piece of property.... a Round House with only 4 acres. We are seniors so we also wanted someone who could take charge of the process yet remain respectful. We found all that in Scott Andrews. He was always upbeat, pleasant and professional (without being stuffy). Scott listened to what we had to say, was patient with these two seniors and always made sure we understood each crook and turn of the process. We found the qualifications we were looking for in an agent who found buyers for our property and that was important. Yet the best part of it all is, we made a forever friend and that is priceless. We would absolutely recommend Scott to anyone looking to sell property! Sincerely, Paul & Thelma Jeffery


Scott Andrews was very cordial and we knew he worked hard on this sale. We thank him

Scott continues to do an outstanding job. As the managing member of our LLC, I have had face to face interact with Scott and he has went out of his way to help us get our farms sold. Two down one to go. I will definitely send business his way.

I feel that any and every time I asked for something from Scott that he was was very willing and efficient at getting it for me promptly. Overall I felt he took good care of us!

Scott Andrews is a top notch guy!! And now considered a personal friend. Whitetail Properties is blessed to have him as an agent.

Scott was a great asset to have in our search for a hunting property in NW Missouri. He knows the area well and knew what we were looking for in property. Being from out of state, Scott saved us a few trips by looking at properties on his own and giving us his honest opinion. I would recommend Scott to anyone looking for a property in NW MO and hope to work with him again in the future.

Scott was exceptional in the assistance he gave us. We'd never made a purchase like this, since we purchased our home 34 years ago. Scott walked us thru each step and reminded us of deadlines and helped put us in touch with the proper contacts we needed. He was always available if we had questions and was prompt to reply to any request we had. He made it as stress free as possible for us.

We wanted to let you know what an awesome job agent Scott Andrews did for us in Northwest Missouri. Within 15 minutes of speaking with Scott I knew he was the agent to work with us on the sale of our deer camp. During our first meeting Scott and I walked the entire camp. It was obvious that he was a professional and knew hunting land. Scott quickly put together a market analysis and got things moving for our LLC. Selling a 5 bedroom cabin and three non contiguous farms seemed like it was going to be a tough task, but Scott continued to keep us advised and finally approached us with the strategy of breaking the camp into three separate pieces. This proved to be both successful and profitable. Scott had to deal with not just me as the managing manager, but also three other partners who were out of state. Unfortunately Scott took on clients who were at odds. This was a situation that my wife and I desperately wanted to be ended. I had to hire a lawyer to force the sale of the camp. There were many times when Scott acted as a referee and smoothed things over with the partners. Each negotiation and closing went without a hitch. Scott went well beyond normal effort to make this happen. I am sure many other realtors would have walked away from this challenge. Scott is a quality person with great character and was a God-send for my family. I will definitely recommend Whitetail Properties and Scott to my farming and hunting friends. Sincerely,

Knowledgeable, very accommodating, responded to communications very quickly, very hospitable, and great to work with.
Contact Agent
Thank you
We'll have an agent contact you shortly.
Contact Agent
Thank you
We'll have an agent contact you shortly.