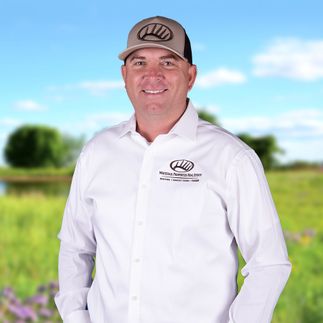 Will Bellis
Sales Associate, Land Specialist / OK Team Leader / Licensed in OK, KS
Testimonial Quotes
Will Bellis:

What My Clients Are Saying
The entire experience was awesome. We are thrilled to have our own hunting paradise. Our grandkids won't miss hunting again.

I want to express my satisfaction in dealing with Whitetail Properties. I had been trying to sell 150 acres in Garvin Co., OK for a year, but without success. I had seen ads by your company and decided to contact you since my property was excellent for hunting/recreational use. I met Will Bellis at the land after reading his BIO and a phone call to set a date. I was impressed with his background and attitude. Eleven days after listing, he called with an offer. Within 30 minutes, he called back with a firm deal. Again, I could not have asked for any better service throughout the time for listing, selling and closing the sale. Thanks for everything.

The Buyer failed to deliver on several due dates but Will did an outstanding job on keeping me informed and staying on top of the buyer to get the deal closed. Will is an excellent agent and I plan on continuing to work with Will to find me a new property to buy closer to my new home in Tulsa, OK.

Sean was my buyer's rep and Will Bellis was the listing agent. They both did a great job. Thanks, Jeff

"WOW!!! We listed our farm with Whitetail Properties in January and had a contract signed before February. I can't say enough how professional Will Bellis was to work with as our land specialist agent. He was always available to answer any questions I had, and trust me I had plenty. He listen to our concerns and gave his expert advice to set the selling price. I'll be using Will for all my land transactions in the future and will highly recommend him to anyone looking to buy/purchase property."

Very professional and great guy.

Will is the best!! I will use him again!!

I can tell you this, Will Bellis is a rock star when it comes to buying and selling dirt.

My wife and I couldn't of asked for a more professional or knowledgeable person to meet our needs of feeling satisfied. Will kept us up to date with everything. He works from his heart. Very pleased, and Thank you! God Bless!



I was well pleased with all aspects from showing property to closing.


Great experience and feel like we gained a friend out of the deal that will answer questions in the future about our property if need be.

Will was exceptional in all aspects, truly a great person!

Will had our property under contract within 3 days and got full price. Super Job! Very Satisfied.


Will is a very good person. Very professional. Would highly recommend his services! A real class act!


Will is great!! He is very good and knowledgeable at his job. Always called kept us updated on everything. He made the sale go good for us! Very helpful!!!!! If I have any other property to sale or buy I will Definitely call Will!!!!!

I bought three different farms with the help of Will Bellis. I can't do justice in a short review here on how instrumental Will was from the beginning to the end as well as long after the transaction. From finding EXACTLY what I was looking for to being there morning, noon or night to answer any questions I have had. He's truly top notch in every category and a great representation of what I believe Whitetail Properties looks to have reputation wise in your industry. There were several challenging situations between some issues from the seller (on one of the properties) to my own extended travels that Will Bellis made seem like nothing but I know he went into overtime to make everything go smooth. I truly appreciate your company providing me with someone as helpful and knowledgeable as Will Bellis.

Started out by calling Will. Dean Anderson was the one who we dealt with. Both are very nice people. If they didn't know the answer they were very professional about getting us an answer to the questions we would have. Very pleased with the whole process. Thanks

Will Bellis works hard, and is very professional. I will use again!!

Very pleased, will definitely consider WP in the future.

Will is a professional. Great guy! He represents whitetail property well. You should be proud to have him as an associate.

This was one of the most drawn out processes I have been apart of and Will done an amazing job for my family. There where several times we thought about backing out and Will keep us hooked and it took 2 years to get these deal closed. The sellers were very difficult to work with and very frustrating and Will keep pushing and pushing until we finally got it closed. Now my family can build a house that we have been wanting and waiting to build. I am very pleased with Will and the job he done for us, because there were several times that his hands were even tied and one door closed he opened another until finally we got closed.

I have done business with Whitetail Properties on numerous occasions encountering only the very best land specialists. If your looking to sell your recreational property, do yourself a favor and hire Whitetail Properties! Will Bellis is the best Whitetail Properties land specialist I have ever had the pleasure of dealing with period! Whitetail Properties is blessed to have him aboard. Thanks

We looked at quite a few properties before meeting Will. Once we met, he asked us exactly what we were looking for, listened to us, and knew immediately where he wanted to take us. We followed him to the property, walked it, and knew before we left that that was the property for us. He made the whole transaction smooth and was always available for us at any given time. We will highly recommend Will to anyone looking for some property.

I can't get over how smooth the whole process was from beginning to end and how quickly the property was sold.

Will Bellis was an outstanding land specialists. He provided guidance throughout the purchasing process. He took the time to understand what we were looking for and found a great hunting tract for us. I already recommended one of my clients to him, and that land closed before ours did. Mr. Bellis is a great addition to Whitetail Properties. Regards,

Will is top notch and is very helpful and knowledgeable about land! 10 Stars if you ask me or my wife!


Will Bellis is a great realtor. He goes right to work getting property on the market. My property sold after only 1 1/2 weeks on the market and got close to asking price. Will gives good advice and is an excellent realtor. I appreciate him so much! Sincerely,

It went very smoothly and efficiently with minimal effort on my part. My agent was extremely professional and helpful. I was impressed with Will and I have already recommended him to others, including family. Going forward, Will Bellis will be my first phone call if or when I purchase additional land. Many thanks to Will and your entire organization!

I have now used Will Bellis to represent me as both a buyer and a seller. Both transactions were completed extremely efficiently and Will did an excellent job. He had a buyer lined up for our property before we ever listed it, and we closed within a few weeks of accepting the offer. I have no doubt he would work just as hard for any of his clients. I will continue to use Will when dealing in Central Oklahoma.

Great experience! Listened to what we wanted.

Very knowledgeable, informative, capable, dependable and likeable

Great experience. Will was very helpful through the process.

Will was very knowledgeable and thorough. Very trustworthy.


I met Will when I was looking at some recreational land last July, near Depew, OK, being auctioned off by Williams and Williams. He did a great job showing me the property and was very honest and candid in explaining the ins and outs of the auction process, as well as the property itself. I did not purchase that property. However, I call Will and ask him if he knew of some hunting property, or had a listing that fit my needs for number of acres and proximity to my home in Jenks. Will got right to work. After discussing several properties with him and doing research on the web, we met at and explored the 120 acres that I ultimately closed on. Will was very helpful to me throughout the process from the offer to the closing. His office staff was very professional. Same thing with the closer. From start to finish, a quality experience. If I ever intend to sell the property, or purchase more, I will certainly do business with Will and Whitetail Properties. Sincerely,

Will Bellis excels at his profession in every respect and is a credit to Whitetail Properties.

He was really knowledgeable, polite and kept me informed of everything. Main reason is I myself am a hunter /outdoorsmen. After talking with Will a few minutes I could tell he knew the outdoors as well and knew how to talk to people and knew land and the types of people that would be most apt to buy my place. I also got him to find me another property which he seemed to find me what I wanted and made the deal happen. Happy again

Wonderful! Always replied within 24 hours and went out of his way to help. Very easy to work with.

Will has always been great to work with. Reliable, dependable and always reachable. Always an excellent experience. Would recommend to anyone.

Very good experience. This will be my 5th time to use Whitetail Properties to buy and sell land. I have always had a great experience. Will Bellis has always been my agent on every transaction. Will works hard and I trust his opinion and appreciate his hard work in every transaction.

Will was always available to answer questions when I had one and was straight forward in his conversation which I appreciated.

Awesome again for my 5th transaction with Whitetail Properties.

Will was extremely friendly and knowledgeable to obtain a national reach in search of potential buyers.

Very knowledgeable representative and good to work with.

Larry Meek, Four Par Properties, L

Will was very professional and quick to respond to all questions and concerns that we had.

Very good experience, Will did a great job and seems knowledgeable in his field.

Will Bellis in Oklahoma has now provided his expertise on two purchases we have made in Oklahoma. His knowledge of hunting and what we were looking for was a great combination in order to close our two properties. We subsequently have used him to list our original purchased property as we have decided to buy land closer to one of my clients, therefore having more property to hunt. He's a great investment for Whitetail Properties. Best,

It was great! Everything worked quickly and smooth.

Very good. Will was professional throughout and was very thorough.

Very attentive, lots of explanations and offered his advice and thoughts on land.

Excellent! Extremely professional, knowledgeable, courteous and helpful.

Great! Felt like he cared.

Will was awesome. Will use him again in the future.

Always a pleasure to deal with Will on buying property. He makes everything a breeze to make it happen.

Working with Will is always a great experience! He knows his region in Oklahoma like the back of his hand, and that means a lot to me.

Worked with your company many times in the past. Issue free due to complete transparency.

Very informative always available to answer any questions.
Contact Agent
Thank you
We'll have an agent contact you shortly.
Contact Agent
Thank you
We'll have an agent contact you shortly.