A duck hunter never forgets his or her best day in the field. Even though mine occurred about six years ago, I can still recall the most minute details. From the way gadwalls shifted their wings to hover above our decoys to the intricacy of the sunrise that cast an amber hue on what seemed like the whole world.
On that November morning, a college friend and I woke up well before 3:00, to wind, with the forecast showing rain and a 10-degree temperature drop by noon. What we call "ducky" weather. By the time the sun started to peak above the treeline and through clouds, we started to hear whistling wings. Wood ducks were buzzing mere yards from us almost like ghosts flitting through the flooded timber, with the only sign of their presence being their distinctive shrieks. The wind began to intensify and the rain became steady as did the drop in temperature.
We managed to knock down three wood ducks within the first few minutes after shooting time, then decided to hold off on shooting anymore. We had high hopes mallards and gadwalls would be showing up anytime. And we were welcomed not long after by our first group of gadwalls, which retreated only after four lay dead in the water.
The ducks soared through our small pothole in waves. A tug on the jerk string and a few vocalizations from a mallard hen call was all it took to draw in the close ones. Another group of gadwall, four more ducks down. In total, we were in our pothole during shooting time for 45 minutes before I shot the last duck of the morning, a mallard drake.
Needless to say, it was our best day in the field. It seemed like all of the Mississippi Flyway had converged on this small dot of swamp in southern Louisiana. A few hunts have come close to this one, but none have ever seemed to quite match it all - from the sunrise to the fast action, to the good conversation to the amount of ducks in the air. All I have to do is think of the morning and I remember why I hunt.
I wish I could say the success of the morning stemmed from my partner and I's superior scouting skills. While I'm sure that helped, the way the hunt played out had more to do with the weather. The low-pressure system brought down thousands of waterfowl to our part of the state, mostly because the ducks had no choice as the northern states were encased in ice.
Duck hunting in the rain as a cold front makes its way through your area can produce some of the best conditions around to harvest a limit. But the weather can prove to be pretty harsh. That morning, we stayed dry and warm because we had the right gear. I've spent a few mornings in nasty weather without a few of those necessities, though, and I can tell you I don't often make that mistake. There's a few necessities a duck hunter needs on those ducky mornings. Here's a few you should never leave home without.
Neoprene Waders
If you're serious about duck hunting, you'll want a solid pair of waders. Even if you don't hunt by standing in the water all of the time, a good set of neoprene waders will keep you warm and dry. Opt for an 800 gram Thinsulate boot. That's not so much insulation that you'll get too hot on a warmer day. Be sure to order a half size larger, so that you can double up on wool socks when the temperatures dip low. Also, be sure to get a design that can stand up to thick brush and won't puncture easily.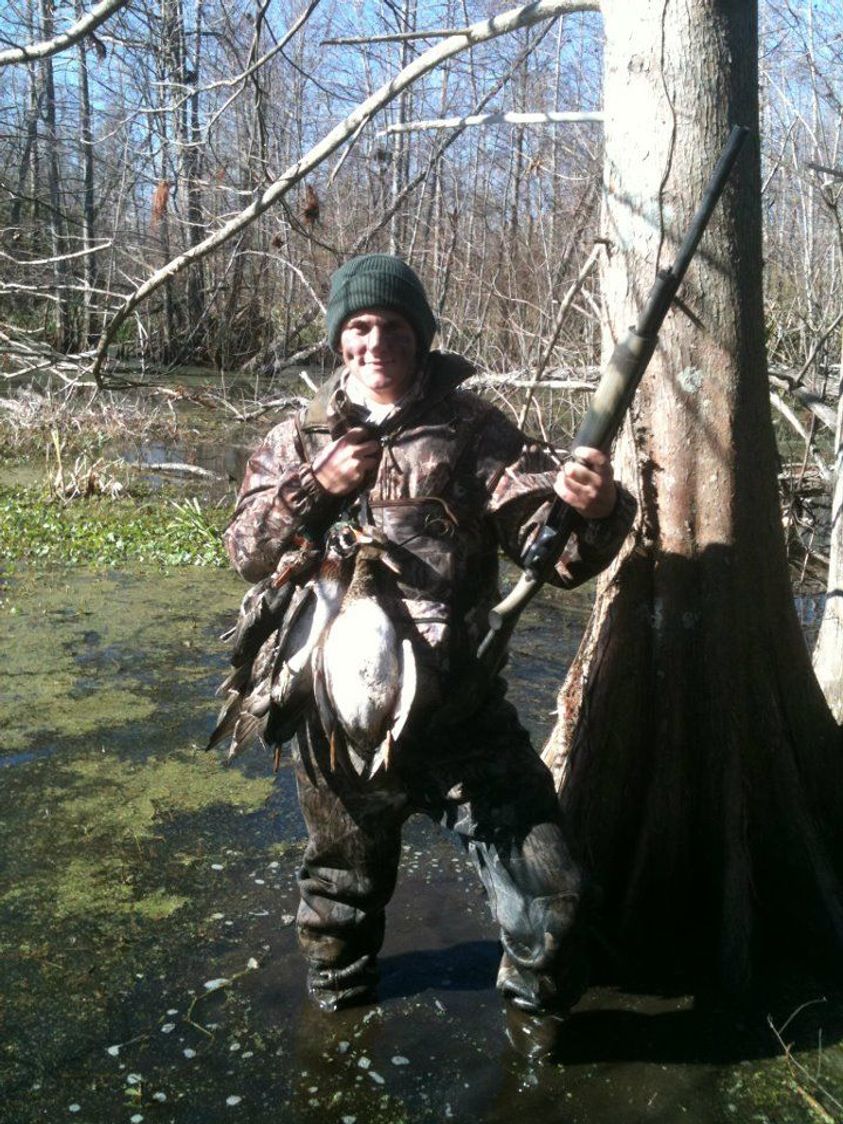 Gloves
Waterproof gloves are a must. Find one with a Gore-Tex lining and Thinsulate covering the interior. Cold weather gloves these days are made specifically to provide warmth without the bulk. This makes handling shells and pulling the trigger much easier. It's a far cry from your father's thick gloves from days past.
Parka
A nice parka goes a long way in nasty weather. Ensure there's a waterproof outer shell. It doesn't hurt to cover the exterior with waterproofing spray. Ensure the interior layer of the parka is made of at least 800-fill goose down, which will keep you warm well into the teens and, if taken care of properly, last for years. Plenty of pockets are a good idea to keep things like extra shells dry. Find one with a hood that cinches down well to keep water out and warmth in.
Blind Bag
In the rain, you'll need to keep your wallet, phone and extra gear dry. A waterproof, floating blind bag is perfect for that. It'll also protect everything in case it takes you take a dip. For hunting in timber, you'll want a model that has a tough strap that can be hung on a tree branch or nail.
Of course, there's plenty more gear a waterfowler needs in the field, i.e. decoys and duck calls. But for the sake of staying warm and dry, every item on this list is a must-have. With the right gear, you might not get the urge to escape to the camp early for hot coffee and a heater.