This spring showed signs that buyers in the market for land are buying it, and those looking to sell land have chosen a good time to list it. As we move into the summer months, there is little to suggest this trend will change.
Several factors are driving a recent surge in land sales, many linked to the country's economic woes. Which, sure, it's counter-intuitive. A shrinking economy typically suggests people are sitting on what they've got, hunkered down and delaying investment in large purchases. But on March 15, the Federal Reserve cut interest rates to nearly zero. Next, the fallout from an erratic equity market has made non-equity, longterm investments like land an appealing and stable alternative.
"Land buyers have been really active this spring," said Jeff Evans, national sales manager for Whitetail Properties, the land real estate company that specializes in buying and selling farmland, ranches, hunting and recreational properties. "Economic factors have aligned to create a favorable market for sellers. And, as for the buyers, I think part of what we're seeing is just this heightened motivation to get outside of the fray, to be outdoors, in open space pursuing activities that are physically rewarding."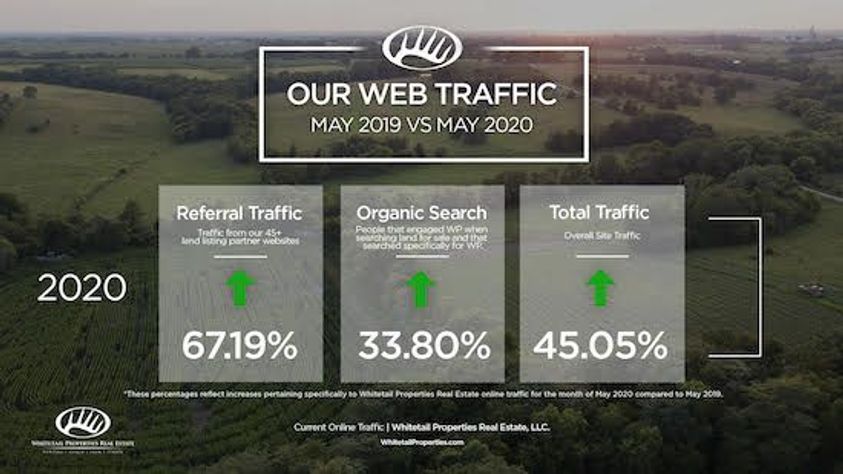 Increased buyer activity is evidenced by Whitetail Properties sales numbers. In April 2020, sales were up $15 million company-wide compared to April 2019 sales.
"Some of the buyers we've seen this spring have long wanted to own a rural property but they haven't pulled the trigger before for a number of reasons," says Alex Gyllstrom, White Properties' marketing director. "In most cases it's related to financing, finding the right opportunity or a combination of the two. In the current market though, we are seeing a high volume of increased buyer activity due to historically low interest rates. These rates have created attractive financing opportunities and an increase in inventory by landowners looking to capitalize on stable land values."
It's also true that many investors see land as a safe and stable alternative to volatile equity markets. And it is. As noted in our previous blog post about land and its appeal as an investment vehicle, annual returns on farmland since 1990 (the first year of the index) averaged 11.5 percent. Using this same data set, that's more than double the average annual return on gold. Returns on farmland even edged out commercial real estate returns by nearly 3 percent.
Whitetail Properties' year-over-year website data also affirms an upswing in buyer activity. The land company's overall traffic in May 2020 was up 45 percent compared to traffic recorded in May of the previous year. And online referral traffic was up 67 percent in May 2020 compared to the same month last year. Further, 53 percent of users who recorded time viewing property listings and related content were new to the website. That's up from 46 percent in 2019.