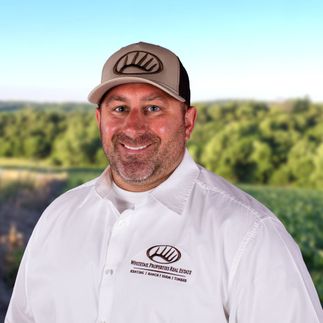 Aaron Bennett
Salesperson, Land Specialist / Licensed in MO
Aaron Bennett Land Specialist Team
Testimonial Quotes
Aaron Bennett:

What My Clients Are Saying
WOW !!... Great Job !!… After our first meeting with Aaron I knew we had the right man for the job (very confident and knowledgeable) and after seeing the aerial photos and the write-up, (I wanted to buy it myself) never had a doubt he get it done, just didn't think it would be that fast. Aaron made the sale of our property very easy and we can't thank him & Whitetail Properties enough, it's been a real pleasure working with your company. Aaron surely is a great asset to Whitetail Properties and what a great guy to work with. I would gladly recommend Whitetail Properties and Aaron to anyone that is in need of a dependable and well qualified Real Estate Agent. Aaron, again thank you for your help and for your service to our country. God Bless you and your family

" Logan and Aaron showed up at the first meeting at property with a side by side and ready to tour the property. They had tablets with gps information about property in real time. "

" This is the second farm I've sold through Whitetail Properties. Aaron was full of enthusiasm and seemed to love the farm as much as we had over the years. From the moment he and Logan arrived to the farm for the initial overview I knew they were the right fit!"

" Aaron was professional and very helpful through the process. "

Aaron felt like a lifelong friend right from the start. He explained everything and was there for us any time, any day. If we were to sell again, Aaron Bennett would be who we would call. He's a 5 stars guy.

Aaron was great to deal with. He responded quickly to any & all of my questions. I have been involved in quite a few real estate transactions, even with the normal title and boundary issue, this was a smooth one. Aaron did very well.

Thanks so much for your service, you delivered exactly what was promised. You sold the property in less than 90 days and for the price that I wanted. You coordinated closing with the title company and buyer flawlessly. Great job, I will certainly recommend your services to anyone that I know who is thinking of selling their property in the future.


Aaron teamed up with Whitetail Properties agent Steve Mott to help us find and acquire our dream farm. The process was enjoyable and they both did a great job with everything. Now we are enjoying the farm with our family and have had some very memorable hunts with many more to follow!. Thank you guys!

When I was in the market for hunting land, I found a nice piece on Whitetail Properties. I did not know the agent that was the listing agent and I did not have an agent myself. I just shot the email to ask for more information. Within a couple of hours I had already heard from Aaron and was scheduling a time to take a look at the property. After looking at it, I called and made an offer to Aaron, who conveyed my offer to the seller. Within one hour and a few phone calls, we reached an agreeable price. It was so much easier than buying a home and the cumbersome process of official paperwork. After the agreed upon price, Aaron came to my home where my wife and I signed the necessary paperwork. The closing happened within a month. So fast that I was able to get my son out for youth Turkey season the day after we closed. This was an amazing buying process. After the sale, Aaron has walked me through the property to share his knowledge on wildlife traffic and has also helped me clean up some debris that was left behind by the seller. I would highly recommend Aaron.

Thanks so much!

We had our farm listed with another realtor for 10 months and it never sold. We called Aaron Bennett with Whitetail Properties, and he brought us a contract on the farm less than two weeks after listing the farm with him. We closed shortly after that. Talk about top-notch service. Needless to say, we are very pleased with Whitetail Properties!"



Being a former Marine myself, I was elated and had set high expectations with Aaron being my agent. We met, Aaron was very thorough, honest and professional. I told him what price I needed and we agreed on a listing price and range I would accept. Aaron had 3 different showings scheduled for a Saturday morning. When he called after the first showing, I had a contract offer that was acceptable to me. The appraiser came the next week and 3 weeks after that I had a check in my hand. I would recommend Aaron to anyone who wants an agent who has those Marine qualities of dedication, loyalty and hard work to achieve and over come all obstacles.

Aaron is very knowledgeable about property. He showed the cabin, walked the entire property and pointed out evidence of deer and turkey. He is an excellent salesperson and a great agent for your company. I will use him in the future.

I originally tried to sell my property with another agency during the fall of 2014 but did not have much activity. I was told about Whitetail Properties and met with Aaron Bennett at my property. After viewing my property Aaron was very confident that he could get more than my original asking price in a short amount of time by marketing my property to hunters. I was a little skeptical at first but Aaron did everything he said he would do and was continuously showing my property to prospective buyers. I was very pleased that he gave me notice before he would bring someone to view my property. We ended up getting the exact amount that I wanted for the property. It was a very easy process and both my wife and I were very pleased with Aaron and Whitetail Properties. I would recommend them to anyone wanting to purchase or sell any type of property but especially hunting property. Thank you Aaron!

Owning a hunting property of our own has been a dream for a long time. Even though we love hunting and the great outdoors, we grew up in a big city and we did not have a lot of knowledge of rural America. After searching online and reviewing almost all of the competitor sites, it was clear to us that Whitetail Properties was by far the most professional site with the most types of properties for trophy deer hunting. We met with 4 different realtors from competitor companies, and all had the same thing in common, extreme pressure into buying the property with no emphasis on what we were looking for. We contacted Aaron after reviewing some of the properties he was showing on whitetailproperties.com. We were amazed at how much he knew about the neighbors, the area, the land terrain, the specialty features, and how much time he spent wanting to know more about what we were looking for. It was obvious to us that he was a man of great integrity that cared a lot about his properties and clients. We fell in love with the first and only property Aaron showed us because he took time over the phone to get a better understanding of what we wanted to use the land for, our price range, and a prefered location. I would tell all people who want an honest realtor who knows more about his properties to use Aaron Bennett with Whitetail Properties.

Sam, Sal, & Chuck, Pike County, M

Aaron was very knowledgeable and did a good job finding and showing me properties. He was very helpful during the whole sales process.

I contacted Aaron about a listing he had and I explained what my wife and I were looking for. He stated the property would work, but he had another property he was getting ready to list and it had everything we were looking for. He communicated well with us and was able to work showings around our busy schedules. Aaron was very polite and professional. Thanks Aaron for helping us get our new place.

That was the first time I have ever sold property or a house like that. Very smooth transaction. Aaron was very knowledgeable and honest. He communicated when/where needed which helped me out a lot being that I am not familiar with the procedures.

I would very much like to compliment Aaron Bennet for taking the time and having the patience to find that perfect piece of property for us. He had to find the piece of land that was a turnkey operation with electric and water, had a stocked pond, the right acreage, the right distance from the main house and all for the right price. It was a lot of work, but it seemed more like magic. We have been looking on our own for the past 15 years and frankly nothing really came close. This was the second property he showed us and it was perfect. Really, the first one was too, but the owner decided to stay and bought out his neighbor. Mr. Bennet did an outstanding job and always had a professional presentation, even when it came to quick discussions over the phone. I have nothing but praise for Aaron and will continue to recommend his talents to my friends that are looking for the perfect piece of heaven, especially after they see mine. Thanks again, Whitetail Properties and Aaron are the only ones I will go to for all future expansions.

Super nice and really worked with us to get what we hoped for.

Aaron Bennett is a class act. My family loved him. He is down to earth and really cares about his clients and it shows. We would highly recommend him to anyone. Thanks and God Bless from the Lucas family!

We had a great experience sold the property for what we wanted and sold fast. Aaron was a pleasure to work with. Would highly recommend Whitetail Properties.

Aaron did a great job. He was always available and great at timely returning calls/texts. I would strongly recommend him.

Above says it all... very good experience... will be buying again soon and will contact Aaron

Aaron was very professional and extremely helpful throughout our entire transaction. Communication was excellent. He was always quick to answer questions and return calls (he usually answered our call right away). Aaron quickly found just the right buyer and ensured our interests were satisfied. There is no doubt we would do business with Aaron again and we will be recommending Whitetail Properties to our friends.

Aaron did a great job for me. Very down to earth kind of person.

Aaron gave us exactly what he promised. He developed a solid professional relationship with us from the first conversation and proved to be reliable and efficient throughout the process.

I enjoyed working with Aaron and had a great property buying experience with him. He was helpful and continued to follow up with us as we worked through the process to find the right property.

Clay Lockard and Aaron Bennett were exceptional to work with. They documented to property very well and we had a buyer quickly. Very pleasant to work with these guys. Good people.

Everything was awesome and highly educational. And I'm still in constant contact with the agent which is awesome. Amazing customer service. Aaron represents this company very well.

Aaron was a stand up guy. He was as honest as the day is long. He was extremely responsive. Never left you waiting for an answer. Always available to answer questions. He is the best of the best. He was professional. He showed up at closing to make sure we did not have any unanswered questions. Gave us tips on country living. Aaron was the best realtor I have ever worked with.

Aaron was EXTREMELY helpful and cooperative throughout the entire process. From the initial showing all the way to closing Aaron was always available for any questions or concerns. This was the first time purchasing property for me, so I was nervous about the process but Aaron was accommodating until the end. Even when it came to the financing he was following up and recommending different options that best fit our needs. I believe he went above and beyond his duties as our realtor to make sure we were comfortable with everything and that all of our questions were answered. I would highly recommend him to anyone trying to buy property whether it's their first or tenth time.

Aaron did a great job with dealing with us. I know it couldn't have been easy with us constantly wanting to come out and look around but we couldn't have had a better person to be dealing with I think he knew how excited we were to be getting our dream home and property.

Overall we were incredibly satisfied with our Whitetail Properties Experience. We searched for our property on and off for a couple of years, and in that time came to know Brandon Swartzlander, Aaron Bennett, and Jeff Heil very well. All three of these agents were incredible to work with. They were very knowledgeable, resourceful, and incredibly patient with us as we searched a variety of properties and became educated on purchasing a farm They were always available but never applied high pressure; always trying to make sure we had whatever information needed. We ended up purchasing through both Aaron and Jeff. They were so easy to work with, and really became friends in the process. Though I was impressed by and would highly recommend Brandon or Arron, I want to provide additional recognition for Jeff. He was amazing - he was truly committed to us and took the time to get to know us as a family. Now that we have closed on our farm, my 8 year old daughter has asked on several occasions when we can "go drive around (in UTV's) with Jeff again." He was truly exceptional, and we genuinely appreciate all that he has personally done for us! Thanks to Brandon, Aaron, and Jeff for offering us a great search and buying experience. We could not have asked for anything better and are looking forward to creating some family memories thanks to their hard work and friendships! Regards,

Aaron provided solid advice for our transaction.

What a great experience. Aaron was very professional and knowledgeable.

The whole process went smoothly. I was well pleased.

Aaron does an awesome job and always looking out for my best interests and sold my farm to the 1st client that looked at it.

Whitetail Properties is by far my favorite recreational land company. I have worked with other companies in the past, but Whitetail Properties has the best marketing and sales team in the industry. Thanks again!

Wonderful! Love those guys!

Aaron was great to work with. We had a lot of fun looking at a few properties. The property I purchased was no easy task to secure, but ended up being just what I was looking for.

Great experience! Aaron was very helpful and patient working with me to find the perfect property and I never felt any pressure from Aaron at any time during the entire land searching and buying process. I was always kept in the loop.

Aaron was great to work with, very responsive. Knowledgeable about land pricing and very familiar with the area we were dealing with. Gave me great advice.

It was great from start to finish. Aaron negotiated everything to mine and the sellers satisfaction. He was on top of the transaction from start to finish.

Aaron was terrific! Helped through the whole process. Stayed in touch. Very professional.

Aaron was very, very helpful in helping us with the purchase of our land.

We have a 'raving fan' review for Aaron Bennett and Whitetail Properties. Whitetail Properties represented us and the seller, so we could witness the integrity, responsiveness, and commitment to the clients through both agents. And, they were excellent! Aaron was extremely available and easy to work with. He even made time to show us properties around the holidays and while having a newborn at home. Plus, he understands the market well and could quickly identify properties he believed were priced to sell from those which may sit on the market longer. And, the offer and counter offers were easy, electronic, and just as simple as can be. In fact, most of this process was done via phone and email while we were in San Fransisco. We know our family will love our new property, and when the day comes for us to upgrade or buy something closer to home, Aaron will be getting our business again, for sure! Thanks,

Excellent! Best land company in the business. Best marketing in the business.

We had the good fortune of asking Aaron Bennett to be our real estate agent. He did a fantastic job of selling our property quickly. He even negotiated a sale of some or our farm equipment to the buyer. He worked very well with Clay Lockard and found us the perfect farm to buy near Mark Twain lake. We would definitely recommend them to anyone we know. Thank you,

Amazing! Aaron did a great job.

Very easy to work with, concise communications and professionalism. Sold the property for us.

We talked about purchasing a farm for a long time. When we finally decided to act on it, we asked for Aaron Bennett. He did not let grass grow under our feet. Within a couple of days, we had decided it wasn't exactly what we wanted, he was there with another, which turned out we were interested. It did not take long we were in the process of putting in a bid. Now we own the property, We could not be happier with the service and owning the property. Thank you Aaron and Cody for showing us the property and all your help. We are "newbies" and you helped us through the process. Sincerely,

Aaron was very astute in his recognition of the value (both monetarily and emotionally) that I placed on this property. We have lived here for 44 years. He has a good sense of timing regarding important considerations. He clearly knows the area and quickly observed the unique characteristics of our farm. Besides that, he's just a good man. That's invaluable!

I'm one of the people who checks the WP website nearly daily, so I was excited when I landed on what I thought would be our next property a month or so ago. Little did I realize just how quickly things were going to happen! Aaron and I had already had connected a few times in the past, so I was happy to see that he was the agent handling the listing that I was interested in. From our previous interactions, I felt like he and I were very "like minded" as far as our goals were concerned, which definitely made me feel like I was getting real input on the listing that I was interested in.




Once the decision was made to place an offer, Aaron was very helpful, and the process went very smoothly. Since we were also selling our previous farm to make this purchase happen, Aaron was great with everything involved in handling the listing and getting us top dollar for our property. I was very pleasantly surprised with where we wound up on our selling price, and it proved to me that we had made the right decision in going with Whitetail Properties.




Since we were selling our old farm, we had a complicated move, from the standpoint of how to deal with our belongings and equipment. Thanks to Aaron's involvement, we were able to create a relationship with the sellers of our new property, which really helped in being able to pull off the purchase and sale all in the same day. It was literally as nice as it could be… we met them several times at the farm while we were moving stuff, and really made us feel good to know that we were purchasing from good people, who were as interested as we were in making a smooth transition.




I'm 100% sure this won't be our last property purchase. I love buying properties, fixing them up and then moving on to the next project. I know that I'm going to stay in touch with Aaron and the team, so that when the next opportunity comes around, it'll be as smooth of a process as this was. Please let the rest of the team know how happy we were with Aaron, and everyone who we had to deal with at Whitetail Properties. We're very excited about our new farm!




Thanks so much! Until next time……!

Aaron was easy to work with.

Aaron is professional and kept me in the loop during the entire transaction. Aaron and his team are top notch and delivered amazing customer service. Aaron made the process stress free! His expertise is the best in the marketplace. I would never consider using anyone else. Thank you Aaron Bennett and Whitetail Properties!

Awesome experience. Aaron was very helpful and forward with what Whitetail did and provided throughout the sale process.




WOW!!!! Unbelievable. This is the absolute best real estate event I have had ever. Professional, thorough and most important did not overstate their ability.
Contact Agent
Contact Agent
Contact Agent
Contact Agent