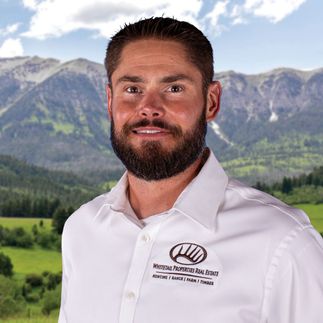 Aaron Milliken
Broker / Licensed in MT, WY, UT, NV Designated Broker / Licensed in ID, Principal Broker / Licensed OR, Managing Broker / Licensed in WA
Testimonial Quotes
Aaron Milliken:

What My Clients Are Saying
We appreciated the expertise and the excellent advertising completed by our agent.

Betty Treat, President IGRC Board of T




Just wanted to take a couple of minutes and thank you Aaron for the incredible experience I had purchasing my first property. You were extremely responsible and respectful. During the entire process I never felt uncomfortable or pressured in any way. You are a true professional who knows how to handle the entire process. I cannot thank you enough. You were more than willing to discuss the benefits and hindrances of the property as well as offer your input on what could be done to improve the property from both an income and hunting perspective. I'm sure you'll have continued success - thanks again!

"As a broker and land specialist with Whitetail Properties, Aaron Milliken provided service that exceeded my expectations. He is very professional, knowledgeable, extremely personable, and always prompt and available during every step of the process. He sold multiple farms for me in short order. I highly recommend Aaron Milliken and Whitetail Properties."

I recently purchased a hunting/fishing/recreational acreage through Whitetail Properties and I must say it was the easiest transaction I have ever made. My agent, Aaron Milliken was spot on with his assessment of the quality of the land and its hunting appeal and was more than helpful in getting the process started and completed quickly and professionally. His courteous expertise on this subject and hunting acumen helped ease the way towards making a successful purchase. Whitetail Properties has my highest recommendation without any reservation as they made the advertisement, the intel, the sale and closure of my property a very pleasurable and professional experience. If you need information on hunting acreage or need to know where to find the best people look no further than Whitetail Properties, they are hands down the best at what they do. They provide the most professional and personal treatment of the land, the buyer and the seller to make sure every experience is one that is done the right way every time. Ask for Aaron Milliken, I've never met a more qualified person, he won't ever steer you wrong, and should you have the chance to interact with his Assistant, then you know your day is about to get better just for having her on your side. Whitetail will always get my business, if you want it done right then they should get yours too!! Splendid behavior in every way! Slainte!"

"In my line of work, finding just the right piece of property for my specific hunting needs can take months, sometimes years, but Whitetail Properties Broker Aaron Milliken made the search for my new farm simple and easy. Aaron took my budget, hunting style, and preferred location into account while searching for available farms. Within weeks we had found exactly what I was looking for, and with a nice income from land rent and CRP as an added bonus. The entire process carried on smoothly from scouting multiple properties, working with the sellers, finding the right lender and closing the loan. Aaron has gone above and beyond what I expected from a Real Estate Broker. He has pointed me in the right direction for crop services, assisted in finding the right forms and documents for USDA programs, and has recently offered to help find the right contractor to build my lodge. I can guarantee no other Real Estate Broker is more dedicated to your success before, during and after your purchase than Aaron Milliken."

I just purchased a farm and wanted to pass on some thoughts on the great experience I had with Aaron Milliken from Whitetail Properties. I was making a 1031 exchange after the sale of my previous farm and was under a time constraint. I felt like Aaron was totally dedicated to me during my hunt for the replacement property (even though I knew he was very busy with other clients as well). Aaron is quite an impressive young man in that he was very knowledgeable, very professional, showed great customer focus, and was extremely hard working. I called many times at awkward hours and he was always pleasant in responding to my questions. Aaron truly listened and understood what I was looking for and helped me find the perfect farm. He made contacts with other agents to expand the property search and then ushered the closing through in record time to complete the transaction. I not only had a good business experience, but feel like I made a friend in the process. I look forward to maintaining contact with Aaron into the future and would highly recommend him to anyone interested in buying or selling a property.

Thanks to Aaron and Whitetail Properties for a very pleasant experience and for helping me find the perfect property!

Talk about results!! I cannot say enough or recommend anyone more highly than Aaron Milliken and Whitetail Properties. The manner in which all aspects of a Real Estate Transaction are to be handled were executed professionally and absolutely seamless. Buying and selling Real Estate made simple and easy, could be their motto. This transaction turned out to be extremely pleasant rather than stressful and cumbersome. I have but one regret, I should have listed this particular farm sooner with Whitetail Properties! A big thank you to Dan Perez and Aaron Miliken. Great Job Guys, appreciate it greatly!

Aaron Milliken deserves credit for creating this agreement, and facilitating the transaction. The proposed sale was completed in less than two weeks after listing the farm. I would call that remarkable.

"My family and I recently purchased land thru Whitetail Properties and specifically Aaron Milliken. Throughout the process I had several questions and Aaron was extremely helpful and responsive in getting the information requested. I found Aaron extremely knowledgeable, integrity to the fullest extent, and very easy to work with. Should I have an interest in property in the future (Sale or Purchase); Aaron would be the one I would contact. Aaron has also made himself available for issues or questions after the sale, which to me was an extremely important asset for me to have."

"Our experience with Aaron Milliken and Whitetail properties has been an absolute pleasure. It is rare now a days to have top notch customer service and this is what we received from Aaron and his team. They are dedicated to their clients and the results speak for themselves. Thank you for helping us find a great farm."

I recently purchased a piece of hunting property through Whitetail Properties. This was my first land purchase and it could not have gone smoother thanks to my agent Aaron Milliken. From our first meeting Aaron was extremely helpful. He walked us through the property and was very knowledgable about the property and the surrounding area. He provided me with great advice as to how the property could be managed and manicured so that I could get the most out of the property. In addition to his help with the property, Aaron also was extremely helpful in the process of finding financing. He put me in contact with several banks and always had options lined up for me to try if one didn't work out. Aaron was always available whenever I had questions or concerns. Whether it was via email or text, no matter how big or small the question Aaron always instantly answered back and was very personable with his answers. Aaron went above and beyond his responsibilities and made me feel like I was his only client, not just one of many. After my experience I would absolutely recommend Aaron to anyone looking for a piece of property and feel that my family and I have not only found a great land agent but also a friend. I plan on acquiring more land in the future and will definitely be using Aaron to do so.

As first time land buyers we were skeptical to go with a big name company such as Whitetail Properties to purchase land. Although, after meeting with Aaron it was the best decision we have made. He was more then willing to answer all of our questions and help us out with any issues we happened to run across! Even during a Government Shutdown, our whole buying process went through quick and painlessly! Also, when walking the property Aaron was full of knowledge about what improvements could be made to make this already excellent property into a hunting paradise! We could not have asked for a better Land Agent then Aaron, an overall down to earth guy with great knowledge and dependability! Highly recommended!

Jake Vancil, Team Radical O

What can I say about Whitetail Properties and Aaron Milliken? At a time when he needed to be logging hours in the tree stand, Aaron walked me through the process of purchasing my first farm. His detailed and personal knowledge about the farm was very impressive. He has also helped me locate a local farmer to cash rent my tillable. Thank you to Aaron and his team for a pleasurable experience.

I would like to thank Aaron Milliken and his team for helping me purchase a great piece of hunting land in Western Illinois. It was not a simple transaction, and they stayed the course and made it happen. In addition, Aaron helped me coordinate access to the property, and build roads and food plots on the property, all in short time to get it ready for deer season. I am an out-of-state landowner and was not able to get back up there in time. The first time I set foot back on the property was to hunt, and I saw an abundance of deer and harvested my first Illinois whitetail buck. Thanks for a great experience, and I would highly recommend the Milliken team for any future transactions.

"Buying that dream hunting property and home in the country is a once in a lifetime event, and Aaron Milliken was the perfect choice to guide me through it. From finding properties, to walking timber, to future land management, Aaron and his assistant were always there to answer my questions. They understood my individual interests and delivered a wonderful piece of land. Whether you are looking for a trophy whitetail, a land investment or simply a cabin in the woods, you will not go wrong with Aaron Milliken and Whitetail Properties. I give them both my strongest recommendation and sincerest thanks for the property of my dreams."

Aaron was great to work with, he was very professional and accommodating. He took the time to answer all my questions and walked the entire property with me. He even drove out after a snow storm to meet me at the time of my choosing. Aaron represented both me and the seller of the property fairly and equally, he definitely is trustworthy and a good guy.

I was looking to sell my property quickly, with little hassle, yet maintain a profit. I attempted to tackle this on my own with little success. I had seen advertising for Whitetail Properties and had looked at properties on their website. I spoke with Aaron, described my property and what I was looking for from my sale. Aaron went to work promptly, assured me he would meet all my expectations regarding the sale, and soon got my property listed. In a short time, Aaron had found a buyer with an offer that was right in line with what I was expecting. The closing was as effortless as the rest of the process, thanks to Aaron and his efficient staff. The entire experience was nearly stress free and could not have gone any better. The staff at Whitetail Properties are true professionals!

I have sold a few properties and also purchased a property using Aaron Milliken. He came out to look over everything and gave an idea of what I should ask for them. The first property sold in less than a weeks' time. He is very easy to work with and I had to do nothing other than sign the paper work. Aaron and his team did a great job keeping me update all the way throughout the process. Looking forward to working with them again in the future.

After searching for a long time for our first farm, we decided to contact Aaron Milliken with our wants and needs. Shortly after, he had found us exactly what we were looking for. Aaron was more than willing to take time out of his Sunday and meet us on short notice. As we walked the property Aaron was very knowledgeable and patient. Throughout the whole buying process he always made us feel comfortable and never pressured. Anytime we had a question, he was there to answer. My hats off to him and his team on making a huge decision on our part seem so simple. I will definitely contact Aaron with any future purchases or sales. Thank you for making our experience so pleasurable.

I only have one complaint. That Whitetail Properties didn't have the listing. I wish Aaron made 100% of the commission on this deal. He absolutely deserved it. He worked his tail off for me and I will forever be indebted to him.


Aaron Milliken did an outstanding job for us. In the beginning, his team took wonderful photos of the house. We believe this staging of the house made the sale. No pressure from Aaron, he did what we asked. He was professional, confident, positive, and knew the value of properties. We would use him again for buying or selling property.

My husband is an avid deer hunter. His lifelong dream has been to build a camp to teach children the art of bow hunting. On July 31, 2014 I found property located in Fulton County that would allow my husband to fulfill his dream. I contacted the realtor, Aaron Milliken with Whitetail Properties. He responded within 48 hours and on a weekend no less. Mr. Milliken was always professional and knowledgeable regarding the property we purchased. If he did not know the answers to our questions, he found the answers. I would highly recommend Mr. Milliken and Whitetail Properties to anyone interested in buying real estate. Thank you Mr. Milliken for helping us with the first step in making a dream come true.

Forever thankful,

I thought Aaron did an excellent job and I was very pleased on how smoothly everything went. I was amazed how fast my property sold! I would recommend Whitetail Properties and Aaron to everyone!

There are three areas that I consider critical in achieving top performance in any profession, those being responsiveness, knowledge and professionalism. None of these are more important than the other, but all must be attained in order to be well rounded. This past winter I was fortunate enough to work with Aaron Milliken on the purchase of a piece of Iowa ground. Aaron was very responsive to questions I had and would promptly get me information that I needed. He took time out of his New Year's holiday to help me put offers and counter offers in front of the seller. He quickly helped me sort out some of the intricacies of this real estate deal so I knew what the seller was expecting. Last, but not least, he treated me with the utmost professionalism from when we first looked at the property, until we closed. With Aaron's assistant working in the office, and Aaron out in the field, these two make a great pair that you can trust when making a real estate purchase. Whether you are buying a 20-acre parcel, or a 700-acre turnkey hunting operation, Aaron will give you the service that I was privileged enough to receive.

"Aaron Milliken from Whitetail Properties … responsive, knowledgeable, professional … enough said".

I would like to give a big thanks to Aaron Milliken and his team. I recently purchased a deer-hunting farm through Whitetail Properties. After looking for the right farm for over 5 years I was ready to make it happen. Aaron worked out all the details and kept us informed throughout the sale. He coordinated the sale between the seller and myself. He also kept up with and answered every one of my questions. He provided alot of information without making me feel pressured. It was a positive experience. I would recommend Aaron and Whitetail Properties to anyone looking for recreational land.


I had the privilege to work with Aaron to find my dream property. He worked with me, and accommodated my schedule extremely well. He took me out to explore the property and was very knowledgeable. He answered every question I had with a quick response whether it be face-to-face or through the phone. Aaron was a great agent, I am very pleased.

"Last winter my job moved me and my loved ones across the country. The move was tough, but most daunting was getting the most out of my 100+ acres. The locals recommended land specialist Aaron Milliken. He proved to be the right choice - within months he had lined up the right buyer. His negotiating skills during the offer-counter-offer-stage were nothing less than impressive. Today, with money in the bank I am very appreciative of God; and the gurus of big-game real estate, Whitetail Properties."

I loved working with Aaron Milliken. He handled the sale representing both seller and buyer. I felt he did a great job for me as a buyer closing the deal on price. Very Honest!

I have worked with Aaron before. He got asking price for my farm in less than a month. How can you top that? Thanks again Aaron!!

Aaron and his wife were very helpful and made our experience of purchasing our first farm so easy. It was greatly appreciated.

Aaron was very professional and polite in his handling of my property.

Aaron was by far the best I've ever worked with in my life. He was genuine, knowledgeable, caring, professional, kind and most all did not make me feel rushed to sign the listing doc's. He knew I was asking top price for my farm and shared his concern on the price but three days later we had a signed contract within 5% of my asking price and closed on it two weeks later! Great way to start off a New Year! I will not use any other real estate company when I buy/sell my next farm. Hats off....well done Whitetail Properties! Best regards,

I'm was extremely satisfied! Aaron was a huge help. He always treated me with respect always called me back also kept me up to date through the whole process. If he could not answer a question right away he always called me back with an answer in a timely manner. I would highly recommend him to anyone. Please extend my thanks to him once again.

The agents from Whitetail Properties are the best in the business, hands down. Great experience on both sides of the table!!

Aaron was great to deal with and a big help getting bank info to My Missouri banker that had 0 contacts in IL.

Aaron did a great job he got us a very good deal.


If I ever have a need for a agent in the future, my first call will to Aaron.


Aaron did a great job, worked extremely hard.

We were very pleased with his actions on our behalf and would recommend him highly. He was extremely knowledgable and look forward to working with him in the future.

Had no issues with Aaron at all. Glad he was our realtor for this purchase. He made things easy.

Aaron was very knowledgeable of the property and quite helpful throughout the process. He answered any questions I had promptly and professionally.

Aaron worked hard to close the deal and hung in with the buyer as he worked to sell another property he owned. Great communication, knowledge, and understanding--excellent transaction and agent!

Everything went very smoothly. Did not really even have to talk to Aaron much. Everything done by texting and through emails and mail. Buyer found very quickly.

Aaron Milliken is an excellent agent for you. Selling church camps is difficult and Aaron was excellent in all aspects of the transaction. He is truly an asset to your company. Excellent expertise and social skills. He met with a large group of people from the IGRC and we were all pleased to work with him. We will continue to list any properties we sell with Aaron.

Betty Treat, President Trustees Illinois Great Rivers Conference United Methodist C

Very competent on land prices, worked quickly to get photos online and the property sold.

This was my first purchased and I thank Aaron and Ronnie for helping me through the process. They answered all my questions so kindly. I think they will fit right in here in Montana. Sincerely,

Excellent! Realtor kept me informed and made prudent recommendations.

Aaron was knowledgeable, hard working, resourceful, friendly, respectful, fair, and extremely helpful.

We were contacted by Joe Erb several years ago wanting to sell our Minnesota land. Through difficult issues Joe stuck with us and it finally closed. Joe got us lined up with Aaron Milliken in Bozeman, MT. We listed property with him and it sold very quickly. He got us in touch with Brandon Hutchison here in Oregon and he has our rach listed. That is 3 listings with Whitetail Properties. Two have sold and looking for the third one to sell. It has been great working with you folks. You have a great company!
Contact Agent
Contact Agent
Contact Agent
Contact Agent