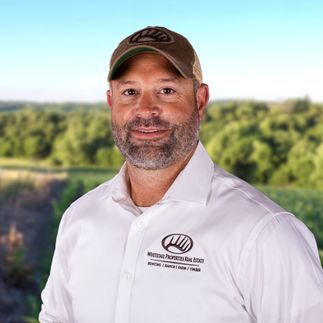 Adam Crumrin
Broker, Land Specialist / Licensed in IL
Testimonial Quotes
Adam Crumrin:

What My Clients Are Saying
"Adam was great at keeping us informed and getting the property sold!"

"Working with Adam was easy. He answered phone calls, text messages and emails in a very timely manner. Adam also provided info on all the steps in the buying process."

Adam was great and easy to work with. He answered all my questions and replied back quickly whether in an email or text. It was a pleasure working with him throughout the entire process.

Adam is a rockstar. Made everything a simple as it could be. There were a lot of moving parts with our deal and I know it probably was a lot of stress but everything worked perfectly.

Adam was great through complete process.

Adam was very honest about properties I was looking at. It was a very good experience working with someone that was not just trying to make a sell but I felt like he had my best interest.

Ed and Adam are my go to guys for buying, selling, or trading real estate! Hands down Second to none!

Adam went above and beyond his expectations. I really appreciate all his hard work..

Agent very nice and available for all of our questions. Felt he was very honest in all of our dealings.

Adam is a great, trustworthy hard working agent. I felt a little out of the loop at times, but it was circumstances that were out of Adam's control, and he and I have discussed this and I am completely comfortable with how Adam handled the situation. Adam is an asset to Whitetail Properties, the type of person you can call at any hour and he will be ready and willing to help. I would recommend Adam Crumrin to any of my friends and family that were selling or looking to buy land.

Adam was knowledgeable, personable and a go getter. He seemed to know the answer to questions before I even asked them. He took care of things behind the scenes and was very organized and prepared every time we met. He set up viewings and meetings and was willing to rearrange his personal schedule to meet my needs. I had an excellent experience

Very nice and responded quickly when I had questions.

Adam went out of his way to make sure my daughters first transaction for a home went well and when we had a couple of issues he took care of them.
Thank you to Adam and Ed

Smooth, Adam made the difference. I had the property sold and he slide in and made things happen in a timely fashion. Thank you,

Adam and Ed did a wonderful job at helping me through the whole process. Enjoyed talking with both throughout the whole process. Thanks very much!

Very helpful, provided accurate information about the value of property. Got to the finish line quickly.

Adam was very professional. Answered questions very quickly and honestly. He made the whole deal very easy.

Adam was prompt on responses. He was to meet at anytime to my convenience and most of all was not pressuring in any way.

Top shelf. Adam knew exactly what I wanted. He was very honest and up front. He wasn't in it for just a sale. If he didn't think the property was what I wanted he would come right out and tell me. He's very trust worthy and knowledgeable.

Adam was very well versed on properties in the area. Very professional. Was not pushy or trying too hard to sell.

Overall, had a positive experience. We had a set-back early on in 2018 with buyers backing out of our deal at closing time. Adam worked with us to continue to market and get our house/land sold.

Adam's experience and knowledge of the market made me confident and relaxed when purchasing the property of my dreams. I trusted that he had my best interest in mind during the entire process. The transaction went very smoothly due to his diligence and hard work throughout. I will definitely be recommending Adam to any friends that I have looking for a recreation property in Illinois.

Great experience once again. Ed and Adam are my go to Land Specialists for Buying or Selling Land. Professional, honest, and just all around great guys!

Adam was outstanding! Very professional and explained every detail to our understanding. Always willing to take our calls and answer our questions. Very polite and respectful.

Adam & Ed were extremely helpful and detailed with the purchase of our property. Their suggestions, guidance and professionalism are beyond excellent. Not only that, they are truly great and genuine guys! Even after the sale, they continue to keep in touch and show a true interest in our success and cultivation of a great hunting property! We are very thankful to have worked with them and look forward to a lifelong relationship. We sincerely hope to make them proud! We don't think we could have lucked out any more than with this property and both of them!

The service was flawless. Adam "carried the ball" all the way to a fair and equitable outcome for all parties. Many thanks to the whole team and feel free to use anyone or all of us as references. Sincerely,

Adam is very professional. Prompt response with initial contact and knowledge of the area.

Adam is very professional but down to earth. Easy to work with. Very likable. I feel very comfortable leaving everything thing to him. My sister (co owner) had never met Adam and said she would use him if and when they decide to sell. We are using him on another parcel of land.

Experience was very nice. Adam took care of everything, from dealing with the buyer and all the paperwork.

Adam was awesome every step of the way. I could really tell he cared about finding us not just any farm, but the exact farm we were looking for.

Very professional, knowledgeable, extremely helpful.

Adam was great with communication and availability by phone, text and E-mail. Extremely knowledgeable of the area. He is a great asset for Whitetail Properties.

My wife and I had recently purchased a piece of property with Whitetail Properties. We purchased a farm in Clark County Illinois with Adam Crumrin. The first time I reached out to Adam to purchase a piece of property, he took every detail into count in finding us a piece of property that met our wants. He was patient and not just trying to sell us something that didn't meet our wants or goals. Adam took care of every detail in the purchase process to the utmost professional way I could have imagined. I would like to take the time to thank Adam Crumrin and Whitetail Properties for the outstanding job they did. We look forward to buying property again with Adam and Whitetail Properties.

I recently purchased a wonderful home with your company and Adam Crumrin. It was a very pleasant process and Adam helped every step of the way ,taking time to answer all my questions.

Adam is a top notch person and deserves 5 gold stars. Thanks for making my dream a reality.

Could not have been a better experience than Adam Crumrin provided. Picked the phone right up when we found him on the internet and made sure he was accessible throughout transaction. Honest, up-front, reliable, helpful, did everything he said he would, got the job done right. Adam went above and beyond to take care of our transaction. We wish all our professionals made doing business this easy.

Adam was very professional and reassuring. He answered all questions and explained each step of the process. Very responsive and knowledgeable.

Overall it was very well. I feel the dual agency was handled very well for both sides.

The best decision I made was the phone call to Adam Crumrin. I felt from the first meeting that I trusted what he said and he was so knowledgeable and honest. I listed that night. He had the property sold in 2 days. He made everything so simple. I was made aware explicitly step by step of everything. I was never worried about anything. And then we closed and he was there and continued to answer my questions. Adam Crumrin would be the first phone call to list any other property I would sell and I will/have highly encourage other people to use Whitetail Properties with Adam as a listing agent. I have told many people how great my experience was with this company.

Excellent work by agent Adam. He got a buyer in a short period of time. Good communicator.

Adam was fantastic. Quality person who represented with great effort and purpose. Absolutely helped me with process from start to finish. Very efficient and was reachable anytime I needed him. A real credit for your organization.

We wanted to take a moment to drop you a line about our experience with your company and your realtor Adam Crumrin. Adam did an outstanding job for us marketing our farm. He is very knowledgeable not only with the normal sale of the property but also worked very well with our attorney because we were doing a reverse 1031. He knew we were working with a structured timeline and delivered in a timely manner.

I would recommend your company and Adam to anyone looking for a good experience selling their property.

Adam was great and found buyer for property.

Adam is very polite and personable. He made the process extremely easy. Adam was very friendly and met me in person instead of always texting or phone calls.

Adam was very knowledgeable and helpful, always quick to respond to any questions I had. The whole process ran so smoothly from start to finish and definitely exceeded my expectations. I was closing out my father's estate and it was a difficult decision to sell his beloved property. From my first interaction with Adam, he always delivered what he promised, along with treating me with kindness and respect.

It was fantastic. Although I had never met (still haven't) Adam, I felt like I was dealing with an old friend who I could completely trust the whole time.

Adam is excellent. His knowledge of agricultural and recreational land in the area made a big difference in our sale. He was especially generous with his efforts since we were out of state. He helped us to find help to complete needed appraisals and surveys. He guided us through some very challenging circumstances with our sale and was very patient through it all including with some very difficult family members. The process at times felt like a nightmare (because of factors outside of Adam's control) but had a happy ending thanks in no small part to Adam's help.

Adam is hard working, diligent, detail oriented, honest, very motivated, experienced, flexible and personable. He is the best realtor I have worked with; bar none. He is a strong asset to your organization.

Adam is hard working, diligent, detail oriented, honest, very motivated, experienced, flexible and personable. He is the best realtor I have worked with; bar none. He is a strong asset to your organization.

Adam was the epitome of professionalism. He listened to my desires and goals for a property and exceeded my expectations with what he delivered. His communication was thorough, there were no surprises, and it was an enjoyable process. I wish all businesses were run this well.



Contact Agent
Contact Agent
Contact Agent
Contact Agent