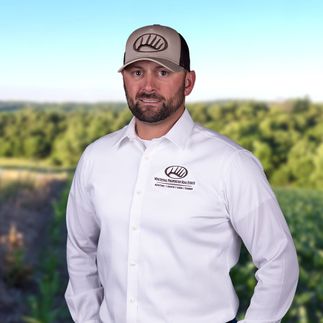 Adam Hann
Salesperson, Land Specialist / Licensed in KS
Testimonial Quotes
Adam Hann:

What My Clients Are Saying
Everything sold before an ad was created! Adam was informed, confident and a pleasure to work with.

I would like to take a moment and say "Thank You" to Adam Hann for doing a great job of selling our land in Norton County, Kansas. Adam kept us in the loop and up to date on all interested parties. Adam also did a super job of conveying the qualities of the land to potential buyers.

Thanks Again,

Adam Hann was the right choice! When my parents decided to sell their land, I wasn't sure where to begin so I started researching online. I discovered Whitetail Properties and chose Adam as our agent. I explained that this could be a complicated sale due to a lease with some challenging circumstances. Without hesitation, Adam accepted the listing and was very reassuring he could make the sale. He was right! His knowledge of land, habitat, and hunting was so beneficial in the listing and sale of the land. Adam kept us updated and was always available to answer any of our questions. Thanks to Adam's dedication, the land sold at a great price! Adam took care of everything and made the sale so easy on my parents.

I decided to sell the property at the last minute and then I was somewhat pressured to get it sold in a hurry. I was extremely impressed with Adam, he was very understanding with my situation and worked very hard to a help me accomplish my goals. He was very professional all the way through the process. Thank You very much!

Adam responded to our inquiry about selling our land within an hour while your competitor never responded. Each time we had a question or concern he was prompt and polite and very helpful. We had an extremely successful sale with his help and think very highly of him as an individual; as well as, a representative of your company. Thank you.

This was my first land purchase so I have nothing to compare to, but Adam was very responsive to my questions, followed up well with the escrow and was gracious and articulate throughout the process.

Thank you very much for all the hard work and glad to have this property in our hands. Adam did us a great job by meeting us at the property on a Saturday and we walked it. He knows his stuff when it comes to the property and the deer that are on the land as well.

Exceptionally well-done land sale of multiple properties. Adam is very good at what he does, I would use him again, and give referrals.

I could not have been happier. I look forward to doing more deals with Adam and Whitetail Properties.

Adam Hann was helpful in many different ways considering I live in Florida. I was pleased and happy with the time he sold the property. He is an asset to your company.

Adam earned every bit of his commission on this. He did some extras to get the deal done. I'd use him again. He'd be my first call.

Mr. Hann was very prompt in responding to our questions. His responses were accurate and thorough. When he didn't know information, he found out the information and replied quickly. He was very professional and pleasant to work with. Yes, we would recommend Mr. Hann as a real estate agent for farm property.

Adam Hann was great to work with.

Adam is a fantastic agent, knows what I am looking for, refers me to right listings, knows properties well. Great rep for Whitetail Properties.

Adam was great to work with. He made the transaction and sale so smooth for us. We live out of state, and he helped us make this deal happen and quickly! Thanks Adam

I could not be happier with Adam's service and expertise.

We did all the transactions by phone, text and email and all went very efficiently.

Adam is great. This is the second property we have sold using him and plan to use him on future sales in Kansas.

Adam Hann was great to work with. He was very knowledgeable and candid about our property, its valuation and the potential buyers. He went way above and beyond to get us a good price and close the deal, despite some weird complications that we encountered along the way! I would absolutely recommend Adam to anyone.

Great guy, great transaction!

Adam was very good to work with and a pleasure to talk with about hunting.

Our transaction was super easy and quick, just how we wanted it! Adam Hann delivered the best real estate experience I have had to date. His expertise and knowledge of the north central Kansas area was exactly what we needed as we were first time Kansas land buyers. I plan on working with Adam and Whitetail Properties again in the future!

Adam was very helpful, it didn't take long to sell the Ponderosa. I'd say he knows his business and an asset to your company so please treat him great. He is a hard worker, very friendly and very polite. It was great working with him because he knew it was hard to give up the land after 55 years living there.

You absolutely can't go wrong with Adam! He is such a nice guy, personable, patient with our questions, helpful by being honest & willing to go the extra mile without hesitation. He made our transaction smooth & easy for us...he takes his job seriously & that was much appreciated! Kindly,

Sale went much faster and smother than we thought it would. Agent was very accommodating and friendly.

Adam Hann was our sales person, we have purchased 2 properties in the last 3 years through him. He was very helpful in helping us find what we were interested in buying. We never had any problems with getting the paperwork and financing all done with Whitetail Properties, all went very smoothly. Thank you

Very responsive and answered all our questions.

Adam was good and knowledgeable throughout the process. He kept us informed very well.

Excellent overall experience.

Adam was incredible to work with. I had to sell two properties in order to purchase my Kansas farm, and it was a very complicated situation. Adam was absolutely instrumental to the process, working tirelessly to keep the transaction going smoothly. There is no doubt in my mind that this transaction would not have occurred without Adam. We developed a great friendship over the course of almost a year, and I know we'll keep in touch going forward. Adam is a great guy, and Whitetail Properties is lucky to have him. Thanks so much for everything!!

Adam was informative, straight forward and professional. I knew Adam would get it done.

ADAM WAS VERY GOOD TO WORK WITH.

Adam has been great to work with. Working on buying our second property at this time!!

We would like to show our appreciation to Adam Hann for the helpful service in selling the land we bought. He always does an excellent job.

Adam was a superstar. This deal was on/off several times. The owner was out of state and had little knowledge of the property. Adam organized water well testing, drilling negotiating with prior tenants and probably had 10 special trips to meet with folks at the property. He stuck with it for months. He did a great job for the seller and buyer or this deal would have never been done.

Adam Hann is good and easy to work with.

Adam was amazing! Hard working, knowledgeable, & just on top of everything! We are grateful for him!

Very professional and responsive. Delivered on what was predicted.

We closed on 3 WP properties in the last month and all 3 agents did a spectacular job. We have sold several properties with Adam over the last few years and this was the 1st sale with Ben and Jerrod.




All of them were very professional and put in the extra effort to get our properties sold.

Adam was very professional and helpful. I enjoyed working with him, and hope to work with him in the future




I can't say enough about Adam Hann and how much he helped me through the process of the sale of my ranch in Ellis County. No matter what the issue, Adam goes above and beyond to resolve it.




I do not live by the property I was selling. There were more times than I care to admit that I had to call Adam for assistance to check on something at the ranch. He never once declined to help! Every. Single. Time. Adam showed up!




Adam always made me feel like I was his only client! He is always on top of communication and making sure I and potential buyers were fully aware of the process. Adam is INCREDIBLE to work with. He is super focused on his clients.




If I could give Adam a rating above 10, I would. Adam Hann's knowledge of his job partnered with his customer service skills are literally off the chart! Thank you Adam!



Contact Agent
Thank you
We'll have an agent contact you shortly.
Contact Agent
Thank you
We'll have an agent contact you shortly.