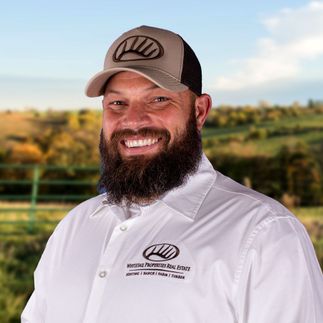 Alex Hunt
Salesperson, Land Specialist / Licensed in VA
Testimonial Quotes
Alex Hunt:

What My Clients Are Saying
"Successful! Expertise in rural properties."

"Nothing but great things to say! Always accessible and very professional! Wish there was an Alex at every real estate firm!"

"I have known Alex since we were kids. We found a property he had listed and made an offer. Seller didn't accept and we were not paying more than we offered. I found another piece and contacted Alex. He helped us close on it. Great experience and wouldn't expect anything less from Alex."

Alex is a Very Fine Gentleman, And Has the Best of Knowledge about helping people fine what they seeking.




Alex Has Experience in Farming. Knowing What it take to make and have a good farm! He's Been There & Done That! Still Helping As Well.




Hunting, Knowing What Areas and Places to set up for best situation at hand, To Achieve the Best Results!




Mountainous Terrain, Realizing the importance of Proper Equipment for Convincing Others To Be Safe!




Timberland, Knowing the different types of timber, and which is selling best at the time at hand. Which trees makes the Best Types of Food Available for Deer, Turkeys, Squirrels. Etc,




He's Honest With His Customers , He may not tell them what they want to hear, However He Will Tell The Truth!. Which Goes Long Way These Days! I've Known Him Personally For Many Years. Even Hunted With Him in Past, On Many Occasions!




Alex did a wonderful Job working for me, while also respecting the guy whom had the property Lease for Hunting. I Know it can be trying to do so and please each party, However, Alex being a hunter as well, Knew Exactly How to handle the Situation Best!




Alex Hunt Is Great Asset For Whitetail Properties In My Opinion! Congratulations On One Great Guy!!

I'm extremely satisfied. Alex answered all of questions, walked around the property to show me everything and was honest and great to work with. He was knowledgeable and got the buying process completed for me with no issues.

After meeting and discussing the sell with Alex Hunt I felt absolutely confident that he would get my property sold. Alex exceeded my expectations with his knowledge, hard work, and people skills.

Unbelievable. Both men were very knowledge and did everything possible to keep us updated. Alex kept in contact with me to see if we needed anything.
Contact Agent
Contact Agent
Contact Agent
Contact Agent