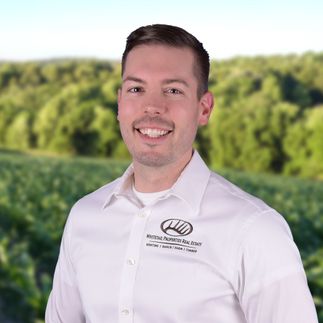 Ben Harshyne
Salesperson, Land Specialist, IA Team Leader / Licensed in IA
Testimonial Quotes
Ben Harshyne:

What My Clients Are Saying
"I am more than pleased with the whole transaction. Ben was a real pleasure to work with. Very professional, he sure knows his stuff! No pressure, just answered all my questions and let me decide on my own terms and time line. I really appreciated his approach to the whole process. If I ever decide to do this crazy thing again, I will use Ben!"

"I am thankful for Whitetail Properties for getting full price for my 40 acres in Wapello County. Ben Harshyne and Rich Baugh made an excellent drone video to advertise my place. Hersh Smith's word was always good. He was prompt and did many little things for me. When my first offer was withdrawn he talked me down when I was disappointed. And he made many trips to show to show the property. I was very satisfied and traded my 40 acres for my dream home in Indianola. Thank you!"

"Both Ben and Rich are very good to work with. Outstanding individuals and very knowledgeable."

"Great communication, complete professional. Very happy with the whole process."

They were easy to work with and always got back to us in a timely manner.

Professional and accommodating helped me work though my stress being a first time land owner.

Outstanding from start to completion.

These guys are great. Will work with them again, and recommend them to others.

He was able to sell the property in 21 days. Close within 30 of sale.

Ben was is an all around great person. Very intelligent and energetic. Can't say enough about his professionalism and work ethic.

I was in a very tight time frame due to a out of country vacation and work. Ben did a great job accommodating my schedule. The "after sell" service has been wonderful as well. Ben is the type of guy that "goes the extra mile" for his clients while listening to what they want. That kind of customer service is getting hard to find. If he ever wants to change career paths I'd hire him in a second.

Ben did a good job, everything went on time.

I would like to commend Ben on his professionalism and work ethic. He is motivated to go the extra mile for his clients - both during and after the transaction process. Ben is energetic, knowledgeable, and a pleasure to work with. I would highly recommend him to both buyers and sellers alike.

I have never been around a land purchase or sale. I feel very fortunate to have had Ben help us. His integrity should be an asset to your company.

Ben did a great job. I've known him for several years and I'm impressed with how suited he is in this role!

Ben was outstanding! I spend a lot of time working out of the country and Ben kept me well informed of what needed to be done and was proactive in developing workable solutions to my logistical challenges. I know of many real estate company's and have friends who are agents doing the same. They are good at what they do and I wouldn't have a problem using them. However, in this situation I was already locked into purchasing a new farm that I paid top dollar for. Therefore, I needed an agent and a company who would find me a high end buyer in a timely manner. I knew Whitetail Properties was that company and that Ben would perform at a high level to meet my goal.

Ben was very knowledgeable and helpful with all our questions.

Ben was really good about answering questions and giving great information to make the sale painless. He was really helpful to us on issues of financial and insurance institutions that deal with this type of land acquisition.

Ben is outstanding! I would recommend him to anyone looking for property.

Ben is an all-star and professional. He was the listing agent and our agent as well. He navigated some very emotional times for the seller. He provided great advice to our family throughout the buying process. He kept us up to date and we always knew what was going on. We have already shared his contact information with others. I have high expectations for people and especially people in service, he exceeded them. Absolutely fantastic job.

Ben was tremendous. World class. I cannot envision a better Land Agent and representative of Whitetail Properties.

Ben was very helpful and one of the few Agents we felt we could trust what he was telling us. Ben was very good to work with through the full process from the showing of the property through closing and even after the closing.

Ben is a 27 on a 10 scale. He is deeply skilled, knowledgeable, and a sensational communicator. He managed all aspects of the property sale seamlessly.

Ben was very prepared and gave us great information upfront. He was also very quick to respond to any questions.

Ben was an exceptional realtor. It was a very calculated choice when we chose him to list our 800 acre property. We researched a lot of realtors in the area before choosing him. He was an excellent communicator and very professional. He was very persistent to get the opportunity to sell this large hunting property and it worked out great for both of us. He sold this beautiful land in 71 days!! Absolutely outstanding!! I highly recommend him to anyone in Iowa to help sell or buy a property in the area. He truly knows what he is doing!

Ben was very professional and thoughtful..He was thorough and easy to work with.

They were extremely professional and helped come to a workable solution when presented with fence line challenge. I had a unique listing with a high end home on 40 acres. I felt WTP presented me with best option to getting full value of my investment.

Ben is extremely knowledgeable in land and hunting and it was a pleasure working with him.

We closed on 3 WP properties in the last month and all 3 agents did a spectacular job. We have sold several properties with Adam over the last few years and this was the 1st sale with Ben and Jerrod.




All of them were very professional and put in the extra effort to get our properties sold.

I want you to know how much we appreciated all the efforts Ben Harshyne put into helping with the sale of the 2 acreages in Keokuk County. He worked hard to get everything coordinated and offered excellent advice on both properties.




I know he and Rich Baugh worked to get the auction set up, as well as the other 80 acres sold and everything worked out well.




Working with Ben throughout the process was a very positive experience with great results.

Ben did a god job in our first contact. It was a great experience!

Very good handled everything extremely well.

Could not have possibly been better. Ben was always available and when texted or emailed was always prompt with a response. We were both on the same page during the whole journey.

It was great working with Ben and his team! We didn't get a lot of offers but Ben provided guidance on holding for a better price. In which we ended up with a much better price.

Ben Harshyne couldn't be a better representative of your company. He handled the sale with professionalism and knowledge that exceeded my expectations. He is a great asset to your company.
Contact Agent
Contact Agent
Contact Agent
Contact Agent