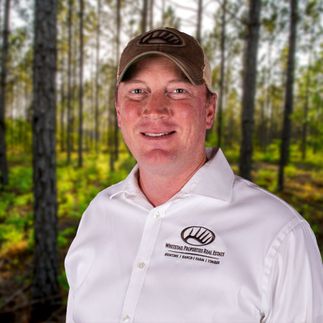 Ben Richardson
Salesperson, Land Specialist, AL Team Leader / Licensed in AL, GA
Testimonial Quotes
Ben Richardson:

What My Clients Are Saying
" Ben was very easy to work with and very helpful! "

"Ben was like working with a friend. He was flexible, helpful and informative about the property and the area. Since the sale he has also been great at offering advice and helping us connect with the local community for development of the land."

I was very pleased with Ben. He laid out trails in away that opened up the property that was amazing. He is a professional at what he does. I enjoyed working with him.

It was a good experience, to work with Ben Richardson.

Ben was great! He was referred by my brother, Jim Davis.

" Working with Ben and his team was a very smooth and seamless process. The transaction coordinator, Jennifer, kept us informed all throughout the process. "

We believe you are the best Realtor we have ever worked with. Your knowledge of property is exceptional and your presentation was great. I was able to take your presentation to my siblings with a clear understanding of the options that were available to us. Thank you for your time and patience.

Thank you so very much for your prompt and thorough assessment of our Northern Alabama tree farm property. The market analysis and other information that you provided has been extremely helpful for our plans to offer the property for sale.

Dear Mr. Richardson, First to Whitetail Properties, when you hired Mr. Richardson as one of your agents, you truly struck gold. Second, it is hard to find a company these days with such high standards, good morals, high integrity and honesty. When I first called Mr. Richardson about the sale of my property he stepped me thru every phase. I knew I had nothing to worry about. From beginning to end it took four months. I am very happy and pleased with his work and I will use him again in the future. Thank you Whitetail Properties and Mr. Richardson

Ben was very good at shepherding a nervous first time buyer through the intimidating process. As the seller, I felt he worked hard to keep a fragile deal intact.

I cannot say enough about how professional, cooperative, courteous, and pleasant Mr. Richardson was throughout the entire process. He is one very fine gentleman.

Ben did a great job and was very helpful. Will work with him again on my next purchase.

Ben just wanted to take a minute and thank you. You were great to work with, and taking the time to answer all of our questions and keep an eye out for us while we were searching for the right place for us. We are very excited about the property and are looking forward making it our own. Maybe in the future we can send you some pictures of the deer we harvest. Or if your in the area don't be a stranger and stop by and say hi. Thanks again for all your help and patients with us. We are very excited.

Ben showed great patience helping me find the right property. It took almost a year and he showed multiple properties.

After having our property listed for sale for over two years with various agents and agencies with very little interest or traffic, we found Ben Richardson with Whitetail Properties. We were impressed with just how easy he was to work with from day one. He has a very laid back easy way of explaining the strategy he uses and the way he goes about promoting and marketing your land for sale. I truly thought at this point that we had found the "The Guy". After a few days, Ben had a chance to go walk our land and spend some time taking many, many pictures including aerials with a drone. Then he wrote the description of the property for the listing itself. Once I read what he had written, combined with the images he had taken...I KNEW we had found "The Guy". Our land sold in just a little over a month. Keep in mind we had been listed with at least three other agencies spanning more than 2 years time. We are thrilled to recommend Ben to anyone looking to list their land for sale. His work ethic is impeccable, his communication is concise and extremely accurate. Sign with him, you will not be sorry!! An awesome experience. Ben is the best agent EVER!!

Sold my property in three weeks time, couldn't ask for anyone better.

Transaction went as smooth as we could have hoped for. Had some changes of circumstance during the listing period that were made easily with Ben & Nicks expertise. Would recommend them to anybody in the North Alabama area.

We had another agent for 1 year who did no work. I kept prompting her for all questions and answers. Ben is on top of things, works on behalf of his seller and makes sure he pleases all parties, does his job and takes good care of his buyers. We will use him for two other properties because he is the best we have ever worked with.


:

I cannot say enough good things about Ben. He was super knowledgable, easy to be with, kind, responsive, and honest. I truly enjoyed going out with him and looking at land. I wish I could buy more just to hang out with Ben! He was really excellent. Also, you should know I am not an easy reference for people, so this is high praise. He is an awesome representation of your company and just a really good real estate agent.

Really appreciated Ben's responsiveness and willingness to remain neutral in the transaction. If I ever decide to sell, I would list with him.

Ben went above and beyond to keep me informed with progress.

My husband and I were very happy with Whitetail Properties. After we signed with Ben, we didn't have any worries about the land selling. He sure took a lot off of our minds and saved us a lot of trouble. Thank You

Ben is top notch. I would highly recommend him to anyone.

Ben was very knowledgeable about the property.


Pleasant Experience. Ben Richardson was very polite and easy to work with.

Extremely knowledgeable and I would consider him a friend.

Ben over exceeded and did and excellent job. He is to be highly commended on the job he did for us. You are lucky to have him working for your company. Most people don't have the work ethic he has.

Ben was very helpful. He never seemed to tire of answering my many questions.

Ben was very accommodating to us being from out of state. He provided all information we needed to make a proper decision.

This is my second experience as I just sold a KY farm in December with a Whitetail Properties Specialist. Both experiences have been very good. Specifically in regards to Ben, we found him to be a tremendous help! He had a tremendous amount of knowledge and was focused on our interest throughout the process. In fact, I have sold or bought more than 15 different properties and this was the first time I ever had an agent tell me to go lower for an offer. To me this demonstrated Ben's desire to fight for me as the buyer but he also was able to give very specific reasons to adjust the offer. After I was introduced to Ben I ran into another family he had helped that I do some work with and they sang the same praise. Clearly Ben is great at what he does and understands all the aspects of buying a rural property. This is where I found his knowledge to be a tremendous help as he pointed out things I wouldn't have thought of several times. Overall a great agent and would recommend Ben to anyone needing help!!

I loved working with Ben as he was very professional and knowledgeable in all his dealings. Ben has an excellent ability to photograph a property and bring it to life in his postings. Ben has also become a friend of mine and if I ever buy or sell anymore property Ben will certainly be my representative.

Ben took care of my family and I thru out the whole process. Informed us and answered every question we asked. he made the purchase process stress free and easy!

Very good. Ben was professional and competent.

Outstanding! Ben Richardson is a professional representative who is knowledgeable, honest, fair and accommodating. He was a pleasure to work with.

Ben Richardson was the primary contact with your company for all of the negotiations and eventual purchase of the property. Ben was a pleasure to work with throughout the process. Ben represented both myself and the seller and could not have been more professional. In addition to being knowledgeable and helpful during the process, he was always available to answer questions and provide excellent advice when needed. Ben's enthusiasm and love for the outdoors are evident in his actions and sage advice. It's hard to find a representative that puts the customer first, is fair and honest and truly loves what he does. Ben is that person and more. Thank you for all you and your firm did to help Cathy and me to purchase the property. I hope we have the opportunity to use your firm in the future.

Ben is great to work with. Ben was local and knowledgeable about property and I had a good experience working with him previously.

Ben was great! Responded to emails quickly. Also showed us the property twice so that my entire family could see it.

Very knowledgeable, professional and helpful through the whole process. Would definitely recommend Mr. Richardson!

Ben was great to work with. He answered all of my questions, had creative input as to how I could customize the property to suit my needs. He also has a passion for what he does and gets excited talking about land and wildlife management. He's a great resource for information. Ben was fantastic!

He was very knowledgeable about the property and really easy to work with.

Could not say enough great things about Ben. Though certainly knowledgeable about land, it was his communication and character that stood out. Would not do business with out Ben moving forward.

Ben did a great job of marketing and selling our property. We were very pleased with his abilities and talents in making sure our acreage was sold at the best price possible.

Ben was extremely helpful! We couldn't have asked for a better experience.

Very professional, very knowledgeable and worked hard to answer all of my questions.

Ben is very pleasant and friendly.

Thank you so much for all of your help in selling both properties. I feel like they are both in good hands with people who appreciate their history and longevity. That was a big feat in making Cathy and I so comfortable with turning it over. I've sold a lot of houses including Mother's and Daddy's but this one was especially hard to let go of. You made it an easy process. Thank you.

Ben made the entire deal happen. His experience and patience working through details was the reason the sale worked out. He was the hero.

Ben is amazing. I like just spending time with him in the woods. He is a super person, cannot say enough good about him.

I contacted Ben and he took over and did a wonderful of marketing the property. Ben walked all the major features of the property, was interested in the history of the farm, suggested a couple of inexpensive changes and sold the property very quickly!

I sent Ben a list of what we were looking for and he said he would find it... it took a little time, but he did.. great experience. It was not listed, Ben found it for us before it went on the market.

Ben was very knowledgeable. Very familiar with the land.

It has been great to work with Ben! When I first emailed, he responded promptly. He was very knowable, friendly, and easy to work with. His expertise guided us through the process. It is a difficult decision to sell family land, but when we decided that was the best for us, Ben helped us find a young family that were excited about starting their own journey on this land.

Ben was very professional and easy to work with. I have no complaints at all.

Very positive, very professional and very helpful.

Ben is a nice guy. Very pleasant to deal with. Very professional.

Ben was great to work with. I felt he looked after our interest also.
Contact Agent
Contact Agent
Contact Agent
Contact Agent