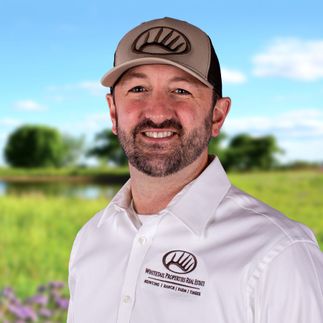 Blake Farrar
Texas Sales Manager, Sales Agent, Land Specialist, TX Team Leader / Licensed in TX
Testimonial Quotes
Blake Farrar:

What My Clients Are Saying
"Thanks to the hard work and professional way our sale was conducted, Joey & Blake at Whitetail Properties got done in 1 month what the other realtor couldn't do in 2 years - Sell our ranch. Within 1 week of listing our property we had an offer and it was sold about 3 weeks later. We really appreciate the fast service."

Thanks

I spent the last few years in search of a place to call my own. It proved to be quite challenging until I was introduced to Blake Farrar with Whitetail Properties. From the first time we spoke, I knew he wasn't just trying to sell me a piece of land, but had an honest desire to help me find exactly what I was looking for. I can't say enough about the professionalism and courtesy given to me, and the dedication shown from day one until we closed on my new ranch. I want to thank Blake and all the folks at Whitetail Properties for a great experience and helping me find my very own slice of The Great State of Texas.



I don't provide endorsements for many folks, but Blake Farrar is a rare exception. With regards to Blake as a person, Blake is an honest, straightforward, very likeable, easy to communicate with, and most responsive individual. Beyond that, he is very knowledgeable with regards to hunting properties. He strives to learn what his client truly desires, what their budget is, and why they want what they want.

After learning these things, he promptly goes to work. He endeavors to get the best and most fair deal for all parties involved. Further, if a deal on a particular property is not to be made, he quickly moves forward in his search of other properties to still accomplish the desires of his client. He did exactly this for me in mid-2013 when he helped me acquire a 116-acre hunting property in Throckmorton County.

Bottom line, Blake is just a good guy. I trust what he tells me and believe he is always working in my best interest. You will find your partnership with Blake to be an enjoyable, productive, and satisfying one.




Blake did a great job working with me throughout the process of buying a recreational ranch property. He helped me understand the pros and cons of various properties and therefore understand the value, both monetary and in terms of how the property compared with my goals. I would say Blake is a gentleman of very high character and I truly enjoyed working with him.

Blake is outstanding. I will do nothing without his help in the future. One of the best people I've ever had the pleasure to work with!!!!

We could not have found anyone we would rather work with than Blake. We had listed our property with 3 other companies in the last few years and none of the agents even showed it more than once. Blake had it sold within a few weeks. Thank you, Blake.

Blake was a great match for me. While I did not know what I was doing to get from interested to buying he was patient and helpful and struck the perfect balance between encouraging pushing at ever step of the way. I am comfortable anyone I refer to Blake would be happy to work with him.

We initially contacted Blake Farrar who put us with Blair Matthews and appreciated both of their input helping us 'prepare' our property for sale so once an offer was accepted, there would be no gotchas. Blair did a great job marketing the property and managing offers to ensure we received the maximum value. We're very happy with the sale and I think the buyers are happy with their purchase. We couldn't have had a better agent working with us.

We would like to tell you that Joey Bellington and Blake Farrar worked hard to get us two potential buyers, with the second buyer closing on our property and getting us a fair market value for our property. We previously had our property listed with another local broker who tried hard to get us a buyer but just could not find a buyer for our property. We decided after a little research to change our broker to one who had a broader scope of potential buyers available and that was Whitetail Properties. We were glad that we made the change and got our property sold and closed in a relative short period of time.
Contact Agent
Contact Agent
Contact Agent
Contact Agent