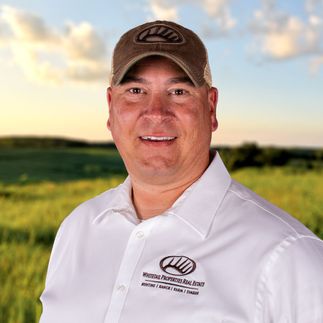 Bob Stalberger
Salesperson, Land Specialist / Licensed in MN, WI
Testimonial Quotes
Bob Stalberger:

What My Clients Are Saying
Having spent nearly two years looking for some acreage on which to build our future home, we had grown weary of the process and the lack of results. We had given up or postponed our search on several occasions and ultimately sought the advice of several real estate agents over the course of time. The spring of 2013 brought renewed enthusiasm to once again pursue the search that began in 2011. It was our son-in-law that suggested talking to Bob Stalberger because "...Bob looks at land from a different perspective". After our initial meeting with Bob we were impressed by his interest and attention to the specifics of our vision of "our dream property" (not a short list). A few days after that meeting we received Bob's initial list of recommendations to which we provided specific feedback on what we liked in terms of cost, location and features. Bob revised his search and returned new results with a recommendation to physically visit a short list of sites and to "walk the property" so we could see it first-hand. In a few short weeks we had seen more properties through Bob, than we had seen in the previous 18 months! As an early riser, I was always impressed with receiving a reply from Bob to my email inquiries; sometimes well before 6:00 AM. We found that Bob's responsiveness, like his work ethic is part of the deal and he never wavered from either throughout the process Bob coached us through the offer process on a couple of sites we liked and we "closed" on our dream property a few days ago. Having worked with other professionals over the course of time, I can say that Bob Stalberger significantly outperforms his peers in several ways; listening to your request, responding to your questions, showing you properties that fit your priorities and helping you through the process every step of the way. We can recommend Bob Stalberger with complete confidence as the best person to help you find your "dream property".

I have been looking at purchasing a hunting property for over a year. I had been searching through alot of hunting land on many different websites, but never found the right property. When I came across the right property, I contacted two other different agents across Minnesota and Wisconsin but these two agents never walked the property with me like Bob Stalberger did. Bob was very helpful with all of my questions and made the whole process really easy. Bob was very honest which helped to ease my mind and reduced my fears. All of the legal easement and paper work got handled very well and closing was very simple. I really appreciate the hard work Bob has done for my wife and me. I would highly recommend working with Bob Stalberger to find your dream hunting property.

Thanks

Working with Bob when purchasing this land was a very pleasant experience. We have already referred Bob to some friends of ours that are also interested in purchasing some hunting land, and we will continue to do so. We both appreciated his prompt responses and thoroughness. He was extremely accommodating and flexible with all of the details when it came to paperwork and closing. We look forward to sending pictures of the deer that come off of the land. THANK YOU BOB!!!


Bob, was the second realtor that we used to sell our property. The first realtor was not able to bring us an offer even after listing the property for eleven months. We also had to contact him to find out what he was doing to sell our property. Bob, on the other hand, was very professional. He was active in keeping us informed when there was interest shown for our property through the website and if he was showing the property to buyers. In talking to Bob, we quickly knew he understood the business of buying and selling hunting property. Within weeks of having Bob as our realtor, we had an offer. Bob, expertly guided us through the whole transaction process. He always gave great advise through the entire selling process. If you are planning to sell or buy hunting property I would highly recommend Bob.

Bob Stalberger worked with us during the process of purchasing our land. Owning land has been a dream of ours for many years but we really had no idea what we wanted. Bob was extremely patient with us. He would spend hours or an entire day in bitter cold showing us properties only for us to tell him that nothing really "felt right" to us. We couldn't tell him why the properties didn't "feel right". We obviously needed to develop a criteria list. Bob was very friendly, helpful, and patient as we worked through this process as well. Bob is very knowledgeable about what he does. He was always able to answer our questions himself or he would get us answers. His follow-up was impeccable. When we called or emailed him with a question, he would respond to us almost immediately, no matter when we emailed. Even if we emailed him while he was busy, he would reply just to tell us when he would be able to get back to us. Bob always remembered details about our situation; details about all the properties he had shown us and why or why not we liked each one. The details he remembered about our situation made us feel like we were his only clients.When it came time to close on our perfect property, Bob handled every detail of the closing and was in constant contact with us to see if we had any questions. Even after the closing, Bob still followed up with us. We highly recommend Bob to anyone who is looking to make a property purchase and would be happy to talk with anyone who might want additional information.

Bob took the time to walk the properties and take appropriate pictures. He also advertised locally and found buyers located within 5 miles of the property.

About 5 months ago we contacted Bob Stalberger with Whitetail Properties regarding a 54 acre parcel. The weather had been extremely cold and no signs of warmer weather, so we finally just bundled up and met Bob at the property. Bob was already there, waiting on his ATV, ready to show us the acreage. Bob spent ample time with us, answered all our questions, even showed my husband where some great places for food plots and deer stands/blinds could be placed. Right from the beginning we liked Bob, he was so friendly and easy to talk to, answered emails and returned phone calls within minutes usually. The seller lived out of state, but the process was flawless from start to finish. We would definitely recommend Bob as an agent. He did a fabulous job! Thank you Bob.

Bob was simply outstanding! Always there when I needed him, very responsive. I learned of your service from your show back awhile ago on the Outdoor channel. Matter of fact, Bob has the listing for my current property and I plan on buying another one from him down the road. I simply could not be more happy. Bob is outstanding!

When I went to the mailbox one day this summer we had received a beautiful advertisement from a real estate company called Whitetail Properties. The advertisement was sent by Bob Stalberger. It said that he was looking for hunting, ranch, or farmland in Southeast Minnesota. We had some property that we wanted to sell in northern Minnesota. We were told by a Real Estate company to the north of us, that it would be hard to move. For some reason, I decided to call Bob. He returned my call right away and came to our house where we wrote up a listing agreement. This was in August. He went right at it and it was closed in October. Bob is such a fine man to deal with. Polite, informative, and has a lot of patience with the elderly. Whitetail Properties is lucky to have him for an agent. So if you have property to sell, get in contact with Bob Stalberger.

Two catch phrases describe Bob Stalberger -- "Extraordinary Service" and "High-Integrity." Bob's customer service, marketing intellect, effective communications, and tenacity to get the job done is unrivaled in the industry. Above all, his personal integrity and business dealings are beyond reproach. We have worked with many Realtors through the years and Bob was a breath of fresh air. He sent us personal updates each and every week on the status of our property, details of site views, interested parties, and implemented new marketing tactics to solicit buyers. He treated our sale (a relatively small property) like it was a big deal and always treated us right. When the final offer was presented, Bob continued to focus on the details to ensure an error-free and smooth closing experience. Bob, we can't thank you enough!!! Don't ever change - you are what all Realtors should aspire to!

We were extremely impressed by Bob's communication and thoroughness. He was very composed even when there were obstacles to overcome. We would certainly recommend him to people looking to buy or sell.

Bob did an excellent job of finding us just the right property. We looked for a long time prior to signing on with Bob and were impressed with his follow through and ability to find new properties for us to check out.

Bob was great! He worked very hard to sell both the homesite and the hunting property and kept us informed at all times. He treated us with the utmost respect and we were very impressed with this young man. What also impressed us was his computer knowledge and how we were able to sign documents on our iPad without having to mail everything back and forth from Florida to Minnesota. It was a pleasure working with Bob and your company.

Bob, Thanks so much for selling my land so quickly. You sure know your business and were very thorough with everything including the paperwork. You always returned my phone calls as soon as possible. I certainly will call on you again if needed. I would highly recommend you to others. Also thank you for the gifts.

I wanted to send a commendation for Robert Stallberger your agent in Rochester, Minnesota. My son and I had a limited time in Minnesota and he took care of us immediately! Then we purchased acreage entirely through e-mails and mail. He took care of all the legal steps and helped us finding information from the courthouse etc. He was very reliable and in spite of the distance, we were able to close at the earliest date that I wanted. Thank you for helping.

Having bought several houses before and worked with multiple different agents, I was extremely impressed with how hard Bob worked for us. We ran into several obstacles during this process, but Bob stayed on top of the issues and worked them to resolution. Even after the deal is now complete I know I can count on Bob for anything I may not know about owning land.

Bob is the best realtor I have worked with in southeast Minnesota. Good personality to be around.

Working with Bob Stalberger was a great experience. He answered any questions that I had about the land or the buying process. His service was exceptional. There was no need for me to ever meet Bob because he would come right to my door if there were any documents that needed signing. I feel that working with Whitetail Properties made the experience and excitement of buying a new property stress-free as possible. I live in a strong agriculture and trophy whitetail hunting area and I will never hesitate to recommend Bob to anyone to buy or sell land. Thank you very much!

My brother and I listed our farm with a large local realtor without success. We contacted Whitetail Properties and talked to agent Bob Stalberger, who took a much more personal interest in selling the property. Bob walked the whole farm taking lots of photos of crops, creek, woods, deer tracks, and beds to post on his website.We thought that we had one building site but after Bob did some checking with township and county agencies, he found out we had two building sites on this farm. We found Bob to be personable, knowledgeable and would recommend him for your real estate needs.

There are many land agents from whom to choose, but as a landowner who had been through the process before, I knew within a week of listing with Whitetail Properties' Bob Stalberger that he was extraordinary and that I had absolutely made the right choice. Here is what Bob did for me: Using his considerable experience of the market and comparable properties, he worked with me to determine a fair, reasonable (accomplishable) asking price. Detailed website information and photographs were set up speedily and accurately. Showings occurred almost immediately, Bob matched my land's benefits with the needs of buyers on his extensive contact list. Important to me, I was constantly kept in the conversation and updated on its status. Bob does his homework, works well with buyers, sellers and governmental agencies to manage expectations, stay on task, and continually and energetically works on priorities to bring a land sale to a positive conclusion. Bob found the perfect buyer for my land and presented me with an offer I could accept in half the time I had hoped; we closed 2 months later, both buyer and seller complimenting Bob's hard work. To balance a land transaction so all parties are well represented (and pleased) is a rare talent, and one for which I am personally grateful. Whether you have land to sell or are looking for land to purchase, I recommend having a conversation with Bob Stalberger. Doing so was one of the best things I ever did.

Bob answered my calls promptly and answered any questions that I had. He handled everything professionally and kept me informed with anything that came up. I also appreciated the weekly updates from the agency. Overall, I am a happy client.

Bob Stalberger significantly exceeded my expectations. He has gone well beyond the call of duty on a consistent basis from start to finish. He is exceptionally responsive, helpful and proactive. Bob sets a standard that no-one I've met has come close to achieving. The guy is phenomenal. He also provides really good advice and takes on tasks that help me out although most would not do so. I am truly grateful to Bob for all he has done for me.

Bob is sharp, has class and understand the entire process. Was very happy with his response time, ability to reach him with questions, and expertise.

Bob was very professional and friendly. We had a very difficult sales - land situation go through and Bob was fantastic throughout the deal. Thanks Bob.

I have purchased and sold property in the past with other agents an never really felt like I could totally trust them. I have purchased 3 properties and sold 1 property with Bob Stalberger and have always felt like he's working in my best interest.

Bob was great... Above and beyond expectations!!!!

Bob is straight-forward, honest, friendly, and never pushy, with immense knowledge of how to sell recreational and hunting land. He also goes the extra mile. After our four-wheel drive vehicle was in an accident, he helped us remove materials from our land in the middle of winter to get ready for showing. Because of his networking and connections, our property had an offer within six weeks of listing. We appreciated the regular updates from Bob and his assistant Mary, and the attention to detail including follow-up items. In summary, we were very pleased with our relationship and real estate interactions with Bob and Whitetail Properties.

Bob is awesome to work with !!!

Bob and Mary were class acts. My wife Judy & I strongly agree. Thanks again!

Bob was great to work with and quick to respond to any questions I had. Thank you.

Bob and Mary communicated on a regular basis and stayed in touch to provide direction on next steps after we received an offer. Bob and his Assistant Mary did a great job of keeping the transaction moving forward.

Bob did a wonderful job keeping us informed and keeping things moving along even though we had a few unexpected road blocks that came up.

Bob did a great job getting the deal done and we appreciated his hard work!!! Thanks

Bob did an excellent job of marketing the property and handling all of the details!

Joni Mehus - Niel & Janelle C

Bob was fantastic he kept me informed of everything that was happening and what was coming up in regards to all paper work. He was very knowledgeable and being that I live out of state we did everything electronically. Bob helped by walking me through all the steps and not only by email but he would follow up with a phone call too.

Very easy process and love the way Whitetail Properties works.

Super Guy! Very professional and he knows his stuff.

Bob is a great guy and I consider him a friend after our dealings.


There were a lot of challenges to complete this purchase and Bob handled them all very well!


He was very easy to work with and I am very satisfied with the way he handle things from start to finish!

Bob was very helpful and communicated throughout the process.

My wife and I have owned hunting/farm land in central Illinois for many years, we're very aware of how difficult it is to find a piece of property that meets your specific needs. In 2017 we decided to sell our land and buy a piece of property in Minnesota. From the end of 2017, working through 2018 we've been searching for a piece of land that will eventually be our retirement property. We were very fortunate to meet a land specialist from Whitetail Properties, Bob Stalberger. We met Bob to discuss our needs, his attention to our request were wonderful! Each piece of land that Bob showed us focused around what we wanted with all the features. Bob was very much committed to finding us what we were looking for vs. selling us a piece of land. We visited several pieces which he was very educated on and he shared the pros and cons to make sure we understood what we were looking for. My wife and I laughed about one piece of property, Bob drove us up a steep incline during the winter. During the accent we began slipping backward, Bob got the machine under control and had us exit the vehicle until he got it safely situated. The point being, Bob was dedicated to showing us the entire property when most would have shied away. The piece of property we eventually bought came with significant struggles. During the purchasing of the property the contract went sour, for circumstances neither of us could control. Over the next 9 months Bob worked with us trying to identify additional land and resolving the issues that surrounded the piece we loved. Without any contract with the buyer, Bob personally pursued the land for us, no guarantee of getting paid! The deal finally worked itself out and we're now owners of the land we wanted and this wouldn't happened if it weren't for Bob! In short, we're very fortunate to have Bob not only as a realtor but as a friend. Bob always took the high road and never passed judgment. Bob focused on the objectives and didn't get caught up in the emotional aspect of business. I've been managing sales people and developing sales for over 25 years, you know when you've come across a quality person, Bob Stalberger is that guy. Too bad Bob doesn't want to sell automation, he'd be great at that as well.


Bob kept me up to date and was very kind to me at a difficult time.

Very satisfied. Bob kept me posted throughout the process.

I sold my northern Wisconsin property a few years back with Neil Hauger. I Had been watching you're website for places in Houston County MN for years. I met Bob Stalberger a few years ago and we walked many properties together over in Houston County. He was always available to meet me at these places upon my requested time and go through the whole property with me. He would point out many items and possible improvements. Some didn't quite have everything I wanted so when I passed he was always positive and would say "We will find the right one for you". He is a awesome agent and went through all parts of the purchase with me until the closing. This property has everything I wanted and now I can hunt both Minnesota and Wisconsin Thanks to Whitetail Properties. I sold a property through them and purchased one from them. Nothing could have went any better. Thanks to everyone

Very professional. Great personality.

Bob was great! He provided timely advice, found a qualified buyer and got a deal done.

He did a very good job and was on top of things for me.

Bob worked hard with both parties to achieve satisfaction for the desired outcome.

Bob has been helpful in making sure we have seen many properties in the area. After Bob submitted the purchase agreement, he and his assistant took care of all the details with regards to the property. Bob's team did an excellent job!

Excellent service thru it all!

Bob was great! We discussed up front the potential value, he toured the property, etc. We decided to list and Bob did a great job of capturing the property in pictures, drones, etc. Then when it came to selling he courted multiple offers to my best interest. He could have probably been better off personally with the lower bidder, but he put me as the seller ahead of his own personal gain. I left impressed and wouldn't hesitate to recommend him to anyone.

Seamless transaction. Handled professionally.


Very positive from start to finish. Bob was very knowledgeable and helpful.

Was very pleasant to work with. Was very optimistic in pricing and actually had a strategy.

Very efficient and professional.

Bob was top notch Realtor from day one. Bob was professional, polite, thorough and easily reachable at all times!

Bob was fantastic to work with. Made us comfortable with everything not pushy. Made himself available multiple times to meet at our convenience.

Bob was fantastic. He is well prepared and thoroughly professional. He is exceptionally organized, vigilant, and honest. I have also had a great relationship with another agent, Brent Grosse. Your agents are top notch!

Bob was great to work with. He and his staff always followed through on what he said they would do.

He worked very hard for me. Got the word out on all media. Was very professional and in constant contact with me by email or phone. Always had my best interest in mind.

Bob was great! Had 2 offers the first day it got listed. The people that bought it, saw Bob putting up the sign as she drove by. She called Bob 5 minutes later and put in offer that day.

Great experience, easy to work with and helped us along the way.

Bob was the best. Answered all my questions, he is a wealth of knowledge.

I had a great experience working with Bob. He is very organized, pays attention to details, is honest and is a great communicator. I have worked with him buying and selling property, and have full confidence in him.

Bob was a great. Open to us viewing the property, took us around the property on side by side, explained the situation (contingency issues) and did an excellent job advising us, keeping us informed and updated timely throughout the process.

Bob was straightforward and easy to deal with especially for having such a busy year.

Bob was extremely helpful in every way, going to extra trouble to smooth the process.

He went above and beyond to close the property.

Bob sold my property the day that it hit the market. I know the land market is hot right now but I knew, in giving the listing to Bob that he would do everything right. He did not disappoint, we had three offers on the first day.

Entire process took over 9 months but once land was found and offer accepted process went quickly, 1 month. Bob did a great job being the middleman between me (the buyer) and the seller to work out all details. viewing the property and Bobs knowledge while showing the property was great.

Bob sold a previous track of land to me, we have a nice relationship.

Bob was fantastic! Very knowledgeable and helpful. He took the time to help us decide which would be the best way to sell the acreage.

It was painless. He was very responsive and user friendly.

Bob Stahlberger was so prompt and professional and efficient. He was very patient with me as I made the final decision to sell. He got right out to my property and took all sorts of pictures for marketing it. I got my full asking price on two days ! I was thrilled. Bob is a fantastic agent - he knows his field and how to make sales happen.

Excellent, because of his knowledge and expertise.




Bob is the most qualified, business orientated, straightforward realtor we have ever worked with. We will always work with Bob!

Bob was very informative and pleasant to work with and talk to. Answered all my questions. Kept in contact with me through the entire process.

Bob was friendly and knowledgeable. He sold neighbors home.
Contact Agent
Contact Agent
Contact Agent
Contact Agent