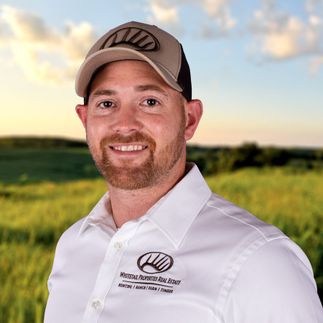 Brandon Scott
Real Estate Salesperson, Land Specialist / Licensed in NY
Testimonial Quotes
Brandon Scott:

What My Clients Are Saying
I just wanted to send a testimonial about the service I received from Paul Vaicunas and Brandon Scott for two transactions they closed for me in the past year and most recently the past month.




In 2021 I decided to make a life change and relocate to Green Bay, WI. I owned two plots of land and a hunting cabin in the Steuben County New York, Village of Rathbone. I contacted Paul about listing with Whitetail Properties. I met with him in late September and had him evaluate what I had. He suggested some finish work on the cabin and we made plans to list at the beginning of November. I met with Paul to sign the paperwork and establish the prices. We listed the cabin and one plot of land together and the other plot of land separately. Paul included the pictures I sent him from my trail cameras and created fantastic descriptions for both listings.




I had a great offer on the single plot of land in less than a month and we completed the sale of the cabin and other plot of land in July 2022. The plot of land, which I accepted the offer on by 12/2/21 took one year, three months and four days to close on by no fault of Paul or Brandon.




We had encroachment by the neighbor and they were in the process of deeding the property from the father to the daughter. Once the transfer was completed they signed a border agreement but would not provide a copy of the deed for verification by the buyer's attorney. There were other issues that continued to delay the closing and not being able to be there to help from my end was frustrating to say the least.




Through all of this, Paul and Brandon kept the buyer engaged and talking, even when he was ready to pull out. We worked to grant him early access and gave him permission to hunt the property for the 2022 season. The closing finally took place last week and I couldn't be happier and even more importantly, relieved.




I wanted to personally thank Paul and Brandon for all their efforts. They did tons of leg work and showings of the properties. They brought me great offers and kept up constant communication about the status of the sales. Being an "absentee" owner I felt comfortable I was in good hands and that they were keeping my best interest in mind. Going forward I will use Paul and Brandon as the gold standard when I evaluate a realtor. I appreciate all they did and couldn't be happier with the level of service I was provided.




Brandon is a hardworking, passionate agent who I now consider a friend. He is very knowledgeable about land and hunting and shares a love for the outdoors. He worked hard to get this deal done and kept the lines of communication open even when it looked like it wasn't going to work out in our favor. I appreciate his persistence and his passion. I felt that he truly wanted me to get the property almost as badly as I did. He is a great agent and an honest and trustworthy individual.

Brandon was bar none the best agent we have worked with!

There was a title issue with the seller, and we had a specific timeline to work with. He and Paul Vaicunas went above and beyond doing their share of work and then some, all the while being extremely professional!! Can't speak highly enough of the job they do!

Great overall, Brandon stayed on top of everything!
Contact Agent
Contact Agent
Contact Agent
Contact Agent