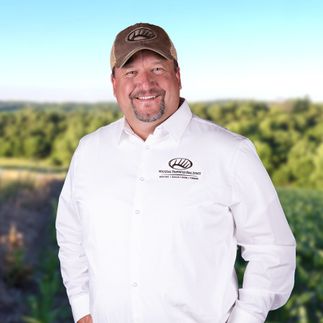 Brian W. Utecht
Salesperson, Land Specialist / Licensed in MO
Testimonial Quotes
Brian W. Utecht:

What My Clients Are Saying
To Whitetail Properties

We would like for you to know how pleased we are with the way Brian Utecht handled the selling of our farm. Not only is he very friendly and professional, but he kept us up to date with our listing. When we listed our farm in January there was snow on the ground. So in March when the fields turned green Brian took new pictures to update our listing. We sold our place in less than four months.We will recommend Brian Utecht to anyone wanting to sell their place.

Sincerely,

Thanks so much for your hard work and dedication toward selling my farm. This was a wonderful experience. I didn't dream that this would go so smoothly. The professionalism you displayed is second to none! I would highly recommend Whitetail Properties and you to anyone interested in buying or selling their farm. Whitetail Properties and you are a class act.

Very Best Regards,

Brian Utecht did an outstanding job in finding a buyer for my 120 acres in Dallas County, Missouri.

The overall experience with Whitetail Properties was amazing. I was 100% satisfied!

I cannot say enough about Bryan Utecht. My father passed away last fall leaving me four properties in Southwestern Missouri. The properties ranged from about 40 acres (plus his home) to 160 acres. I sought Bryan's help in liquidating all four for a fair and reasonable price. He managed to handle the assignment in about 5 months. Bryan is a no-nonsense, get after it person that is a pleasure to work with. I wholeheartedly recommend Bryan to anyone needing excellence in their land transactions!

Brian is a super agent. His card is in my important papers file and I would refer my friends, buyer or seller, to him. If you want a deal done well and properly handled then Brian is the man to do the deal. Thanks, Brian, we do appreciate all your help and attention.

Brian was very easy to work with and kept us inform during the process. He came up with different options that worked for us and the buyer. Well done Brian!

I have already referred a friend of mine to Brian. I have never bought land like this before and Brian took his time and talked to me about all options and asked questions that I hadn't considered. He gave me his honest opinion and will only be using him in the future. Thank you.

Brian did an excellent job marketing my farm and getting it sold rather quickly. He is a superb realtor who went out of his way to keep me informed of the status of my property. I've worked with a lot of realtors over the years and Brian is the best by far. He is a true asset to your company and should be commended for his efforts. Thanks again Whitetail Properties!

Brian is a great guy that worked hard on getting us the right property. I can't say enough about how happy I am to have had him as our agent.

Brian did an incredible job of marketing and representing my property. I greatly appreciate the amount of effort and commitment that went in to selling my property, from both Brian and Whitetail properties. I will with out question refer and use Brian again in the futrue.

I found Brian Utecht to be very knowledgeable and a true go-getter! We appreciate his candor, honesty and knowledge of the area. We live in Florida and felt very confident leaving the details in his hands. Thank you so much Brian!!

Brian Utecht did a great job helping me get my property placed on the market and sold in a very quick fashion. I would recommend Brian to anyone in the market to buy or sell land.

I believe Whitetail Properties should use Brian Utecht as their model agent and if your other agents are half as good of a person as him you should be very successful in your business.

Brian did a wonderful job. My property sold much more quickly than I thought possible. I attribute that to his efforts to personally contact the nearby neighbors. He also made a fine presentation of the property on your website.

Very knowledgeable, professional, trustworthy, a good friend.

Brian is The Man. He is what he says he is! He worked on making this happen. He kept us informed the entire time. He is the BEST! I am amazed with all that he did to sell our property. And our property sold and closed within 3 weeks. You are not going to beat that!!! Thank you, Brian. You are truly #1.

Brian is The Man. He is what he says he is! He worked on making this happen. He kept us informed the entire time. He is the BEST! I am amazed with all that he did to sell our property. And our property sold and closed within 3 weeks. You ain't going to beat that!!! Thank you, Brian. You are truly #1.

Fantastic......my agent was great. Never let me get discouraged. Showed the property multiple times even though it was almost 100 miles away. Answered all calls promptly. Was a completely different experience then the one I had with the first realtor which was also a national company. Courteous, professional and gave 100%.

My experience with Whitetail Properties was excellent. Brian was great to work with and I have already referred him to other people including family. He was very knowledgeable about property and answered all my questions, he made my experience great. I like Whitetail Properties and what they stand for.

Brian Utecht is an exceptional real estate agent. He did an outstanding job marketing my property. He worked with me and kept me up to date and informed consistently throughout the selling process. I am extremely pleased with the job he did. I truly do not believe I could have found a better agent.

Everything was done by the book. Agents were very professional, knowledgeable and always available.

Brian was enthusiastic about the property and the potential. But he was also a realist & experienced in our type of property. Very professional in all interactions and went above and beyond to show our property to qualified buyers. We would certainly use his services again. Oh, he also used technology and advertising to our best advantage. We sold 500 acres in the Missouri Ozarks in 4 months. His approach found buyers!

Who would have thought back in April of this year that the property in Bradleyville would have sold & closed by October? No one in their sane minds. Your skillful marketing and use of modern technology brought us several potential buyers and one very serious buyer. From Texas, no less! As you know we had anticipated the sale to take from one year up to two years. Imagine our pleasant surprise. This has been a wonderful process all along the way. Thank you for your skill, patience and technical expertise. We wish you continued success in all of your future endeavors. BTW, thank you again for serving our country! Sincerely yours,

Transaction went very well and Brian did a great job of follow up. Awesome agent

I was impressed by Brian's passion and knowledge about properties. I would definitely recommend Brian to any of my friends or family.

Brian did a very professional job.

Great to work with. Very truthful. Would recommend Brian.

Very knowledgeable and professional. Could not have went any better!

Brian did a excellent job in setting up the website page for my listing and continued to pursue the right prospective buyers. He went over and above to represent me as the seller and always kept me well informed. Very pleased with his professional work and attitude.

Robert Kelley/Corporate P

I would recommend Brian and Mike to anyone looking to sell their land. They go way above-and-beyond to get the job done!

Brian took time to walk the property and familiarize himself on his own. I had to do no more than give him property location and a few details via email. Closing went quick and on time, again I did nothing but show up and sign. I ended up taking a little less than I had hoped for, but the offer Brian found was solid with no contingency.

Brian is a good agent. He likes to move things along. Our transaction took a long time but he worked to keep things alive in the buying of this ranch.

Brian went above and beyond on closing the deal.

Brian is great to work with, and represents Whitetail Properties very well. I have since purchased another property from Brian.

Brian sold my last farm and sold me this one and if we ever want to sell we will list with him.

Brian was very professional and was a great partner for us to sell a piece of land. He was very enthusiastic about the hunting property and offered great advice.

Brian is a very professional agent that gets the job done!

Brian made everything so easy and answered all of my questions. He did an awesome job. Could not have asked for a better Realtor.

Brian was helpful in establishing a price and he recommended basic improvements for the property.

Brian was great! Caring and willing to talk over anything. Was essential in guiding me thru the whole process. Great experience, very knowledgeable and friendly. Made you feel comfortable and at ease with the whole process.

Brian was great to work with. I appreciated his experience and knowledge. I felt like he worked hard to sell our property. He was easy to reach and very responsive.

Terri Michelle and Aaron F

Excellent. I enjoy working with him.

Pleasant and Professional

Brian is a very nice, hard working man. During my first encounter with Brian, I learned very quickly Brian's passion for this industry is remarkable. Knew if it could be sold, he could do it. We would recommend Brian to anyone who asked.

Could not have been better.

Top notch. Very professionally handled.
Contact Agent
Thank you
We'll have an agent contact you shortly.
Contact Agent
Thank you
We'll have an agent contact you shortly.