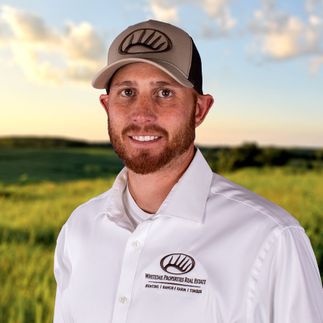 Bryce McVicker
Salesperson, Land Specialist / Licensed in MN
Testimonial Quotes
Bryce McVicker:

What My Clients Are Saying
"My family had land from an estate that we wanted to sell. We listed this land with another company for almost two years with no results. After extensive research I found Whitetail Properties Real Estate LLC and contacted them. I received a follow up call from Bryce McVicker a short time later and he detailed the process and services they would provide. I knew this was the company that could help my family. We had seven owners in five states to sign documents. We sold the land with Whitetail Properties through their auction division and they were professional and so helpful. Bryce was professional, detailed, an excellent communicator and followed through on every detail for my family's successful auction sale. Bryce went above and beyond to assure everything went smoothly and all questions by family members were addressed. I highly recommend Bryce McVicker, Whitetail Properties Land Specialist and Ranch & Farm Auctions."

It was very smooth and an enjoyable experience. Bryce communicated in a timely manner, kept us updated on all transactions, sold our property in a very short time, and was always professional and personable.

He was very good and thorough.

Bryce was very good at keeping us informed on how things were going.

Bryce did a very good job selling my C.R.E.P. acres. I would recommend Whitetail Properties to anyone selling their real estate.

Very knowledgeable, very courteous. Took lots of time to get to know us.

This was a somewhat complex sale process because there was marketing an auction, holding the auction, maximizing the sale prices for separate buyers of different parcels, and working out the details to close each one.




With all the challenges of this sale process, it could not have been handle better or more professionally.




It was a wonderful experience from start to finish. This sale process was unfamiliar to everyone in our family but Bryce led the process, educated us, answered our questions, and worked tirelessly to resolve issues with the buyers so the sales would close on time.




Bryce really helped us with our peace of mind during this difficult time. We would highly recommend Bryce and Whitetail Properties.

Bryce was extremely helpful throughout the entire process. His follow through and follow up has been extraordinary! Was always available when needed and had a genuine and sincere attitude about him.

Very good and easy to work with.

Bryce was very knowledgeable, responsive and very polite. Bryce put on a ton of work on my behalf and worked through my crazy schedule taking calls on weekends and late evenings.

Very good, responsive, knowledgeable, and when he didn't have the answers, he went and got them very quickly. He was appropriately speedy but never pushy. I thought he played his role as dual agent very well.

It was great! Bryce did a great job. Real easy to work with and very helpful. Other than the 2 months to take to close because of covid, everything was a good experience.

Excellent!




From the first walkthrough to the closing Bryce was engaged and made sure that we felt like we were getting as much information as possible. It was not a straight forward deal but Bryce went out of his way to make sure we knew what was going on at every step. I can confidently say that this deal would not have happened if Bryce hadn't gone out of his way to make sure that all parties were clear about everything.

Bryce was very professional and prompt every step along the way. He served in a dual capacity, but we always felt like he served our interest adequately and equally. We wouldn't hesitate to engage him in the future if our need arises.

Best of the Best! I had an opportunity at a previous property while Bryce was away, and the other Realtor was a nightmare. Bryce's knowledge of how to go about viewing, using, and purchasing land was information I will keep forever. I felt like we were "in it together" the whole time and that is a calming position to be in when making this type of purchase. Scale of 1-10, I give an 11!! Thanks Bryce.

My experience was very good. Bryce was knowledgeable, communicated well, and was very responsive. With the customer base Bryce had, we had an offer on the property within hours of the listing going public and we settled on an offer that was 98% of our asking price.

After receiving the brochure and meeting with Bryce, we felt it was a good choice. Bryce was great to work with and also very knowledgeable. He did a very good job keeping us informed. He took care of everything. Very nice young man that was a pleasure to work with.

Brice did an amazing job! I would recommend him to anyone! Atta boy!
Contact Agent
Contact Agent
Contact Agent
Contact Agent