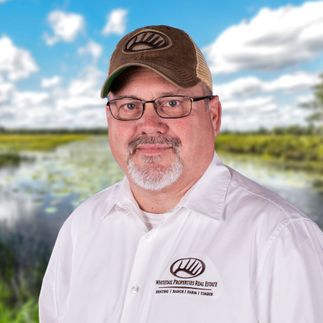 Chip Camp
Broker In Charge, Land Specialist / Licensed in NC,SC; Principal Broker / Licensed in VA
Testimonial Quotes
Chip Camp:

What My Clients Are Saying
Great experience with Whitetail Properties and Chip Camp.

Chip was great. He was very knowledgeable and timely in his communications to any changes. I would highly recommend him to anyone looking for a purchase or two.

Mr. Camp was very helpful with our very difficult family dynamic in selling our family farm. Due to his professionalism, this was accomplished even though there was difficulty with specific family members.

I learned of your company through podcasts on Wired to Hunt, and looked in my target area. First listing I saw is the one I bought. Chip was great to work with and I look forward to the partnership he'll bring as a QDMA steward.

Highly recommended Chip Camp!

We were very happy with Chip throughout our experience.

My wife and I had worked with Chip for a few months and searched a few properties. We spent most of our time with the property we closed on. Chip was very helpful, and spent a lot of time answering questions, visiting the property as well as negotiating in our best interest. We hope to have him, and his wife over to our property once we complete our build.

Chip was fantastic through the whole process. He was always a willing point of contact for us as sellers, and he helped make the process hassle free. He anticipated our needs and the needs of the buyers, so we had an excellent experience.

Chip knew the market and was very helpful in answering all of my questions.

Chip was very helpful and accommodating. His knowledge and insight was very valuable in the property purchase.

When I received the card from Chip, I kept it on file for a year or so. I had listed the land with many other realtors in the area to no avail, for maybe 15 yrs or more but kept thinking about the brochure I had received in the mail. Finally, I went with Whitetail Properties, it payed off!

We cannot express enough how much of a genuinely good person Chip is. Within minutes of inquiring about the property online, Chip was on the phone connecting with my husband. He was never pushy. Quite the opposite, he was very supportive and informative. No matter the day or time, when we contacted him with questions he was within minutes of helping us. In our opinion, he is a true asset to your company. Not only did he help in every step of the process in buying property, he continues to help with both me and my husband in finding jobs and a place to rent while our property is being cleared. (we are relocating from Ohio to the Carolinas). I'm from the Carolinas, my husband is from Cleveland, OH area. It took some convincing for him to realize that people from the south do the job right the first time. People like Chip not only represented your company but the south as well, with those good old fashioned manners and respect for others. We would recommend Whitetail Properties to anyone IF every representative has the character that Chip has. that "can do" and "I'm here for you" attitude he portrayed, is a true testament of how people like Chip help promote businesses such as yours. And one last thing, I would like to add that if it weren't for Chip, we would have cut our losses and walked away from the whole deal because of the attorney handling the closing. Chip is a true people person and knows how to communicate with all parties in insuring that everything go as smoothly as possible. If I sound repetitive in singing Chip's praise, then let it be. The guy deserves a raise, promotion and a bonus. Thank you all for everything you do. Sincerely,

Very professional and helpful in making local contacts.

Chip did an awesome job and was able to meet at the property when it was convenient for us at the last minute! Awesome guy.

Knowing Chip already made our choice of realtors easy. Chip is a man of unquestionable character who genuinely has a heart for people. When our sons, my wife and I decided we wanted to look for a recreational tract I went immediately to Chip, gave him a general idea of where we wanted to look at first. I called Chip and asked him to set up a showing and the following weekend he had everything arranged with the listing broker. He met us at the property with his side by side, drone and an iPad with a mapped app in order for us to make quick work of looking at 239 acres of wooded property. We not only had a great time but we actually decided to make an offer on that first tract we saw. By the end of that day we were under contract. That was December 17, 2019. We closed on January 15, 2020. A completely smooth process all the way to closing on a property some 180 miles from the area where Chip and we live. The only thing that could have been better would be if our tract was a little larger and Chip is on standby in the event an opportunity to add to our land arises. We could not be happier with our experiences!

Chip Camp helped us in every phase for viewing and purchasing this property!

It was great! I liked Chip, and liked all the sold signs.

Kind, responsive, proactive, knowledgeable payed close attention to my concerns and always followed up.

Positive and professioanl.

First class start to finish.

Chip was absolutely wonderful to work with. We had looked at literally thousands of properties across a dozen states, and when Chip told us he had the "perfect" property for us we were skeptical, but as as soon as we walked it, we knew it was the one for us. He did a great job helping us orchestrate everything from half way across the country.

We could not have asked for anyone better. He kept us informed on everything.

It was excellent. Chip and Tyson are the best.

Chip Camp was a very good realtor and did his job far and beyond my expectations. He put up signs and showed the property many times. He helped me get the amount I needed for the property. Since I could not be near the property or the closing, Chip helped to navigate both nicely. He kept me informed and worked with me on all my questions. He responded quickly even after working hours. He even helped after the closing when some issues arose; he helped resolve them for me. I would definitely recommend him to other prospective clients. Sincerely,

Excellent in all levels, Chip and Amber are awesome to work with. Their experience coupled with the high level of attention made this a wonderful experience. They are what I refer to in my business as a true trusted advisor.

Chip was professional and helpful.

Absolutely an amazing experience. Chip couldn't have been any better helping through the process.

My agents were knowledgeable, caring and patient through the entire process. I highly recommend them to anyone desiring to sell land. Aside from the referral of a friend, I believed their national scope of marketing my property far exceeded other agencies in my area. This is what sets Whitetail Properties apart from the rest.

Very likable and knowledgeable of the area.

Chip & Amber were very accommodating in the short time we had back in NC to look at the properties. They even brought their side by side in the rain to get a better look at the land.

Very good experience with the specialist.

Personable, knowledgeable, and always professional. Past

Very good. Chip was responsive and communicated well.

Chip was very easy to work with. He is knowledgeable, was always quick to respond, and since I had never purchased land before, he helped me through the many steps of this new experience.

Chip Camp is extremely knowledgeable about the area and offered different perspectives about possible uses for the land. He was also able to assess current market value.

Both of your representatives did an excellent job and met all of my concerns and expectations.

Pleasant. Everything went smooth. Waiting for a survey was the only hang up and having to reschedule closing date. Chip and Landowner were great in working with the dates.
Contact Agent
Contact Agent
Contact Agent
Contact Agent