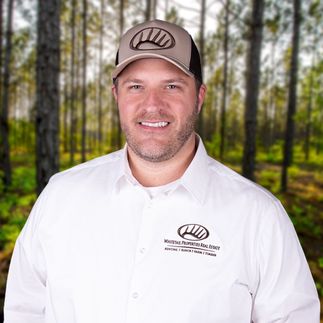 Chris McCune
Broker, Land Specialist / Licensed in AL
Testimonial Quotes
Chris McCune:

What My Clients Are Saying
We highly recommend Chris McCune to anyone that's looking to purchase land! Chris was very kind, patient, professional, and knowledgeable! He really went above and beyond! It's pretty rare now a days to find professionals that are looking out for your best interests. Chris has shown that he's a very experienced land specialist. If you're looking to purchase land, contact Chris McCune, because he's not just any land specialist... but he has shown that he has a joy within to serve all people.

"He was the best. The land was in Aires and it was a lot of leg work. Chris was patient & willing to help. He was the best!!!"

"Mr. McCune was awesome!"

Chris McCune did a wonderful job selling my property at Harris Lake Road. He was a pleasure to work with and did a great job communicating with us during the whole process. Please note his excellent ability as one of your agents.

Chris McCune did an outstanding job selling my property. He took an interest in what I thought were the unique qualities of my land. He took the time to set up game cams on the property to show potential buyers the wildlife there. His description of the land on the website was perfect, I feel his words really sparked an interest from potential buyers. Within 4 days of being listed on Whitetail Properties website, I had a cash offer for the full asking price! He was always there to answer any questions I had. He is a very pleasant person to work with. I couldn't have asked for anyone better. I would strongly recommend Chris McCune to anyone looking to buy or sell land in Alabama. Thank you for such a pleasant experience Chris!

Chris was always great to work with. Very pleasant and always got back to me if I needed something. I live out of state and it has been difficult but Chris was always excellent about helping me out even mowed my grass a few times. Thanks so much Chris. I really do appreciate you!

Chris McCune did an excellent job of handling the selling of my family's property. He was very knowledgeable and easy to work with. I live in Kentucky and did not even have to meet him in Alabama. I would recommend him anyone. Top notch realtor.

Chris was very professional and friendly. Our closing took 2.5 months due to title company mistakes prior to all of us becoming involved in this purchase. We depended heavily on Chris to keep us up to date on what was going on. He did a great job keeping us updated as soon as he had information. We were very happy with Chris's help through a difficult closing. I would gladly recommend Chris to anyone I know. Thank you to your company and to Chris for your services.

I couldn't be happier with Chris's professionalism. He did everything in a timely manner and was a pleasure throughout the entire process.

Awesome! His integrity was refreshing.

We had a great experience with Chris. He was very thorough, organized and professional. Our property was a bit odd and we really weren't expecting to sell it so quickly. Chris's ability to showcase the best parts of our property and respect the integrity of what we worked so hard to achieve over the past several years was beyond our expectations. We couldn't have been more satisfied with our experience.

Professional, knowledgeable, persistent and hard working. I tried to sell my property myself for a year. Had a lot of activity and couple of low offers. Tried a residential Realtor for several months and got zero offers. Got the brochure in the mail and figured I had nothing to lose so I gave Chris a call. After a couple of weeks we had high activity and after a couple months had multiple offers. With Chris's guidance we found the right buyer.

Would highly recommend him!

Chris McCune was awesome. Super knowledgeable and a great attitude. Chris was a great communicator and helped us through the entire closing process. I would recommend Chris to anyone trying to buy land in Alabama. My family and I cannot wait to do another deal with Chris.

Chris was great to work with, was always helpful with what we needed to do, kept me updated on anything going on. If I ever sale another property he is who I would call.

I knew Chris from Rotary Club. Did a superb job.
Contact Agent
Contact Agent
Contact Agent
Contact Agent