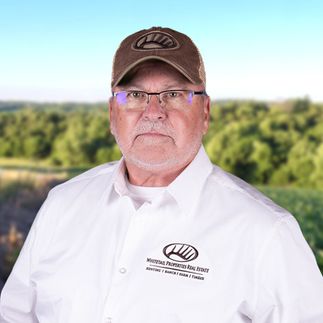 Chuck Keefer
Real Estate Salesperson, Land Specialist / Licensed in MI
Testimonial Quotes
Chuck Keefer:

What My Clients Are Saying
Chuck did an excellent job communicating with me. He answered my calls and texts promptly. He didn't waste anytime listing, advertising, and showing the property. It was a real pleasure working with him.

It was perfect. There were plenty of pictures taken of the property. I had a good idea before I drove there. When I arrived at the property Chuck was waiting to take me on a tour of it. I was impressed about how thorough Chuck knew the property, it was as if he had owned it. The closing process was also very easy and pleasant, no last minute surprises. Chuck made sure everything was taken care of. From beginning to end the process was great.

Friendly, efficient, knows about farm/hunting lands. Whitetail Properties Land Specialist knew more and offered more than others.

Flawless and professional.

Chuck, was amazing and so was his son. Keep up the great work both you!




Chuck Keefer was not only very professional, but was considerate and responsive at all times. Very impressive.

Couldn't have had any better!!

Chuck Keefer made this experience when all looked impossible, possible! I literally gave up hope locating a property near my family and remembered Whitetail Properties! I found Chuck online and instantly knew he understood a hunters frame of mind after speaking to him on the first phone call. So glad I made the request to Whitetail Properties and to Chuck! Look forward to moving north to my new home very soon! Thanks to Whitetail Properties, and thank you Chuck Keefer for a service by a hunter, for a hunter!

Almost too good at his job....wasn't really planning to sell this year!

Worked very hard through a lot of ups and downs. I sing high praises of Mr Keefer. Great job where other companies failed.

Very friendly and easy to talk to. Went out of his way to meet me to sign documents

My wife and I have bought and sold more than a dozen properties in the last 35 years. Although this is our first "wilderness" property like all fairly large parcels it is not easy to find a buyer. I was very pleased with how Chuck is so committed to his buyer contacts, their interests, needs and financial considerations. He is very well networked and actually produced two offers and probably could have produced a third. He truly loves the outdoors and is very knowledgeable. He was also very considerate of our objectives. We also have a fabulous home on Lake Huron which we do not use as much with kids and grand kids grown. He already has someone in mind that has expressed great interest. It is so refreshing to work with someone who says what he means and does what he says. I look forward to working with him in future and I will sing Whitetail Properties praises there too.

Chuck was the best.Very professional and knowledgeable. Even when I was stressing out, he stayed cool. Stand up guy that was a pleasure to do business with. We will be staying in touch.

This property would not have been closed in time for the start of gun season if it was not for Chuck getting everything in order. Thanks

Chuck and I immediately caught on. Knows his property & his hunting. Always available and communicated 7 days a week. Good to work with

and consider him a friend after this A-1 experience

Chuck is an absolute professional. He is thoughtful, considerate, very attentive and extremely knowledgeable. He also has a great sense of humor and is gregarious. I would not hesitate to call him if I were looking for property in the future. I would also recommend him to anyone who is looking for property. His level of commitment and attention to detail are well above the norm. His experience also gave my wife and I comfort as he would expertly handle any objections that were coming from the other side. Chuck is a true asset to your organization and we hope to work with him in future.

Chuck answered every question I asked. Always promptly returned calls, (texts). He was always willing to share his ideas and thoughts. For example he drew me a map showing his advise for food plots and stand placement. He also recommended a gentleman who will inspect your property and offer ideas on food plot location and what to plant. He even called the guy and told him to expect a call.




Chuck was very encouraging and helpful. He seemed to understand the emotional complexity of selling third generation property.

Chuck is a man of his word, and always returned calls and stayed to his word.

Chuck was a pleasure to work with. He went out of his way to show me multiple properties and helped in negotiations on the one I chose.

Pleasantly surprised with how quickly and easily the process was completed.

Chuck Keefer went above & beyond to make this sale. He worked very hard and his efforts were appreciated.

Chuck was great from the start. Very informational, available and professional. He answered many questions I had before I asked them. His knowledge and background on representing the type of property we had, was exceptional. Right down to the best way to showcase the property thru fantastic picture. His description captured the essence of it all especially the little things. Communication was critical to us, and Chuck was available at every occasion either at once or as soon as possible. He was a total professional and I highly recommend him and Whitetail Properties.

Chuck was very knowledgeable of the areas market, and a pleasure to work with. Communication with him was great. I would definitely work with him again.

Chuck was professional, cordial and appeared confident of his knowledge related to hunting property.

Chuck was wonderful showing us the property with his ranger so that we could see the land. He was very responsive to phone calls and helped us through the buying process.

The best experience! Chuck made the sale a breeze and was a huge help. Best sale price given, best Realtor.

Professional, friendly, knowledgeable. We were very impressed with Chuck Keefer. Wonderful real estate agent.

Michael Cederstrom, Estate of Brian C

Chuck was excellent in assisting us. He had extensive knowledge about the available hunting properties in Michigan. He had seen the properties that were shown to us and had helpful information about the local hunting conditions. We feel that he was very helpful and added greatly to our experience of buying a hunting property

Everything went as we discussed. Well done.

Could not have been better.

Chuck knows his stuff, it was an interesting purchase but he served as a good intermediary.

One word, effortless. This was my first experience with a dual agent. Chuck was professional and helped mend the gap between buyer and seller without truly showing favorites for one side or the other. He helped secure the best deal in the quickest time possible, which was very important. One other thing to mention, chuck always answered my phone call or text, regardless of time. He was always available when I needed him which helped close the deal as quickly as we could. Can't thank him enough.

It was flawless! WTP is a premier hunting property sales organization.

Chuck was very helpful in answering questions and getting information to me.




Chuck kept us informed of showings and feedback, was always available to answer questions, and helped guide us through the closing.




Very good experience. Chuck was very knowledgeable and was attentive to whatever questions or issues I had and was very knowledgeable about the market.




Chuck was great to work with. Always available & answered every question promptly.




Chuck was extremely informative, very helpful, and awesome!

From our first conversation, through the selling process, Chuck's professionalism and patience thru the sale process was amazing. His observations and advise in regards to the value of the land was spot on. With so many variables in this sale, he made the process so much easier than I thought possible. I appreciated his calm (not pushy) demeanor in helping me through this sale. This was the best real estate sale that I have been involved in in regards to the expertise of the realtor. Chuck is the first realtor that I will recommend to others as I am confident that he always has customer satisfaction as a priority. I am grateful for his expertise.

Chuck was great to work with. I felt he did a nice job of representing my interests and appropriately advocating on my behalf with the seller.



Contact Agent
Contact Agent
Contact Agent
Contact Agent