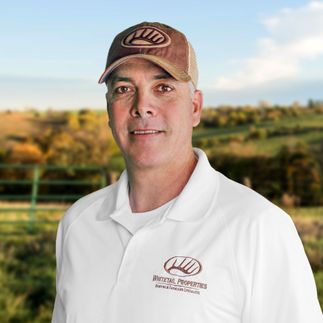 Clay Lockard
Salesperson, Land Specialist / Licensed in MO
Testimonial Quotes
Clay Lockard:

What My Clients Are Saying
We couldn't have asked for a more positive experience. Clay kept us informed, explained each step in terms easily understood, and listened with interest to all of our concerns. We will definitely use Whitetail Properties again!

This was our first land purchase and Clay did a wonderful job helping us through the process. We highly reccomend Whitetail Properties. Thank you

Clay is an excellent agent, an ethical man, and a person who thinks thoroughly and speaks well. Keep him...he is exceptional.

Clay was extremely knowledgeable and helpful through the whole process.

Clay did a great job getting back to us promptly. He was extremely honest with both the buyer and seller and really earned our trust. We highly recommend him and will be using him again in the future.

Clay is a consummate professional and a real credit to Whitetail Properties. He was a pleasure to work with and I would highly recommend him to everyone I know with property they are interested in selling.

Clay was great and helped me with the smallest details.

Clay Lockard and Aaron Bennett were exceptional to work with. They documented to property very well and we had a buyer quickly. Very pleasant to work with these guys. Good people.

Clay was very well informed about the marketability of our land. He kept us informed all along the way. He worked hard to make the transaction as convenient as possible for out of town owners.

Had lots of bad experiences with uninformed or lying agents. Clay was just the opposite...professional and informed.

Clay did a super job for us. He could not have done better & we are highly impressed with him.

I truly enjoyed visiting with the Clay. I could tell he was genuinely a good person, respective of others and outdoorsmen. Plus he drove a Ford.

We could not have asked for or got a better agent. He was very personable and knowledgeable, he put our whole experence as if dealing with a close friend. He was GREAT!

Clay was awesome, he handled everything incredibly well. He kept me informed every step of the way. He posted our listing in mid October and SHA-BAM!!!! We closed on the 9th of November. I have all ready recommended Whitetail Properties/Clay Lockard to a friend who has had no success with their 57 acres and two other traditional real estate companies, I have no doubt in Clay's abilities to help out. Thanks Clay. Some day, I hope we will sit in a stand together, eat beans and Pray for a good wind.

Very genuine and well informed, honest and cares for landowner.

Very straight to the point and detail oriented. Definitely knew what he was doing and answered all my questions in a polite and timely matter. Unfortunately because of the virus we never met or shook hands but everything went smoothly. This was my first land purchase and Clay made everything easy even during these uncertain times.

We had the good fortune of asking Aaron Bennett to be our real estate agent. He did a fantastic job of selling our property quickly. He even negotiated a sale of some or our farm equipment to the buyer. He worked very well with Clay Lockard and found us the perfect farm to buy near Mark Twain lake. We would definitely recommend them to anyone we know. Thank you,

Clay did a great job with some difficult issues.

Clay is definitely very professional and very good at his job. From beginning to end he worked as hard as anyone could expect.

Clay Lockard was great to work with. He was looking our for our best interest as sellers, was ethical, trustworthy, professional, always would answer phone, and if was unavailable, he would immediately return phone calls. We could not have had a better experience!

Clear communication and very respectful.

I was the county assessor several years and met Clay when he requested some landowner information.Clay is friendly, knowledgeable, and has a passion for land and hunting. He kept us well informed and readily returned our phone inquiries.

Clay, thank you for being a great agent to work with. Beth and I truly appreciate your honesty and patience with us. We will definitely recommend you to our friends & family!"


Clay showed us a property about 18 months before we bought this one. We were impressed with his professionalism and honesty. I was also impressed that he cleared paths for his side by side to make showing the land easier. We saw a property listed ion another site which he showed us. He then showed us another property next door that we put an offer on. He is extremely honest and straightforward, and we really felt comfortable working with him. We did not even have a buyers agent, we just went through him as a seller's agent. Bottom line, Clay is a great agent and we are glad that he showed us the property and worked with us as the buyers.
Contact Agent
Thank you
We'll have an agent contact you shortly.
Contact Agent
Thank you
We'll have an agent contact you shortly.