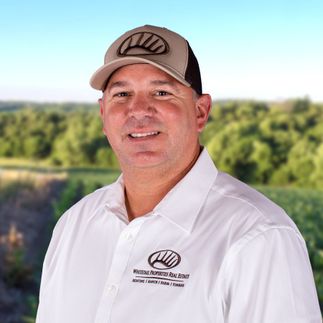 Clayton Blum
Salesperson, Land Specialist / Licensed in MO
Jeff Heil Land Specialist Team
Testimonial Quotes
Clayton Blum:

What My Clients Are Saying
We were in search of land and contacted this agency. Clayton was available and agreed to meet us the same day at the property. He showed us around the property in his UTV. We ended up making an offer and 2 months later we are property owners! He responded quickly to questions we had along the way. Our experience working with Clayton from start to finish was exceptional. I would do business with them again and can definitely recommend Whitetail Properties.

"Clayton was a great resource in helping find my perfect property. He brought me several potential properties matching my buy box list. Clayton was easy going, no "High pressure" sales. Thanks!"

"Clayton was a gem. He kept me informed every moment and was a pleasure to deal with."

"Clayton was excellent from start to finish. Incredibly helpful and did an excellent job of helping us find common ground with the seller. Best real estate transaction I have ever had."

Jason and Clayton helped me throughout the process of selling my first farm. They were always there to help answer my many questions and were patient throughout the process. I'd highly recommend them to anyone thinking of buying or selling. We are currently working together to find y next piece of land to call home.

Working with Clayton was great! He found the property I wanted and made the entire experience very smooth, start to finish. He was always available to answer questions and attentive to anything I needed along the way. I will definitely use Whitetail Properties in the future.

He was very knowledgeable of the property and the entire purchasing process. He provided a smooth transaction, from showing the property to answering all questions throughout the buying process. In other words, he was a pleasure to work with.

This transaction was my first involving farm property. Clayton was very knowledgeable and patient with his approach to helping us locate a property that matched our wants and needs. Clayton was responsive with his communications and flexible with scheduling times for o ur family to view the property. We have contacted Clayton on multiple occasions after the deal was closed with questions for the Seller and without hesitation he reached out to the Seller and provided us the information we needed.




From our initial tour of the property to our closing, Clayton managed the transaction with a very high level of transparence, integrity and enthusiasm.

Jeff and Clayton have helped me sell a couple properties of mine and every time I work with them I am reminded why it really makes a difference having a top notch land specialist on your team. I buy and sell land for a living so I'm very particular who I list my properties with. Could not be more happy with the guys at Whitetail.

Your team did a yeoman's job selling our farm. I hope they buyer is also happy.

Clayton was a welcome change to the typical agent. Clayton was a ton of help through all.

This was probably the easiest transaction I have ever made. Thanks for making this painless!

Everything went smoothly.

Super easy to deal with. Made it very simple. Did all the work.Thank you, Clayton!

Clayton did a great job. He represented buyer and seller and he was very fair to both sides in negotiations. He promptly responds to any communications. I highly recommend Clayton.

Clayton and Jeff have been amazing to work with! They are always looking out for us and bring deals to the table that might be a good fit for us. They are fun to work with and do a great job executing and following through! We are grateful to have them as part of our buying team!

Clayton brought the listing to my attention as soon as it hit the market. I've had the opportunity to work with Clayton several times now. He has a great knowledge of the real estate market. He is very prompt and willing to talk when most agents would not. I appreciate his concerns when looking at a purchase. He always strives to find the right property for his clients. Looking forward to working with him in the future.

Agent was very patient & helpful.

Working with Jeff & Clayton was the easiest real estate buying experience I've ever had. They're first-class professionals. They both acted quickly when the situation required it, and answered my questions honestly. Clayton also had the job of easing my anxiety more than once - and he did an exceptional job. I appreciate that they were both present physically at the original property tour and at closing, and they were both available by phone, text and e-mail at seemingly all times in between. I couldn't be happier with the new property, and the work they did to make it happen.

Great to work with. Perfect combination of attentiveness and proactiveness but never pushy.

Clayton really knows his stuff! From the initial phone consultation, through listing and selling my property, he handled every detail with such skill that I feel I didn't have to do a thing! The fact that my property sold really fast was a bonus I wasn't expecting but definitely appreciate.

Clayton is honest, straight forward and follows through on anything and everything he tells you he's going to do. He's a pleasure to work with!

Clayton was awesome and worked with me through the whole process. I would certainly work with him again and would refer him to friends and family. I plan to stay in touch.

I could not have asked for a more positive experience. Clayton's personality, professionalism & willingness to help is second to none.

For over 5 years our religious order had tried to sell a large hunting and fishing property in Missouri and we had used the traditional real estate brokers….all with no results. However, on a cold call, Clayton Blum came to visit me and within seven months our property was sold for a good price. Clayton and Jeff Heil were both very professional and went above and beyond in their efforts to sell our property. I would highly recommend Whitetail Properties and plan to use them in the future for other property sales.

Fr. Michael W. Hill, ofm….Treasurer…Franciscan Friars of the State of Missouri.

Blum and Heil were fantastic. Very thorough and mindful of my needs considering the small value of the property in question.

Clayton Blum not only handle the sale of my property but assisted me with the purchase of my new property and home. He was a highly skilled professional who supported me through a very difficult emotional sale and helped me transition into the home of my dreams. I'm a widow and being able to rely on a young man with the integrity and trustworthiness of Clayton made my experience such a positive one! At a time that I was giving up my home farm of 60 years, Clayton's humor and warmth was exactly the support I needed. I recommend him unequivocally.

Clayton was very helpful in getting this sale completed in a timely manner.

Clayton did an outstanding job for us in securing the property and home we envisioned finding. He urged patience and encouraged us to keep an open mind throughout the process. In the end, we knew the right property from the moment we pulled up and Clayton helped make the deal happen when we hit an impasse with the seller. We highly recommend Clayton and Whitetail Properties.

Clayton worked hard to find a buyer for my property. Also got a great price! Very satisfied!

From start to closing the sale was handled very professionally and the closing was painless. I highly recommend Whitetail Properties and agent Clayton Blum.

Both Jeff and Clayton were very professional and helpful. I am very pleased with both of them.

Clayton Blum was great to deal with in every aspect. Very professional and accommodating at the same time. I would certainly use his services in the future.

Clayton was fabulously easy to work with, gave good advice, and had (and still has) my best interest in mind.

Clayton did an excellent job of presentation. Kept us informed and was in constant contact. Awesome job and amazing person. Thanks again

I was very pleased with Clayton Blum, my agent. He handled the sale of my property, quickly and in a very professional manner. I would definitely recommend him and your company.

I could not be happier with the effort and professionalism Clayton instilled into the purchase process.

Clayton is extremely professional and always looks out for and protects his clients best interests. Would recommend to others for sure.

A big thanks to Clayton and Jeff! We were amazed at how quickly they sold our 2 tracks of land!

It was a pure joy working with Clayton. That property was a huge part of my life and was extremely hard to sell. He helped so much. I wish I had something else to sell just to work with him. Thank him for me once again.

Clayton was a pleasure to work with. He was professional, prompt, and a strong advocate for us. I would highly recommend Clayton and his team to friends and family. Keep up the good work, Clayton

Clayton was very professional throughout the process and I especially appreciated his flexibility and willingness to step in and help in a variety of ways. I appreciate that Clayton really took the time to get to know us and what we were looking for in a property. He was very supportive and professional throughout the process and at no time did I feel pressured. Clayton was also very responsive and timely with all the paperwork. He made the process as smooth as possible an at the end of the day I feel he made the difference in getting the deal done.

Very good, great communication.

I have worked with Clayton for the past several years and I am very satisfied with what he has done for us. I believe we have a great relationship and he has always worked hard for us. Thank you

It was a great experience. Clayton was extremely responsive from the very beginning. We started a sort list of our wants and he was able to find the perfect property for us withing a few days. He was able to provide us the basic information about the land and inquired with the neighbors to fill us in on any other details. If we had a question, Clayton found an answer. He was always available and was checking in on us all along the way to make sure things went as smoothly as they could go. Owning land has been a dream of mine and my father's for several years. Unfortunately, on our first official day on the property as owners my Dad suffered a sever stroke. Luckily we were able to get him medical treatment quickly and he is recovering extremely well despite the severity of the damage. Clayton has been checking in on my Dad and asking what he can do to help since the moment he heard. My Dad was planning on mowing the property for us so I aksed Clayton if he would be able to help us find someone we could hire to mow. Within a few days Clayton had reached out to his network and found someone who lived down the road to help us mow. It was really weighing on us how we were going to keep up the land while Dad recovered. I think this property will be a great place of healing for all of us and great motivation for my Dad in his recovery. Clayton has been continuously checking in on our family and it means a lot. I would highly recommend using him as an agent. You'll also gain a great friend.

Clayton was very personable and made us feel very comfortable thru the entire process. He was always available when we needed him and answered every question. Clayton was patient with us and very understanding with all of our concerns. He was very thorough and informative on the property. He helped us make the right decision on our purchase. We would definitely use Clayton in the future and recommend him to friends and family. We had a great experience over all. Thank you!

Clayton was very nice and professional during the entire experience. He wasn't pushy at all, he was there to provide tours of the property, which was nice

To say that times were challenging for our family while trying to sell our property would be an understatement; health emergencies in the family and a worldwide pandemic usually don't create the best environment for big decisions like this. However, we did it with Clayton's help. His "pace," if I could say it that way, is wonderful. Clayton is patient, communicative, understanding, explains things well (or re-explains them if misunderstood). and never makes you feel rushed. He showed genuine concern for my family during a very difficult time, and we never once felt that he was just concerned about making a sale. We overcame multiple setbacks and delays because of the Covid-19 crisis, and again, we always felt confident that Clayton was taking care of things. Anyone who's been through the process of selling property (in our case, a couple of hundred acres of land and a house) knows that all the moving pieces quickly become overwhelming. And when things get overwhelming, stress rises and we all tend to make bad or impulsive decisions. It was such a blessing to have someone by our side that was competent in the field, calming with his presence, and patient with our 573 questions (not exactly, but probably close to it!). THANK YOU CLAYTON BLUM!

Clayton Blum was our agent when we had our property on the market. My wife, Kimberly, and I give him our highest rating in his service to us. Clayton was kind, patient, informative and unrelenting in his efforts to help us sell. He did a great job advertising, taking pictures and videos from a great vantage point using a drone. He took numerous people out and showed them around. Clayton was always encouraging to us but, at the same time, pragmatic in the best sense of that word. He always kept our feet planted on the ground reminding us that the deal wasn't complete until everyone had their signatures signed on the dotted line. One last important note: To be an excellent real estate agent, it takes being one who loves people and who wants what is the very best for them. That is Clayton Blum! He's not in it just for the money. He's in it to help people and his ultimate joy is to see the seller and buyer both come out on top, both come out feeling that God was in charge doing what was best for all parties involved. Thank you Clayton for your excellent service. Thank you for being you!

Amazing! Clayton was a pleasure to work with. Always available for any questions at any time of day (or night). He worked extremely fast, our property was only on the market for 6 days before we got an offer that we excepted. When we sell property again we will definitely be giving him a call. We would recommend Whitetail Properties to anyone who wants friendly, personable people to sell your property.

Clayton was a class act through the entire process. He was very helpful with many of our questions since we had not purchased property like this before. He traveled and spent the necessary time with us to help us understand the property, and the benefits and drawbacks of ownership. We trusted Clayton to help us find our dream property, and he did just that. We found our piece of heaven and could not be more thankful for his assistance.

Brian Howren and Lonnette F

Very good experience. Was knowledgeable and a very nice person.

My husband and I were very impressed with the excellent service we received from Clayton. He handled the sale of our property very efficiently and made the entire process extremely easy for us. Given that we held the property for the past twenty-three years without much buyer interest, we were amazed that he was able to find a bona fide buyer for our property in just a couple of days. Clayton brings passion to his work. He was very patient with us and was always available to answer our questions. He explained the sales process to us very clearly and made sure we were well informed at every stage of the transaction. He even helped me sign the property contract electronically using my iPhone! The service we received from Clayton truly exceeded our expectations. Sincerely,

Fantastic. Clayton was experienced and confident enough to allow the landowner and I to negotiate in person. He provided excellent counsel and suggestions to keep the deal moving. This is EXACTLY how the landowner and I wanted it.

We liked Clayton Blum when we met with him to assess the value of our property and we felt confident in his abilities.

My experience was really good. Clayton was great to work with, he gave what I think was very good advice and guidance. My property had a few obstacles to deal with and he help me get through them with potential buyers.

Clayton and Jeff were excellent to work with. They each took a tremendous amount of time researching, finding and showing us property over the last several years. We wanted property with a large lake, over 10 acres, on it and it was difficult to find. Clayton found us an excellent lake at 12 acres and really helped us negotiate a good price on the property. We're very satisfied with our experience.

Professional, informative, honest about expectations, responsive, communicative.

Clayton was very quick to respond to any needs. He's very knowledgeable in real estate and was very helpful in all aspects of the transaction.

Great experience. Clayton was on the ball the entire process. Very responsive and generous with information.

We had a very quick sale and closing, that's all that really counts for me. A pleasure to work with.

I think the best compliment I can give these three individuals is that while they represented the seller on two separate properties that I purchased, I never felt that they were adversarial in any way, in fact just the opposite. They all worked with my agent and me with the sincere goal of bringing both parties together to obtain a mutually satisfactory outcome. I believe that happened with both properties that were sold. What a refreshing experience given the current market conditions. I would recommend any of these men if you are interested in land for recreation, hunting, and or fishing.

Professional, honest about expectations, communication. I did not experience anything they need to improve.

Clayton was very quick to respond to any needs. He's very knowledgeable in real estate and was very helpful in all aspects of the transaction.

He made the sale happen quick, a good guy to work with…..
Contact Agent
Contact Agent
Contact Agent
Contact Agent