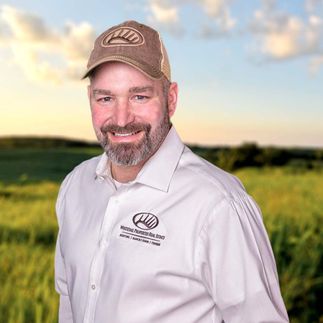 Clint Carlson
Real Estate Salesperson, Land Specialist / Licensed in NY
Testimonial Quotes
Clint Carlson:

What My Clients Are Saying
We would like to thank Whitetail Properties Real Estate but especially you for your time, expertise and guidance in helping us list the sale of our home. It was a pleasure meeting and talking to you over the last several months as you guided us through the process, making us feel confident and comfortable along the way.

We appreciate your honesty, standard of excellence, attention to detail and marketing strategies. We are grateful for all that you did for us and hope to use your services again in the near future. We would be happy to refer you to others who may need real estate assistance.

"Clint's presentation was outstanding and thorough. His knowledge of land exceptional. I rarely give a 10 for a rating of job performance as there is always an improvement that can be made on any job outcome, but he earned it and deserved the 10. Working with Clint was an outstanding experience as he answered all my questions, walked me through the process of the sale from beginning to end, kept me updated on the progress of the sale etc."

"I simply can't say enough wonderful things with my experience with Mr. Clint Carlson. Due to circumstances and my mom's passing we had to sell our property. From the very first phone call Mr. Carlson put my mind at ease, explaining what was happening and made himself available when I had questions or concerns. Mr. Carlsons' friendly, caring and informative attitude made what was a difficult task a pleasant one. Mr. Carlson worked hard, with my family's best interests at heart. He went above and beyond. I truly hope Whitetail realizes what an amazing agent they have. I'm grateful his flyer reached our mailbox and for the opportunity to work with him."

I hope this letter finds you in good health and high spirits. I wanted to take a moment to express my deepest gratitude for the outstanding support and exceptional service you provided during my recent real estate journey.

Your expertise, professionalism, and dedication truly exceeded my expectations, and I am immensely grateful for the positive impact you had on this significant milestone in my life. From the very beginning, you demonstrated a deep understanding of my needs, preferences, and financial goals, and your guidance throughout the process was invaluable.

Moreover, your excellent negotiation skills and keen eye for spotting potential issues saved me from possible pitfalls and would secured the best possible deal. I genuinely appreciate your honesty, transparency, and tireless efforts in ensuring that my interests were protected at every step.

Not only did you provide exceptional service during the property showings but you also connected me with the right people for my particular property. Your commitment to facilitating a smooth and stress-free experience demonstrated your dedication to client satisfaction.

Working with you has been an absolute pleasure, and I feel fortunate to have had your expertise and support throughout this process. Your professionalism, integrity, and genuine care for your clients are truly commendable.

Once again, I would like to extend my sincerest gratitude for all that you have done for me. Your hard work and exceptional service have made a lasting impact on my life, and I will always recommend you to anyone in need of a reliable and skilled real estate broker.




Wishing you continued success in your career and all future endeavors.

I am so relieved that I found Clint. I had been looking at property for 2 years before Meeting Clint, and from that moment on he has been my guy for every single property I looked at and all my properties I may be interested in the future. Doesn't matter If it is in California he will be my guy. I have never meet a realtor that has been so helpful and always protecting my interest . He was 100% committed to my long list of requirements and never once complained. He made my experience comfortable and worried free. I would recommend Clint to one and all. From my experience dealing with greedy realtors who just want to make a sale and could care less about people needs, Clint was delightful and very respectful. Best realtor in my book.

The Whitetail Properties website is fantastic and of very high quality, more than any other website for this purpose that I've seen. The mapping, search functions and quality are great. All marketing material you gave to me was also top notch. When it comes to Clint, I can honestly say, I've never met a realtor that's more in tune with the requirements and needs that I have for this type of property. Other realtors are used to selling houses, lots, etc....but have no idea what a hunter is looking for. Clint has great personal/people skills, and a combined experience selling these types of properties. I really enjoyed the interactions we had, I trust that Whitetail properties will be a huge success, and I look forward to future opportunities to work together!




Clint was a pleasure to work with. He kept me informed at every step. Clint was always courteous and professional in his dealings with me. I was impressed at how quickly a qualified buyer was found.

I have received flyers and offerings by mail from many property real estate firms. I decided to contact Whitetail Properties and the Land Specialist, Clint Carlson. I made a phone call and left a brief message and within 24 hrs., Clint had returned my call and inquired about my interest. Clint was extremely polite and professional. He demonstrated a keen awareness and familiarity of the property's location and surroundings. He asked relevant questions so that he could conduct some online research and informed me that he would uncover what was available on line and assess the property. After that research Clint walked the property with my family and pointed out notable trees of value, water features and other aspects that may accentuate and deter from the property value. He once again followed up with this information and prepared a comprehensive presentation, with relevant, comparable property sales. Taking this into consideration he suggested three sales strategies for our consideration. His guidance was sincere and knowledgeable. I never felt pressured for a decision, nor minimized for my understanding of the land value. He is a very upstanding salesperson.

I was updating my broker on our closing and telling him what a pleasure it was dealing with you. I specifically told him how great you communicate and how knowledgeable you were regarding land deals and the area.
Contact Agent
Contact Agent
Contact Agent
Contact Agent