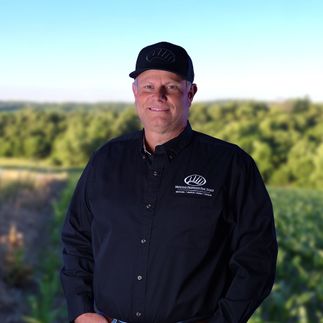 Dan Bates
National Education Director, Broker, IN Team Leader / Licensed in IN
Testimonial Quotes
Dan Bates:

What My Clients Are Saying
I want to express my thanks and gratitude to Dan Bates with Whitetail Properties for his patience, expertise, and professionalism. Dan led us on a detailed tour of the property and was prepared for every question that my wife and I had. He provided insight far above and beyond the majority of realtors that I have dealt with. During this process when a question did arise Dan responded immediately and a question was never left unanswered. This was very much appreciated. Dan also did a wonderful job of incorporating technology for the land tour, the signing of documents, and the whole offer/purchase process. This allowed me to continue to work without having to take days off. In the future when I buy or sell house/property I will use Dan. He has gained a customer for life.

Dan Bates is absolutely the best real estate agent I have ever dealt with. I recommend him to everyone I talk to about land.

Dan Bates at Whitetail Properties sold a property in about two days that I had been trying to sell on my own for three years, and for a better price. He was informative, helpful and sincere and of course, delivered positive results. He followed up with me on a regular basis and guided me through the entire process. I did not have to attend the closing, but received payment the following morning. I would have attended closing if necessary for nothing else than to be able to shake his hand and extend my heartfelt gratitude.

As the owner of over 800 acres of land in Scottsburg, Indiana, I have been dealing with various real estate agents since 1974. When we sold all but 19+ acres of our inventory. We looked to find a realtor who could dispose of this property and allow us to completely divest ourselves of our Indiana property. We were fortunate to be referred to Whitetail Properties and Realtor Dan Bates. Of all the properties we had disposed of over these many years, Dan Bates was the most efficient, reliable, and trustworthy agent we had ever encountered. He was aggressive on our behalf. He was energetic and communicated on a regular basis. In looking back on what he did, and the timeframe in which he did it, I am still impressed and grateful. I did not know about Whitetail Properties until I met Dan. After we completed the sale, I told Dan that I had properties in Florida and Ohio. He indicated he would help me and again he came through. I can only say that he is a credit to the real estate sales industry and to Whitetail Properties.

Dan Bates is the person to contact if you have land for sale. He is the most professional, knowledgeable and consummate business person with whom we have ever dealt. We were not well versed in how to go about selling our property, and it turned out we didn't need to be. Dan answered all our questions and did all the work. He was personable and kept us informed throughout the process. He had our best interest in mind and we are very pleased with the outcome of our sale. We highly recommend him to anyone with property for sale. We thoroughly enjoyed working with him.

Dan Bates did a wonderful job keeping us updated through out the whole purchasing process. He was very kind and down to earth which made it really nice to work with him.

I had been trying to sell my acreage on the Northside of Patoka Reservoir for a couple of years. I listed the property with several local Realtors with no success. My biggest complaint with the various agents was a lack of communication with me. It was not so much that the land did not sell as the lack of feedback on activity or lack thereof. I am the residential real estate sales business in Indianapolis. I just assumed all real estate agents communicated with their clients. When I finally met Dan Bates I found the agent that I've been looking for. He communicated with me on a regular basis. Even when nothing was happening, he let me know that nothing was happening! Dan is a professional in all ways. I would recommend anyone thinking of buying or selling real estate in the area where Dan works, to contact him. He does an excellent job!!!! Good luck with your business. If I can ever be of any help to you in Indianapolis area or to any of your clients looking to buy or sell residential properties, be sure to let me know. Merry Christmas to you and your family.

Dan Bates at Whitetail Properties listed my property in August 2016. I had moved out of state early in 2016 and did not have the time to prep the property for selling prior to leaving. Dan spent a tremendous amount of time at my property getting it ready for sell, landscape clean-up and staging. The property was listed, sold and closed within four months. I did not have to attend the closing. With all of the stress of my personal move, Dan made this very easy and seamless.

Dan did a great job. Went from not getting anyone to answer, to an offer written up and accepted.

Dan did a great job considering I was out of state for the entire process. He went to the property and straightened things up prior to the photos. He also had the buyer at a point where the negotiations were minimal. Well done.

Dan went above and beyond working between myself and the seller. Did a great job for us!

Dan was amazing. Nothing but stellar. I also had experience with Rob Haubry, who is also a great agent in every way. Thank you for the wonderful experience.

It was a pleasure working with Dan. Everything was handled very professionally.

Dan went above and beyond for me with the purchase AND sell of my property. He is an excellent agent and WHEN I buy my next property I will definitely use him.

Transaction went smoothly. Dan was very professional. If I sell my other farm I will call him.

Dan went above and beyond our expectations and treated us like we was part of his family. We can't thank him enough for all his help during the process.

Selling off and/or liquidating a lot of what we had to make a dream come true 3hrs away with a wife and 5 year old daughter was not an easy journey. I could go on about the difficulties with the selling of our original home, banking hoops to jump through, logistical struggles, childcare adjustments etc. However the entire portion that Dan Bates was apart of was the easiest and least stressful of it all! He was always easily accessible, anytime he was busy he'd respectfully let me know then reach out asap, never made us feel like we were bothering and proved to be an absolute professional through it all while remaining down to earth enough to make us comfortable with his part of the process. I would highly recommend Dan and Whitetail Properties to anyone at this point! Thanks again and respect to Dan Bates. We appreciate you and the help you've given us to achieve our dream.

Dan did a nice job, and it was a pleasure to work with him. He was courteous, responsive, and knowledgeable. Very satisfied.

Dan gave us good advice and handled everything in a professional manner.

This was an unbelievable deal. Dan acted in a way that was above and beyond in order to help broker this deal for me. He is truly a world-class agent.

Dan was exceptional! Felt from the first interaction that he was trustworthy and would be our advocate in the process. He was absolutely delightful to work with.

I have been a fan of Dan Perez for years. Whitetail Properties is a show I DVR, so I felt good about using Whitetail Properties. After meeting with you in person you are exactly what I expected a Land Specialist to be! You will come highly recommended from my family. Thanks again!





Very friendly and prompt. I consider him a friend now.

Dan acted very quickly (the day I called to inquire about his services) to inspect my property and he called me that day to tell me the property's strong points and weak points. Dan did not quibble when I wanted to ask a higher price than he recommended and I told him that I was willing to wait on getting close to my asking price since I did not have to sell. He found a buyer on the 1st day it was put on website and he got my asking price. He accommodated me by finding buyers for a 4 wheeler and deer stand that kept me from moving them off my property. He answered or returned all my calls quickly. Dan did everything he could do to make selling the property easy. Before I listed the property with him I had to delay listing it because of a family matter and at no time did he high pressure me to list. I feel that Dan is a man of good character, which is important to me.

Dan was very professional and responsive. I will use him and Whitetail Properties again.

Dan did an amazing job from the start. Showing us the land and explaining different features as we hiked, pointing out signs of wildlife, mushrooms, ginseng, and tree saplings to the very end when he made sure we were happy and satisfied before signing on the line. Dan worked both side professionally and I never felt as though I needed to get my own realtor. I've already recommended him and the company to multiple friends and family.

10 days from property listing to accepted offer. Everything went great! Definitely recommend! Awesome job!

Dan was very knowledgeable and very helpful. He took the time and effort to make the showing fun and informative for the whole family and he really knows his work. Great person and great representative for your company.

Dan was great! Would highly recommend him and use him in the future if need arises.

Dan was absolutely fantastic to work with. Personable, professional, kind, readily answered questions and wise recommendations, always felt we could fully trust him. One of the best real estate experiences we have had, and that was because of Dan.

Dan was a person I felt like I have known all my life!

First property we looked at I realized he had an incredible knowledge of trees and plant life. Invasive species and much needed information that I did not have. Very professional, knowledgeable and efficient.
So glad I found Dan Bates and Whitetail properties

Dan was excellent. We were comfortable with Dan the moment we met him. He promptly went to the property and walked it within a couple of days of contacting him and before our first meeting. I was surprised by his knowledge of the property and the details of it's particular characteristics that he had at that first meeting. He is methodical in going over the pros and cons of the property, market and location. Dan advised a sales price that I was initially skeptical of, thought it was a little too high, but we listened and he was spot on. I worked in the banking business for over 40 years and have worked with multiple realtors and have had more real estate closings then I can remember, so I have a good basis to highly recommend Dan. I am confident that Dan will give you his best and you will be very satisfied with his efforts and results. I highly recommend Dan Bates and Whitetail Properties.

Excellent! Dan is extremely knowledgeable and service oriented. As an example, a previous property we looked at ended up going to sheriffs sale where Dan would have not made a commission. He still advised me as if he would have been paid.

Was quick to respond to questions and very helpful through the whole process.

We began our five year house selling journey with a certain amount of trepidation. Besides the usual emotional attachments to our forested property, we felt we might have difficulty moving an isolated timber framed home in an undeserved county where few comps existed. A local newspaper article we had saved years earlier that referenced Whitetail Properties provided the solution. A meeting with Dan Bates, the Whitetail real estate agent for that area sealed the deal. He told us that our property exactly fit the profile of a Whitetail Property. The fifth year of our plan found my wife and me touring our property with Dan as he tutored us concerning what buyers expect when evaluating a residential purchase. Later, we settled on an asking price, one considerably higher than a local agency had presented but much more realistic in terms of our investment. We were comfortable to place the property on the market. We sold it to the first potential buyer. We credit the quick sale certainly to the four years of preparation on our part but the real credit extends to Dan's expert shepherding of our property through the sales process. His deep knowledge of the vicissitudes of moving real estate, his unwavering attentiveness to our needs, his enthusiasm for his job, all contributed to making what could be a harrowing experience a manageable experience. We greatly appreciate the presence of Whitetail Properties in this specialized segment of the real estate market and particularly appreciate an agent with Dan's profound level of expertise.

Dan is exceptional. Professional in every way. Goes out of his way for you. And makes you feel like your listing, no matter how big or small, is a priority to him.
Contact Agent
Contact Agent
Contact Agent
Contact Agent