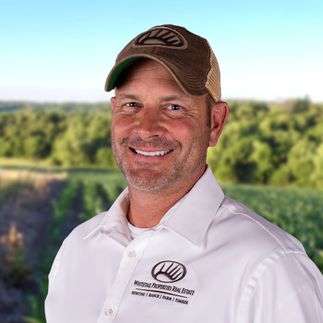 Dave Schutt
Salesperson, Land Specialist, WI Team Leader / Licensed in WI
Testimonial Quotes
Dave Schutt:

What My Clients Are Saying
"I received exceptional service from Dave Schutt throughout my land sale transaction. From the initial query to the listing of the land and then fast closing on the land sale, he was a true professional. Dave clearly has an deep understanding of real estate, especially the ways selling land is unique. He was extraordinarily thoughtful in understanding my specific situation and advised me expertly on setting the price and as well as how to connect with local assistance to remove some personal property on the land. His listing on the land was simply outstanding; the words he used to describe the land perfectly captured its value and the photos were...next level. Dave communicated regularly with me about everything including showings/feedback and offered insight to help me understand the process. He connected me with a stellar closing agent who took care of every detail to make the transaction close without a hitch. Dave earned my trust and has my highest recommendation!"

"Dave was fantastic, knowledgeable, patient, and a steady guide throughout the process."

Dave was great. He was very helpful through the process and educated me about the purchase price and offers. Found great comps to compare it to.

Great, Dave kept me updated on the situation regularly.

Dave Schutt was awesome! He is a true Outdoorsman. With his expertise and guidance we divided the property into two parcels and both sold the same year. He found me two cash buyers and it appears that both of them will be good stewards of the land, which was important to me. Dave did a great job marketing & showing my property.

Initially I had listed the property for a year with the people who did the auction. No serious inquiries resulted. I got a flyer in the mail. My property has some tillable land and a lot of wetlands and a 12+ acre 45 feet deep lake---the diamond of the property in my eyes. So after reading the flyer it seemed to me that this kind of property was exactly the kind Dave specialized in. And no matter the weather or conditions, Dave was out there showing prospective buyers the lay of the land. I will wholeheartedly recommend Dave Schutt and Whitetail Properties to any of my country friends who are looking to sell.

Dave was absolutely amazing and exceeded my expectations on all fronts. Dave was very professional and answered all of my questions in a timely manner. We also had some unique minerals rights issues to tackle, and without Dave's experience, knowledge, and connections the deal may not have happened. Furthermore, one of the parcels was in the Managed Forest Law program so having Dave there to help me through the process was invaluable. I would highly recommend Dave, and hopefully plan to buy some more hunting land with his help.

Unbelievable!!!!! Dave listed our property, and immediately had several interested parties. We had an offer to purchase within days. It turned into a bidding war, and we signed a contract for $41,000 over our asking price within a week! We closed within a month's time. The entire process was like a dream come true! Dave is a ROCKSTAR!!!

I feel Dave did a great job representing myself along with the seller. He always responded in a timely manner and gave accurate answers to my questions. If he did not know something he found out the answer and responded quickly. From the first correspondence till close took less than a month! He made things happen quickly and smoothly even though the seller lives in Texas and I in Wisconsin. Dave was very professional and I would definitely work with him again.

This guy is a Rock Star! Went way over and above for me.

Dave is great. Knows his profession, and how to work with people. Really like him.

I enjoyed working with Dave as he made this transaction much easier than I thought it would be and was please with all of his work.

I was impressed with the company and agent.

I was very happy and impressed with how quickly Dave sold our property.

This property purchase was so easy, I will be coming back to Seth & Dave to purchase more land down the line.

Generally not impressed with RE agents......However, we were impressed with Dave Schutt. He did his homework and the sale went flawlessly.

Dave was fantastic. Worth every dime in commission!

Dave is very well versed on the property values and did an excellent job of showing the details about our piece of land. Dave is a true professional! My son will be looking to purchase hunting land in Minnesota in the future and he will certainly consider your firm!

Very good. Dave showed me around the property, talked about what he knew of it and the area, history, etc. He was willing to walk and show me as much as I wanted to see. He was also quick to work with me efficiently from the offer to the closing. Great experience.

The experience was just fantastic. Dave fully supported all of our inquiries and needs without hesitation. The advise and support Dave provided was just outstanding.

Very good! They Covered my needs as to property type and area covered.

Dave was excellent. Zero complaints. Knowledgeable and took great care of me and my concerns.

Everything went very well. I couldn't believe it would sell that fast.

Dave was great to work with. Answered questions in a timely fashion, easy to talk with, organized. Good knowledge of the property.

Fantastic! Dave was knowledgeable, easy to reach and to talk with. He also kept us updated throughout the process.

Excellent experience, David was a great help, took his time to answer all questions.




Enjoyable and comfortable. I came to learn in discussion with your people the companies strategic core values and prayer being an intricate part of your meetings.

Dave Schutt is one of the best realtors I have had the pleasure to work with. He is very knowledgeable, prompt and honest.

Dave was excellent, expertise and honest agent.

Dave is a great land specialist, very easy to work with and knowledgeable. If he doesn't know the answer to a question he definitely knows someone who does.

Professional, very responsive to calls and texts. Definitely marketed the property

Dave Schutt was very easy to work with, interactions with him were always pleasant, explained things in an understandable way. After talking to Dave, I felt he would give my family good service....also he had sold other properties in the locality...he was always prompt in returning our calls

Friendly and knowledgeable. Very helpful with questions.

Great job. Talked to Dave and was very impressed with his knowledge and commitment to sell our property.




it was great Dave knew everything about the land and answered all my questions, he also was very likable.




It couldn't have been easier for me. Dave did all the work!

Dave was familiar with the area and very knowledgeable, and saw the value in the properties. Seamless and no hassles.

Dave did great job was very impressed by knowledge and physically walking all the property. Liked what I heard when talking to Dave. Just very impressed with verbal conversations with Dave and him working with me to sell the property.
Contact Agent
Contact Agent
Contact Agent
Contact Agent