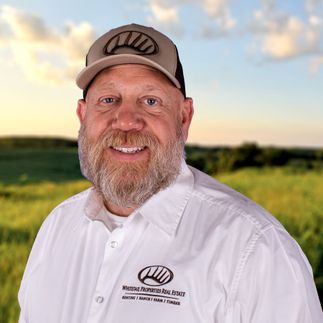 Dave Skinner
Sales Associate, Land Specialist / Licensed in KY
Testimonial Quotes
Dave Skinner:

What My Clients Are Saying
Whether it's a residence or a hunting farm. I was very pleased with the way Dave kept me informed with regular updates on prospects, then ultimately the closing process. I would not hesitate to use him again.

This has been a great experience with Dave, we trust his knowledge and answers to our questions. I have and will continue to refer this company to everyone. This has been really easy with a professional seller and buyer. Thank you so much!!

When we first decided to sell our farm, we were hesitant to list with a real estate company and attempted to sell it on our own. We soon realized that we needed a professional to help show the farm and market it effectively. Dave was very proactive and contacted us when he saw our ad. After hearing what he and Whitetail Properties had to offer, it seemed like the obvious decision to list with him. Our farm had been timbered heavily and didn't have the "curb appeal" of some farms. He worked closely with us on a plan to transform the farm into something special for a small investment. Once the work was completed the first two prospective buyers to see it made offers, one of which was for full asking price. We couldn't be happier with the hard work and dedication Dave put forth throughout the process. Whether your farm is turn key or needs some TLC, Dave and the Whitetail Properties team have the tools to get it sold.

I have purchased and sold many properties in my time and dealt with many agents from many companies and I must say that Joe Martin and Dave Skinner are by far the most knowledgeable and professional agents that I have EVER done business with. They are not only superb salesmen, they also know the land itself, the property background. wildlife info, community info, etc., NOT ONE question went unanswered. Most importantly they are both men of extraordinary moral and ethical character. These are the type of men who set the standards of quality, reliability, knowledge, and dependability for the real-estate industry. They don't get any better than this. Thank you Joe martin, Dave Skinner and Whitetail properties.

Working with Dave Skinner and Whitetail Properties to sell our 117 acre Washington County, Kentucky property was a great experience! True professionals who took the time to instruct us on how to maximize the value of the property, and to set the sale price that we would be happy with. They delivered! Our property was located over an hour from our home, and the idea of trying to sell it on our own was not even a consideration. Dave and his team have the expertise to advise landowners, and the contacts to get potential qualified buyers connected with sellers. We met Dave at our property, gave him a detailed tour, told him our expectations, and put the wheels in motion. The only thing left for us was to wait for offers, which quickly rolled in. The process couldn't have been easier for us, and for that, we are truly grateful. Zero stress!! We highly recommend to anyone considering buying or selling farm land or recreational property to contact Dave Skinner and the professionals at Whitetail Properties.

Everything was going smoothly with the purchase of our first farm right up until the day before closing. Then it happened, we hit a roadblock in the form of a hidden issue with the property title. Dave negotiated with everyone involved and helped clear up the issue so that we could close shortly after. He worked hard to make all parties involved happy. He was a pleasure doing business with and we highly recommend him.

Owning land has always been a family desire. A place to camp in summer and hunt in the fall. Working with a Christian man knowledgeable in the outdoors was a plus. I will recommend Dave to all my friends interested in a land purchase! Thanks Dave for making our dreams a reality!!

Simply put, Dave Skinner went above and beyond throughout the entire transaction of my land purchase. I will have no problem contacting him for any future purchases or sellings and will refer anyone to him interested in purchasing their Kentucky dream property.

Dave helped us through what was a time consuming search. Being from the Louisiana swamps, what we originally thought we wanted was not exactly what we were looking for. Dave showed us a lot of properties just helping us understand what was available. After he "educated" us, he was able to show us exactly what we needed.

Dave had the tough job of representing both us and the buyer and that can be difficult, more difficult in my opinion than just representing one or the other. Keeping both parties happy while working in the best interest of each can be tough and Dave did it with patience and logic. His photos and write up about our farm were really what set him apart from anyone else we have ever worked with in the past.

Dave and all the Whitetail agents have been great to me and my family. I wish the entire organization the best.

Mark and Dave were both very helpful. Mark was always available and willing to answer any questions I had. Dave took his time to show me the entire property and answered all questions I had.

Dave Skinner is not only well experienced in every part of the sales process, he explains and articulates it so well that we felt comfortable the entire time that it would go well. And it did!

Mr. Skinner was a terrific representative for us and the property we bought. His professionalism and dedication to detail left us without a single unanswered question through the buying process and we happily recommend him to any who might be interested in buying or selling in Kentucky.

Dave did go out of his way to help me. I'm sure he'll help me in the future if I need him to do so. Thank you Dave.

Last year I began to look for some hunting properties so I could pursue my deer hunting passion on my own land vs. using outfitters. Of course, I began to look in all the places where hunting channel TV personalities mention. In March of 2018, I decided to go to Kentucky and explore that particular state since I have never been there. I sent a text message to Dave Skinner of Whitetail Properties and got an immediate response from him saying "Yes, I will put you down on the calendar." Other people from other businesses didn't even respond or follow through like Dave. Dave asked about what size property I was looking for and based on my answer he showed me several properties and from start, to finish, the process was very efficient and hassle-free. Thanks, Dave for everything.

My agent has been quick and efficient with getting my land online and sold for the price point we discussed.

Dave was excellent, kept me informed and was able to sell this property when it seemed no one else could. He is truly an asset to your company and I already have recommended him to other people.

My agent was able to advertise my property well and get it seen by a lot of people. He was able to get my asking price which was good for me and fair for the buyer's, II believe they were happy as well.


Taylor Shanks and Dave Skinner were true professionals and I really enjoyed working with them. Great overall experience!

Well worth the additional 1% -- By far.

Great guy and agent. Sold the property within days.

We enjoyed working with Dave. My wife and I have used several realtors over the last few years. We have high standards and normally do not like realtors due to their lack of knowledge. We loved Dave.

I had worked with Dave on a previous land transaction several years ago and knew I wanted him as my agent again. It was a pleasure having him as my agent and I always knew everything was under control and being taken care of during the whole process.

I want to let you know how responsive and helpful Dave was. I had a friend share a Facebook post that Dave had on a property that was about to be listed. I contacted him the next day and we went to see the property. I put in an offer the next day and am now a landowner. Dave walked the entire property with me and pointed out some features that really made this little property something that worked for me. We discussed some of the things that he (or I guess it's ya'll) can do to improve the property in order to be a better tract. I plan to have Whitetail Properties do some shooting lane clearing, mowing power lines and tilling up some food plots. Dave gave me insights into what to plant near the road, the value of switchgrass, etc. Dave is a great guy to be around and get to know and represents Whitetail Properties very well in the countryside.

Dave Skinner was extremely helpful during the entire process.

Excellent! I wish I had listed my home with you!

Great, Simple, Appreciated.

Professional, sincere, very knowledgeable about value, hunt ability of the farm and to sum it up - Easy Button!!

Dave Skinner went above and beyond the call to sell this property. He told us what we needed to do to make the property more marketable, and we took his advice, and the property was sold.

I felt that he knew what he was doing.

Laid back but professional.

Dave Skinner is an absolute pleasure to work with, he's knowledgeable and professional and I had no doubt he would get me the offer I needed to pay for the down payment I used to buy a piece f ground from Zach Holt in Indiana. The whole WTP team is fantastic. Dave Skinner is at the top of that list in my opinion.

Dave Skinner was great to work with. All of my questions were answered. Business was handled in a timely fashion.



Contact Agent
Contact Agent
Contact Agent
Contact Agent