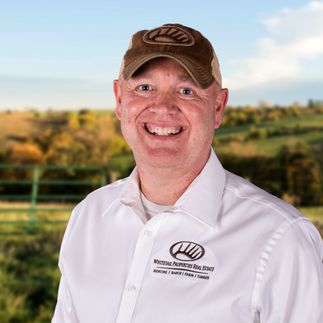 David Pritchard
Affiliate Broker, Land Specialist / Licensed in TN, Salesperson, Land Specialist / Licensed in MS
Testimonial Quotes
David Pritchard:

What My Clients Are Saying
I have used Whitetail Properties to purchase farms in Iowa, Kentucky, Illinois, and now in my home state of Tennessee. Each representative has done an exceptional job. I have done business with many agents and yours are far and away the best!

David's guidance was very helpful for this property and others that we own and are in the process of readying for Sale. Thank you

Curt & Connie Jones (Con-Cur P

David was a true professional from start to finish. He gave me valuable advise and recommendations throughout the process that helped make this an enjoyable purchase. I always felt that he had my best interest as priority #1. Thank you David!

David is a great addition to your team. His knowledge of farm and land management through years of consulting give him an obvious advantage on the real estate side. That coupled with his integrity is a winning combination. Proud that I had the opportunity to work with him.

David was an absolute pleasure to work with. He was extremely knowledgeable and very honest with his comments about the property based on his knowledge. I will do business with him for years to come.

David is the most informed and helpful professional I've ever worked with.

This is the second property in 90 days David has helped me with. He is the best I've ever done business with.

David was a superb agent to have. He kept us informed about every step. No complaints at all!

I have bought and sold, I have had experience with several agents, but David took the process to another level. He is very knowledgeable, very observant, listens well, and is an excellent negotiator. I am extremely impressed and do not want to go back to other realtors after this experience. Sometimes, being a female, realtors do not treat me with the same respect as they would a man, but David treated me with much respect.

I cannot thank you enough for what all you have helped my mom with. Between my mother and father and I we have dealt with real estate agents all our life and just as it says on your website, you all are not real estate agents, but "land specialist" and even so much more. NEVER, have I ever had someone go to the extent that you have to help my mom as well as trust worthy and not just in it for the money. I know she is such a little player in your game but it's much appreciate the time and energy you put into her sale and purchase.

David is extremely knowledgeable in all aspects of land usage and his negotiating skills are exceptional. It is refreshing to conduct business with someone who truly represents their client and is honest as the day is long. He worked hard to find what I was looking for.

I was very pleased after the first conversation with David and knew he was the agent and Whitetail Properties was the company I wanted to do business with.

David Pritchard has been really great to work with. He writes the best detailed description of the property for advertising than anyone I have ever seen. He has sold several properties for me and I will continue to do business with him.

David Pritchard is one of the finest people I've ever met. He is admired by everyone in our family. He has helped us put together a very special place for my family. Simply he is the best!

The best realtor we have ever worked with. Honest, dependable, always going above and beyond our expectations. Any request, no matter how big or small, was met with grace and affirmation. Our schedule became David's schedule. We were 14 hours away and David never ceased to amaze us how many times he would visit the property in our behalf to answer questions.

I could not have been happier with David. He was knowledgeable in all the aspects. He always acted in a professional manner with my best interest in mind. He provided insight into considerations I had not thought of.

Amazing! We got more than we thought we would for our property and bought another property from him that we are thrilled about.

Exceptional! Thoroughly professional experience. Able to swiftly navigate a highly desirable land purchase.




Agent able to move quickly on a desirable tract, extremely knowledgeable about market conditions. Very easy to do business with. Handled a generational tract that hadn't sold in 80 years.

David did a great job of asking questions to understand what was most important to us and then helped me understand the pros/cons of different types of properties. He found a property that was about to go on the market and encouraged me to take a look even though I had already said no the first time. Had he not encouraged me to see it in person, I would likely have missed out on a great property! He was incredibly insightful during the evaluation period and helped us set up professionals to perform the necessary inspections. I'm incredibly grateful for his insight and assistance. I highly recommend David and have already introduced him to a couple of friends…one has even used him to buy a property.
Contact Agent
Contact Agent
Contact Agent
Contact Agent