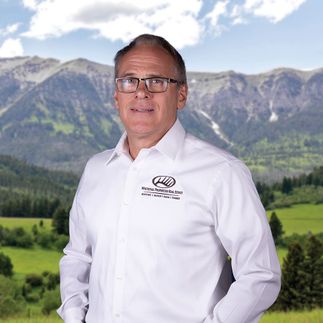 David White
Salesperson, Land Specialist / Licensed in ID
Testimonial Quotes
David White:

What My Clients Are Saying
I want to let you know about our experience working with you as our real estate agent. I am familiar with the real estate world as I have bought and sold many residential and commercial properties over the years. I also at one time had my real estate license. I am sorry to say but my experience with brokers and agents have been much less than positive. In my experience the only value that an agent or broker could bring is access to potential buyers. That was until I contacted you to help me sell a piece of property.




This is my first time buying or selling real estate that I truly felt like I had an agent that had my best interest in mind. Not only that but you and David would go above and beyond to communicate with me or any potential buyer. I am sure that you and David had larger sales to work on but I never felt as if I was any less important. In my profession I have run and managed sales teams. My interaction with you typified the true sales professional my company always tried to develop.




I would highly recommend Ann and David to anyone that is buying or selling real estate. Their knowledge, expertise and connections will help anyone to have a successful transaction. But more importantly they work very hard on understanding and implementing a course of action decided upon what I wanted. My only wish is I could copy both of you for a few real estate transactions I am in the middle of in Utah.I do not often say this but both of them were impressive.




Whitetail Properties has worked hard to help make the sale of our property a great experience for us. Mr. David White took extra time and effort to take a normally stressful situation and make it a positive experience. We appreciate the many hours and phone conversations all along the way. The professional manner and courtesy to keep us informed about every transaction has been greatly appreciated. We highly recommend Whitetail Properties and specifically Mr. David White for any real estate endeavor.

Thank you so much for all of your help in selling our property.

I was contacted by Ann and Dave White through a marketing piece I received in the mail about some land I owned. I sent an email to Ann White and received an email back the same day or next day. I always appreciate a quick response! I asked for a market analysis for a possible sale price and was pleasantly surprised how much my land had increased in value since the time I purchased it. I decided to list the property with Ann and had a great experience. I was provided the status on how many people viewed the property, made inquiries or phone calls and the property sold quickly for a price slightly higher than I was hoping for. Ann kept me informed and made the process simple. If you have land or are looking for land, I suggest you work with Ann and David White. They were easy to work with, informative, helpful and made the process as simple as a real estate transaction can be!
Contact Agent
Thank you
We'll have an agent contact you shortly.
Contact Agent
Thank you
We'll have an agent contact you shortly.