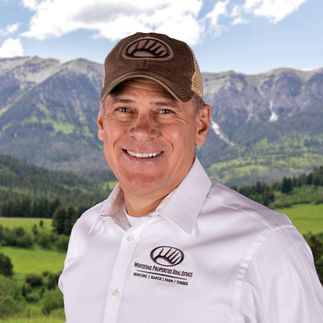 David White
Salesperson, Land Specialist / Licensed in ID
Testimonial Quotes
David White:

What My Clients Are Saying
"Working with Ann and David White at Whitetail Properties was a true pleasure. They bring a complete, highly professional package to the table. Two very caring, talented and energetic agents backed by a complete corporate marketing toolbox, is a strategy setup for success. Simply put, Whitetail Properties lived up to its billing as the premier land specialist serving Southeastern Idaho. We highly recommend our new friends, Ann and David White."

Ann and Dave

"Our Dear Friends - "Realtors"

Words can not say how much we appreciate all that you have done for us and how much we have enjoyed you two. The moment I saw that sign and took a picture I knew in my heart it was meant to be. Your company and hard, professional work for Bob and I has been amazing. There was and still is so much comfort. As our adventure with you here comes to an end, we want to keep in touch and, yes, we would love to go sailing. We definitely want to stay connected. You are two wonderful, loving people. Again, thank you so very much for everything. We're going to miss ya! I'm sure I'm going to be reaching out regarding the search for our new home. We're not done yet! :)

We Love you,

Bob & Joy"

Ann and Dave White, with Whitetail Properties Real Estate are such a pleasure to work with. They are very professional in their dealings. They made us feel like we are part of their family. Every step of the way they kept in touch with us, explaining how things were going, getting information from the seller, and arranging for us to meet the seller so that we could ask questions. They met with us several times at the property to ensure that any questions that we had were answered. They were quick to get back with us if they missed our phone calls and are extremely helpful. They made the paperwork very easy to understand and even came to the closing. (Which we all loved). They go above and beyond to ensure that you feel comfortable and informed. They followed up with us after closing to make sure that we had everything we needed. Thanks Ann and Dave for making this adventure a great one.

We would highly recommend them if you are looking for property to buy.




Happy new Idaho property owners!

Dean, Robin, Jake & Jackie A

I've had the privilege of working with Ann and Dave White, with Whitetail Properties. They successfully found buyers for my ranch ground in southeast Idaho. We closed the first of 2023. The entire process from the beginning was good. Ann and Dave were always punctual with the appointments, they are not only kind and friendly but very professional, never overbearing. I was impressed with their attention to detail. I was also impressed with the multiple platforms with which they presented my property, and then Ann would call and let me know the results from those efforts. I would not hesitate to refer anyone to them. When I need to sell any property it's Dave and Ann, with Whitetail Properties.

I want to let you know about our experience working with you as our real estate agent. I am familiar with the real estate world as I have bought and sold many residential and commercial properties over the years. I also at one time had my real estate license. I am sorry to say but my experience with brokers and agents have been much less than positive. In my experience the only value that an agent or broker could bring is access to potential buyers. That was until I contacted you to help me sell a piece of property.




This is my first time buying or selling real estate that I truly felt like I had an agent that had my best interest in mind. Not only that but you and David would go above and beyond to communicate with me or any potential buyer. I am sure that you and David had larger sales to work on but I never felt as if I was any less important. In my profession I have run and managed sales teams. My interaction with you typified the true sales professional my company always tried to develop.




I would highly recommend Ann and David to anyone that is buying or selling real estate. Their knowledge, expertise and connections will help anyone to have a successful transaction. But more importantly they work very hard on understanding and implementing a course of action decided upon what I wanted. My only wish is I could copy both of you for a few real estate transactions I am in the middle of in Utah.I do not often say this but both of them were impressive.




Whitetail Properties has worked hard to help make the sale of our property a great experience for us. Mr. David White took extra time and effort to take a normally stressful situation and make it a positive experience. We appreciate the many hours and phone conversations all along the way. The professional manner and courtesy to keep us informed about every transaction has been greatly appreciated. We highly recommend Whitetail Properties and specifically Mr. David White for any real estate endeavor.

Thank you so much for all of your help in selling our property.

I was contacted by Ann and Dave White through a marketing piece I received in the mail about some land I owned. I sent an email to Ann White and received an email back the same day or next day. I always appreciate a quick response! I asked for a market analysis for a possible sale price and was pleasantly surprised how much my land had increased in value since the time I purchased it. I decided to list the property with Ann and had a great experience. I was provided the status on how many people viewed the property, made inquiries or phone calls and the property sold quickly for a price slightly higher than I was hoping for. Ann kept me informed and made the process simple. If you have land or are looking for land, I suggest you work with Ann and David White. They were easy to work with, informative, helpful and made the process as simple as a real estate transaction can be!

We recently listed and sold property in South East Idaho with your company. Ann and David White were listing and selling agents. They were professional, courteous and handled all the process very efficiently from beginning to end. We were pleased with the result and we would recommend Ann and David as agents for anyone seeking to buy or sell property.

Thanks again for the swift action they accomplished regarding the sale of our land.

Recently, I had the pleasure of working with Dave & Ann White of Whitetail Properties in Southeast Idaho. I buy and sell land and it was my first time working in Bear Lake County, ID. As I was looking for an agent in the area, I came across Dave and Ann White, after looking at their profile on Whitetailproperties.com and I liked the way they marketed properties. That's my number one criteria I look for when trying to find an agent in a new market, how well they market their properties. Believe me, they do an excellent job. As I was looking at different properties to purchase, Dave was very accomodating with answering my questions. He and Ann even drove out to the property, which was way up in the mountains, to take pictures of it and check it out for me. I ended up purchasing the property. After closing on it, they listed it for me. They had all the pictures from their trip out there a few weeks earlier and Ann wrote a great description that really told a story about the property. The listing went live on a Friday and 2 days later they found a buyer for me. We got a full price cash offer. We ended up closing a few weeks later and ended up closing a few days earlier than what was in the contract which was great for oth parties. I have been a part of 100's of real estate transactions over the years and this was the first one that closed without one single issue and i attribute that to their attention to detail. I'm looking for more properties in their area so i can work with them again and again. I'm very picky with the agens i work with and highly recommend the Whites. If you are looking to buy or sell land in SE Idaho, I highly recommend working with the Whites for I know they will do an outstanding job for you as well.

Dave and Ann were awesome to work with. Perfect experience. The way they market a property and the willingness to answer questions up front.

My husband and I recently purchased property and had the pleasure of working with Dave and Ann White with the purchasing procedure. They were both extremely friendly and informative. I got met by Ann and a jar or her homemade jam for us as a welcoming gift. They brought their side by side so we could have better access to see our recreational property. We would absolutely call them up if we are ever in a position to buy more property and we will definitely refer them to friends and family. They did what they said they would do, when they said they would do it. Am extremely happy!!

If you're looking to sell your property and want the best team out there, you have found that with Dave and Ann White. They work perfectly as a team and don't miss a thing, they keep you updated and are a true pleasure to work with! I've done real estate for years and have never come across a better team! They are both smart and on their game and you can have confidence in the fact that you're well taken care of in your real estate needs.
Contact Agent
Contact Agent
Contact Agent
Contact Agent