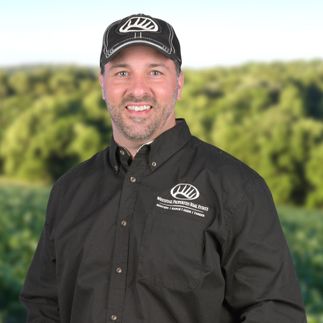 Derek Fisher
Principal Broker / Licensed in KY, NH, Designated Broker / Licensed in ME, Qualifying Broker / Licensed in NM, Sales Manager
Testimonial Quotes
Derek Fisher:

What My Clients Are Saying
I would like to take a few minutes of your time to tell you how much I appreciate Whitetail Properties' Derek Fisher. Derek had been able to do what no other agent had done; and while I'd been listed for over two years with other agents, he was able to complete the sale in three months. I am sure it was the great advertisement, and customer base of Whitetail Properties, but even so, I'm certain that I wouldn't have had the success of a sale without Derek Fisher, he went above, and beyond all that I could have hoped for in an agent. I plan to suggest Derek, and Whitetail Properties to my friends, and those I come in contact with. I consider both such blessings.

We chose Derek Fisher from Whitetail Properties to sale our land, he was always easy to contact if we needed to talk to him about something. He's a very nice, honest, Christian man with a great work ethic, he will be up front and will sell your property quicker than anyone. Our land was sold within 3 months after hitting the market with him as realtor! We would highly recommend Derek and Whitetail Properties for anyone who as interest in selling their land.

Sincerely,
Curtis, Karen, and Billy Clemons
Kentucky Landowners

We received good advice, good service, and good results. The agent who was a stranger is now a friend. Thanks

Our family is very happy with the new place in Bell county, Kentucky and can't believe the elk. Great things are happening there ! We love it.

Derek did a great job. We have experienced agents from other companies that would not go to the property with you to see it. Derek was a refreshing change and professional.

We have now purchased 2 adjacent hunting parcels outside of Burkesville, KY. Derek has been instrumental in both transactions. As we look for more, he is the only person we will do business with and through. Great Guy. honest, and all business hunting!

There were a few times Derek had to go out of his way to get information and he did so without hesitation. He also went out of his way to be a great host when I visited from out of state. I would strongly recommend Derek to anyone who wants a very knowledgable and honest person who will go out of their way for your benefit.

Derrick Fisher is a great person and a wonderful agent. Whitetail properties should feel honored to have him as an agent. I will only deal with Derrick Fisher in the future. He is an honest man and exceptional agent. He assisted me in finding the property of my dreams and professionally closed the deal.

Derek Fisher is #1. He worked for us all the way. If our property had not sold it would be no fault of his. He was kind to us every time we saw him. He was very honest, helpful and friendly. We had engaged four other real estate agents before Derek. The lies were many with promise untold. Not only was he all business on selling property, we gained a true friend. He knew we needed to be with our family, but he offered to help us if we needed help otherwise. He is a very exceptional person. We are happy that we answered the card that we received in our mail. If other Whitetail Properties agents are one half as special as Derek Fisher, this organization will thrive forever.

I can't say enough about how polite and professional Dereck Fisher was when on the phone, with emails and in person! He was very knowledgeable about what we needed and explained it well! All the way to the final sale! Thanks so much and we will probably be listing again!

Derek was great to work with, as a buyer several years ago and recently as a seller. He is very informed about the area. He is always prompt, professional and friendly. Derek will be the first person I call when I am in the market again.

Derek did a great job and we appreciated his time and efforts. We had a time constraint due to the distance which made his professionalism very important to us. Thank you for the hat, knife, and sticker.

Due to the appraiser that our lender hired....we never thought we would close! Both Derek and EJ were great to work with and kept us up to date on everything - each step of the way. When I was so stressed out I could scream....they listened and understood how upset I was and they did above what they needed to do to get us through. At one point, they both told us they would pay for one of the tests that was required when the sellers would not help. Although we appreciated their honesty and willingness to help us out, we would not accept their payment for this test. Listening to both my husband and my frustration was considerate on both their parts. I would and have told many already that they were the best and would use them again if needed. We are going to need to do some work due to a crack in the basement floor that the engineer said must be repaired and they have both told us they will come and help my husband complete this. What great reps for their company.

I have served for 19 years in the Marine Corps and have moved around a lot. Having had many dealings with real estate agents, Derek Fisher is by far the very best I have worked with. Being extremely knowledgeable in his craft and his ability to work for the betterment of his clients, sets him above any other.

Owning property with three other couples made the selling of our property a real challenge. Listing with Whitetail Properties and our agent Derek Fisher proved to be quite rewarding. Derek promptly took photos of our property and started the process. Receiving an offer and Derek's quick counter, a deal became acceptable to all parties. With so many people involved Derek scheduled a closing that went very smoothly. Derek's professionalism and prompt response made for a satisfactory conclusion. So it goes without saying Mr. Fisher would be our first choice involving future transactions.

Derek was a consummate professional with my listing. He understands the market well and is honest with the facts. If I need to buy property in his area again, he will be doing my real estate work."

Jason Wallin is a top-notch agent with expert knowledge of deer and turkey hunting. He was our primary Buyer's Agent. From the start, we knew we were in good hands as Jason took a special interest in getting to know us personally and understanding our property needs. He did not try to "push" us to a property on his sales list. Instead, he found the perfect property for us based on our requirements. His friendly and enthusiastic demeanor, attention to detail, patience, and professionalism made the buying experience a pleasure. With Jason's help, we found the perfect tract. However, it was listed by Derek Fisher in a county over two hours from Jason's home. Within three hours we were at the property and, after handshakes, on a tour with Derek at the wheel. Whitetail Properties Agents seem to have the same basic qualities: professionalism and deer and turkey hunting expertise, and they are just good people. After the contract was written and accepted, both Jason and Derek continued their outstanding support by answering our requests for things like door measurements, facilitating a plumber visit, etc. Thank you Whitetail Properties for an excellent and enjoyable buying experience.

Derek was very pleasant to work with. I would highly recommend him to anyone who is looking to make a land purchase.

Derek went above and beyond in our case that had some complicated issues. He checked in often and returned calls timely. We would use Whitetail Properties in the future.

Went threw several offers/pending sales before we finally got sold. Derek worked hard and had buyer lined up everytime the deal fell threw.

Derek was always quick to respond to questions we had or provide information we needed. We love our little getaway and are thankful God gave us the opportunity to buy it. We have already created wonderful memories in our new cabin are looking forward to creating many more memories with our kiddos!! Thanks Derek for your help.

I don't write many letters; however I am purposely taking the time because I feel you need to be aware of the outstanding job both Michael Ogletree and Derek Fisher did in locating a property for my wife and me. I began my search for property approximately three years ago. At the time that I began this undertaking I thought I could do it all myself. I spent many hours looking through different real estate web sites and traveling to visit properties. I wasted a lot of time and would often be disappointed thinking I found the perfect property by the listing, only to find it fell short. I then reached out to Whitetail Properties and was promptly contacted by Michael Ogletree. My wife Lisa and I made arrangements to meet Michael to look at a few properties. Before traveling to Kentucky I prepared a "hit list" of what I wanted in the property and requested Michael find a few listings that we may be interested in. When Lisa and I met with Michael in Trigg county we both felt very comfortable with him and could tell he wasn't after the "hard sell" but truly believed in finding the idea property for his customers. On day two Michael introduced us to Derek Fisher to look at some additional lots. Again, when we met with Derek we liked him as well. I do not know where Whitetail recruits their people, but however or whomever does it, they are doing a fantastic job; keep it up. Upon visiting the Metcalfe 187 property, Lisa and I realized that this was the property we were looking for and it checked all of the major boxes on our "hit list". Lisa and I decided to make an offer which was later accepted. Through out the process I had questions for Michael who immediately returned all my calls and emails and answered as many questions as he could. If he could not answer them, he got me an answer. Derek Fisher also assisted me after the sale getting me names of the local utilities, meter numbers, farmers contact numbers, and such. Even though we are not residents of Kentucky yet, I feel my wife and I already have friends there. In closing, I wanted to bring to your attention a job well done by Michael Ogletree and Derek Fisher. I also wanted you to know that I will recommend Whitetail Properties to anyone interested in a quality property listed by realtors who know hunting conservation, and the outdoors. Sincerely

Derek Fisher was a pleasure to deal with. He is a fine Christian man that I was very comfortable dealing with. He was very prompt in getting my questions answered and always followed up. As a business owner, he is the kind of employee I love to have. If it had not been for Derek's service, this transaction would not have taken place. Thanks Derek!

Our Whitetail Properties realtor did a phenomenal job! This sale was a very complicated situation with many differing working parts. Derek orchestrated this sale with skill and overall we are thrilled and would definitely recommend Derek and Whitetail Properties to any buyers/sellers. Not only was our property sold, but we got what we wanted for it -- who could ask for more? Thanks, Derek!

I appreciate the willingness of the agent to walk the property. (55 acres) He was willing to show me whatever I wanted to see and did this with less than 24 hour notice.

Derek always goes above and beyond to get the best deal in as short of time as possible.

Derek is very friendly, professional and always answered our questions. He was available and reliable.

Derek was professional and quick to respond to my questions. I'd recommend friends and family to work with Derek in the future.

Derek was as good as the come.

Derek Fisher is a true professional in all aspects of land management, real-estate, wild life management, and most of all customer service. Always went above and beyond to help get our property sold. Has a never give up attitude that propels far above his peers.

Derek was so accommodating. Derek lined up several properties that we had inquired about and one that he became aware of while we were in Kentucky. He was so patient and helpful. We really enjoyed working with Derek.

Saw the property online and called Derek, the agent. Even thought it was a weekend day and he had hunting plans, he met us at the property and showed us around. He never rushed us, answered questions honestly and quickly and was absolutely great. We felt very comfortable with him and trusted him completely. Best agent we have ever dealt with and he is a great asset to your company.

Derek was very professional and very easy to talk to. Great personality for this career.

After having listed my land (118 acres) with other brokers and no results, I tried Derek Fisher and he had 2 full price offers! He worked hard to close this due to abnormal situations on both my part and the buyers. I would highly recommend him.

Derek was very polite and professional as well as knowledgeable about the property I was looking for.

Very good to have such a dependable resource, Derek and Whitetail Properties, helping me with my investment needs. Thank you!

Dan Perez, you have two awesome dudes in Joe Martin and Derek Fisher. I've known Derek since he helped us buy this property in 2014. He co-listed with Joe and my wife and I couldn't have been more pleased!!! Great guys and great company!!!

Very positive. Derek was a true professional as well as Dusty out near Murray KY. Both were knowledgeable about the land listed and surrounding area. We walked the boundaries of the properties which as it turns out other realtors do not. I would recommend Whitetail Properties to anyone purchasing land.

It was very good experience and my land sold much quicker than I ever imagined it would.
Contact Agent
Contact Agent
Contact Agent
Contact Agent