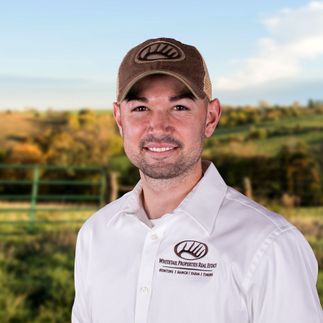 Dillon Pierson
Salesperson, Land Specialist / Licensed in VA
Testimonial Quotes
Dillon Pierson:

What My Clients Are Saying
I never would have found this property without Dillon's help. This property, as is the case with many properties not listed by land specialists, was poorly advertised with basic curbside and overhead pictures and details. Had it not been for the tools used by Whitetail Properties agents, I never would have given this property a second look. Dillon was able to clearly show me the key features of this property and soil conditions that would make it a great hunting property and therefor worth taking the 4 hour drive to see it. I would not have made the long drive based on the manner in which it was listed by the sellers real-estate agent.

"It was an excellent experience. Dillon was enthusiastic about selling our property. He met with us right away to become informed about the land and area. He was knowledgeable, educated us on the area, market and pricing and once listed, the property sold in about 2 weeks at the ⁰agreed upon price. He coordinated with 3 sellers and 4 pieces of property, in our case, with ease and flexiblity and all of us are satisfied with this sale. We would highly recommend Whitetail properties to others."

Dillon Pierson is a true Land Specialist, and it was such an awesome privilege to have found and worked with Dillon on the sale of 00 Hickory Creek Rd Louisa Va.

Very easy to work with two real professional agents. Extremely nice and polite to me, so I figured that would be what others saw in them.

Fantastic experience! Dillon was very professional throughout. We not only got a good price, but also gained a friend.

Outstanding. I never met Dillon in person, but he explained everything to me in detail. He always responded back in a very timely fashion. He handled the sell of my property as if it was his own. I would not hesitate to use Whitetail properties again as well as Dillon Pierson




Dillon was simply the best agent I've ever worked with. Hardest working for sure. He was active late at night and early again the next morning working contracts and listings. Weekends, nights, holidays, it didn't matter. He was always on and always engaged. His knowledge of the area and hunting properties in general was superb. I couldn't possibly have asked for a better agent.

We had several conversations with Dillon before decided to list our farm with Dillon. He walked us through every step and explained all the details of the process. He is honest, professional and really patient with us. Dillon is so knowledgeable about the area and always quick to respond. We could always count on honest advice and guidance.

Dillon was fantastic. He updated me regularly throughout the time the property was on the market. He was always professional and courteous. While we never met in-person, I couldn't recommend him enough as an agent.

Both Bryce and Dillon were very knowledgeable, competent, and hard working. They kept me informed throughout the whole listing.

Dillon was fantastic, he did an excellent job of marketing, drones, your national magazine and advice!
Contact Agent
Contact Agent
Contact Agent
Contact Agent