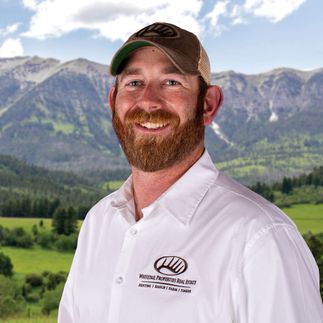 Drue Meyer
Salesperson, Land Specialist / Licensed in WY
Testimonial Quotes
Drue Meyer:

What My Clients Are Saying
We purchased 35+ acres of land in Prairie Springs, Wyoming over 20 years ago for our Charitable Foundation. After many years of owning the land, we decided to sell the property, hoping that someone would be able to use it for their hopes and dreams. We came across Drue Meyer, Whitetail Properties online, and contacted him about the 35+ acres. He quickly responded to our request and took control of the situation and got us a price and listing within 2 weeks. He provided us with a choice of prices to list the property, advising us the entire way. His knowledge and drive and determination resulted in a quick sale for a great price. His hard work and his great personality came together in a wonderful result, in less than 2 weeks it was SOLD for full asking price! We've worked with many agents across the United States, and none compared to Drue and Whitetail Properties! Sorensen Charitable Foundation will continue to work with him on other properties and projects in the future.

Carl & Faith Sorensen, Sorensen Charitable F

The land specialist was willing to ask more for our property after seeing it than neighboring property. We got the asking price within 3 weeks.

I had tried many times to sell a piece of property I owned in Wyoming with no luck. I received a card in the mail with Drue Meyers contact information and I made the call. I really liked Drue's willingness to answer any questions i had and his professionalism. I decided to sign on with Drue to sell the property and am really happy I did. He kept the whole process quick and easy. He kept me informed of every step of the way, which really eliminated the worries that can come from selling property long distance. I highly recommend Drue Meyer and would definitely work with him again.

Drue was great to work with and made the process very easy to complete.

The closing on my property sale is done, and everything went well. It was great working with Drue and Whitetail Properties.




It only took approximately 3-months from listing with Whitetail Properties to closing. Thanks for a job well done.




Contacted through emails back and forth. Drue Meyer was straight forward and answered all my questions. I wanted to sell my property for the most I could, and he provided me with a realistic sales price based on the current market value. He provided his expertise in the local market that my former property is located in. His expertise paid off when I got an offer to buy within two months of the original listing, and then it sold at closing five weeks later after all of the paperwork was completed for the closing ahead of time for full asking price. The closing was very convenient--I did not have to attend the closing appointment, which was located about 1,000 miles from my out of state location.

Received a brochure in the mail, and being 82, I knew my time had passed to do something with the land. All the people, from the agent to the American Title Company did a outstanding job. Thank you all.



Contact Agent
Thank you
We'll have an agent contact you shortly.
Contact Agent
Thank you
We'll have an agent contact you shortly.