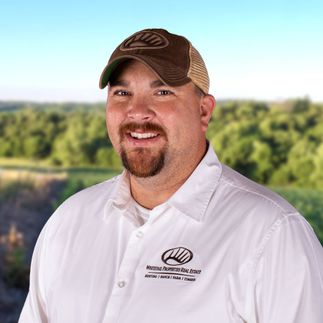 Dusty Clark
Sales Associate, Land Specialist / Licensed in KY
Mark Williams Land Specialist Team
Testimonial Quotes
Dusty Clark:

What My Clients Are Saying
Great experience Nice helpful guys, I knew they could sell it.

Dusty Clark did a very fine job of giving us a tour of the place and made it so enjoyable for us and our children.

Very smooth transaction especially since the seller and buyer were both living out of state.

Very positive. Derek was a true professional as well as Dusty out near Murray KY. Both were knowledgeable about the land listed and surrounding area. We walked the boundaries of the properties which as it turns out other realtors do not. I would recommend Whitetail Properties to anyone purchasing land.

Doesn't waste time, and doesn't exaggerate. Dusty told me what he thought the land would sell for and his estimate proved to be very accurate.

I enjoyed getting to deal with Dusty. Thought it was nice to get to deal with basically a country boy like myself that enjoys the outdoors also.

Very smooth from the beginning to end. I had been looking for a few months when I saw the listing. I called the agent and went and saw the property the next day. I spent a couple of hours walking the property with the agent talking about my plans property as far as improvements and he shared his knowledge of the properties around mine and how they were managed. I made an offer the next day and Dusty took care of getting everything lined up as far as getting a survey and lawyer to close. From my end, it really was a simple process.

Early in 2019 we decided that it was time for us to start a new adventure in our lives and get back to our roots in Tennessee. In August of 2019 we had the honor of being introduced to Mr. Wes Evans Whitetail land specialist for the Central/East region. We had the joy of riding many different tracts of land with Wes plus many nights on the phone discussing properties and planning the next venture in search of the right property that fit our needs. After several months of working with Wes in Central and East Tennessee we decided to expand our search to West Central Tennessee and South West Kentucky. Wes was there to help pave the road for that search by introducing us to two other Whitetail land specialists that knew the territory. When I asked Wes about compensation for his efforts he didn't hesitate by saying "We are a family at Whitetail and we are more concerned about making sure our clients are satisfied than making sure we are compensated". That told us a lot about the individual Wes is and the company that he worked for. In the South we call this type of person "A Good Guy". Our next experience was meeting Mr. Dusty Clark from Kentucky. Dusty showed us two properties over a two day period providing us with valuable information about the area we were looking at potentially investing in. We found a property we really liked and because of our schedule with leaving town, Dusty came out early on a Sunday morning to show us a parcel for the second time. Although our time with Dusty was short we really enjoyed our time with him and once again saw first hand the team work approach with the Whitetail team. Our last venture was with Whitetail Specialists Casey Ross of West Central Tennessee where we struck gold. I first spoke with Casey after Wes introduced us and explained what I was looking for and pointed out a few properties I was interested in looking at in his region. First off he stated that he had several notes and ideas of what might work for us from his conversations with Wes. (Again there's that teamwork thing). He suggested a property that he thought I would really like but I wasn't very excited about seeing it because it was in a region that I was not very familiar with. After looking at a couple of tracks that he had he convinced me to come to Cedar Grove, TN. to take a look at a track he really felt would work for us. I immediately fell in love with it from the moment we entered the gate. I explained to Casey that I would be returning with my wife in two weeks to view the property and make sure that the boss approved of the purchase. Casey cleared his day to show us the property again. It couldn't have been a worse day to look at property with the pouring down rain but Casey got us through it and kept us as dry as he could. To make a long story as short as possible we closed in December of 2019 and couldn't be happier. It was truly a great experience working with the team from Whitetail Properties with their knowledge of the properties along with the professionalism that they demonstrate on a daily basis. Thank you again for helping us start a new chapter in our lives. Sincerely, Andy and Teresa McGarrity

Dusty was great! Very responsive and professional.

Dusty did an exceptional job!

I recently purchased land in western Kentucky, Dusty Clark was my agent. Let me tell you about Dusty, he made everything go absolutely as smooth as glass! I never would have thought purchasing my first farm could be anything but a nightmare, but it was an absolute dream. Dusty answered any and all questions I could have possibly think of. I still wouldn't hesitate a moment to ask him any other questions, even if its just tips on how to call in that stubborn gobbler! I appreciate him so much and appreciate y'all. I now get to begin my lifelong dream of owning a farm. Thank you and God Bless!

We worked with Dusty for about a year before we found the right place in our price range. He was great to work with. He took the time to get to know us and really understand what we were looking for. We really feel like he "got" us. We're from central IL, so it was a challenge to "see" the KY properties we were interested in. Dusty was our eyes & ears on the ground. He knows the area well and was able to steer us towards some properties and away from others. He went out of his way to meet and show us properties whenever our schedule permitted the 4-5 hr trip to KY. Dusty does his job well and is truly a credit to Whitetail Properties. We enjoyed working with him.

Very friendly, knowledgeable, willing to help and assist.

Worked very hard to get everything in order and get it closed !!! Very helpful and respectful and responsive to all questions we had.

I am from out of state and was lost as to what I could get accomplished, Dusty and Casey explained in detail what we could do and how, without driving a 16 hr. round trip. Dusty started the Kick off and brought Casey in to help from the Tennessee side. My story could make a book with title problems, Covid issues at the courts, and just the length of time this deal took

(2 years). Both of these men took care of me and my brother. I will never forget these 2 men keeping in touch with me just to see how things were going. Your team did a great job. This could make a great story for a young Specialist to learn by from the sellers point and the agents.
Contact Agent
Contact Agent
Contact Agent
Contact Agent