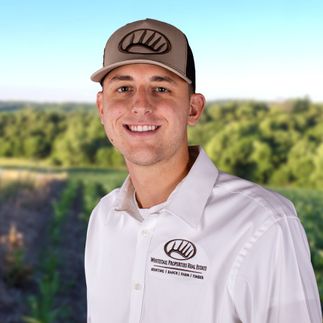 Dylan Hand
Salesperson, Land Specialist / Licensed in IA, MO
Buyer's Agent, Gabe Adair Land Specialist Team
Testimonial Quotes
Dylan Hand:

What My Clients Are Saying
" As an inexperienced land buyer, I had a lot of questions and concerns. Dylan took the time to explain every detail and was available whenever I needed him. He found me a nice piece of land, with what I wanted, on budget. Highly recommended! "

It was a positive experience ! Good guys to work with!

I apologized to Dylan numerous times. My husband and I weren't exactly on the same page. How Dylan got us to the same page, I don't know but I credit it all to him.

Moving can be stressful sometimes. I can't say I was stressed but I do know I had lots of questions that were answered by Dylan in a very professional, caring, and easy to understand manner. He didn't give up on us and was ready to help us out in every way possible. Just to keep Jerry from getting worried about other realtors going through our home, Dylan drove the extra mile(s) to also be here along with the other realtor. Now, that's dedication!!

Dylan knew what it took to sell our place by taking such beautiful pictures of our property and utilizing pictures we had shared to present the best possible reason someone should purchase our property to enjoy what we had enjoyed for 12 years.

Thank you Dylan for a very pleasant and professional experience.

Dylan did a good job, he went above and beyond the call of duty,

Dylan - I want to personally thank you for the outstanding Sales support that you provided to me during the purchase of my latest property. You were very thorough and maintained clear and concise communication throughout the purchase and closing processes. Your constant and consistent follow up relative to open issues on both sides of the table was greatly appreciated.

As usual, there are always numerous challenges to overcome in order to push these purchases across the line, you focused on the objectives of both the Buyer and Seller while driving the sales negotiation and closing processes to the agreed upon target dates.

Keep up the good work and relationship building as your career continues to grow.

Stay in touch and hopefully we can work together again on my next purchase with Whitetail Properties.




Dylan Hand's follow up and communication throughout the process was seamless and smooth. I also liked and appreciated the DocuSign process. All offers and Closing paperwork was easy and fast. Never even needed a face to face closing event.




I just want to send a special shout out to Dylan Hand. I met Dylan several months ago when I sent a mass email out to a dozen or so realtors that specialize in land/farm sales. I was looking to purchase some land and need someone to help in the search. Dylan was one of two that emailed me back. Soon the other realtor faded away because I guess I was too picky. Dylan stuck with me, and we eventually found the property (future hunting and Big Boy playground) I was looking for. If you're looking, Dylan will get the Job done

I enjoyed working with Dylan Hand. He was very patient and professional. He took care of business and kept in contact well. He checked with Gabe on any concerns that I had about the property that he did not know the answer to, He followed up well and was friendly and courteous. I would gladly work with him again. He did a great job!
Contact Agent
Contact Agent
Contact Agent
Contact Agent