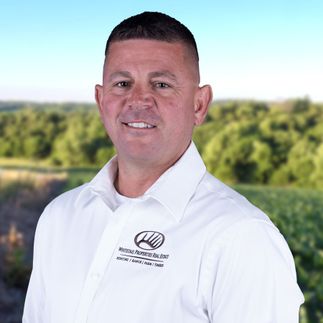 Gabe Adair
Salesperson, Land Specialist / Licensed in IA
Testimonial Quotes
Gabe Adair:

What My Clients Are Saying
Amazing! I've purchased multiple farms through Gabe and they only get easier.

It was a positive experience ! Good guys to work with!

Gabe was great and always available to answer questions. He is super knowledgeable about South Central Iowa, and we discussed each parcel I was interested in looking at. He also brought his own equipment over to my new farm and planted beans for me. Great agent!

That first year I committed to hunting as much as possible. 67 days were spent hunting 3 specific bucks that were captured on trail camera. I was able to harvest two of the bucks with my bow that both scored in the 170's, and a third buck with my muzzle loader that scored in the mid-160's.

Whitetail Properties and Gabe Adair were kind, courteous and very professional while listening to what our requirements were to purchasing a farm. They were able to fulfill those requirements and help us purchase the farm we had been dreaming about for years.

Thanks to Whitetail Properties and especially Gabe Adair for helping locate my family's piece of whitetail heaven.

I hunted for twelve years with outfitters. I did enjoy some success, harvesting mostly 130 - 150 class deer. The larger deer I harvested, Boone & Crockett class, were mostly luck.

Never in my life did I believe I could buy land, improve the habitat, and literally grow big deer. And I mean top-end deer.

In 2010 my brother and I purchased our first farm. Despite our initial hesitation, we soon realized our tillage income and CRP payments were soon offsetting a substantial portion of our annual mortgage payment. Plus, we were no longer paying hefty lease payments or outfitter fees.

A close friend of mine also purchased his first farm. We spent two full years sweating on our properties building aerial blinds, erecting tree stands, planting food plots, supplementing mineral, fixing crossings, and generally improving the habitat.

I still cannot believe the quality of deer we are now producing. I am now in a joint venture in two farms. And my friend has recently upgraded to a much larger farm.

Following is a sampling of what you can do with a little creativity and hard work.

Not all land is created equal.

Kurt McDermottCustomer Business ManagerWalmart T

My wife and I bought a farm last fall from Gabe Adair of Whitetail Properties. We found Gabe to be a very straight forward, honest person, who handles himself with a very high level of integrity. Not once did we feel like Gabe was trying to sell us something, instead we felt like he took the time to listen and helped us to buy a farm that best fit our desires. Four months after the sale and I still call Gabe to ask for his advice concerning my farm, and I can honestly say that he is always willing to help me. I would encourage anyone that is interested in buying or selling a farm to give Gabe a call. If you have a 10 minute conversation with him I am confident you will have the same high opinion of Gabe that we do. At Whitetail Properties, they refer to themselves as "land specialist", maybe a more accurate reference would be "land consultants."

To whom it may concern,

As a Licensed Financial Advisor with 20 years in the business I can say without hesitation that getting involved with Gabe Adair and letting him advise me on buying and selling Iowa ground has been the BEST INVESTMENT that I have ever made. I was skeptical initially, but my love of whitetail hunting influenced me into purchasing a small piece of Iowa land. Within a short period of time I (thru Gabe) have sold that farm for a considerable profit and acquired a larger piece that has proven to be a deer hunter's and Investor's dream. From an investment perspective, we are expecting a residual income from farming and CRP that will pay the majority of the note, have seen the value steadily rise, and realized a considerable tax deduction every year. As someone who advises people for a living I can wholeheartedly endorse any investment that has all those qualities. I almost forgot to mention that I get to enjoy my favorite hobby and a true passion every fall which is hunt big bucks. As a matter of fact, we just found the sheds off a 4 1/2 yr old that we could have harvested easily on several occasions. Because of land ownership and cooperating neighbors we opted to pass this deer…..despite the fact that he grossed well OVER 200 inches. My lifelong daydream is to be on the cover of a magazine with my huge buck…..because of Gabe and Whitetail Properties I could very well turn that dream into a reality. I highly recommend Gabe and WP to anyone who wants a rock solid investment with amazing fringe benefits.
Very truly yours,

The purchase of our property went seamlessly and all aspects were professionally handled. We purchased the property when Gabe had knee surgery and we never actually met but things got done.

We are pleased with the property and my son has had successful deer and turkey hunts this fall and we are currently considering enhancements to the property with the addition of food plots and a pond or two.

Thank you for the harness. I look forward to using it next season.

Gabe,

Just wanted to say thanks for the great transaction, it was great to work with Whitetail Properties and hopefully we will do it again in the future. Also, thanks for the harness and hat that you all sent out. Good luck this year.




Checked cameras for the first time looks like there might be some potential on this piece.

Thanks

After spending 2 years researching recreational farmland values and commodities in the Midwest, I contacted Whitetail Properties and Gabe Adair and we discussed the criteria of the land I was looking to own in the state of Iowa. I had also worked with other recreational property management companies, but they just didn't have the inventory or the right farms to purchase. I wanted diversity on my dream tract and the ability to have a nice return on the investment to help pay for the farm, all while being able to grow, hold and harvest trophy whitetails and turkeys. Gabe showed my wife and I several farms all across Southern Iowa until we found "the one". Although the farm is larger than what we had in mind, the income from the row crops really brought this large tract price down into our budget range. Gabe helped us get set up with the AG loan officer, explained to me about working with the local FSA and NRCS offices (which I knew nothing about) and we had a fast closing on the property.

I was completely satisfied with Whitetail Properties and Gabe Adair and will no doubt buy my next piece of Midwest dirt from them as well! Here is my evidence of success during my first year deer hunting the property. My friend and I both took our biggest deer to date and THIS is why we hunt Southern Iowa.


Gabe did all I asked of him, if the Lord continues to bless I would like to work with Gabe again on another land purchase.

I am very happy with everything from start to finish. Gabe was excellent. Jeff was on the other side, seemed to represent his client well, and anytime Gabe or myself needed information it was communicated correctly and timely. If all continues to go well, our family will always give Whitetail Properties the opportunity. Gabe was great and I look forward to looking at more properties with him.

I thoroughly enjoyed working with Gabe and look forward to future purchases with Gabe. A bonus was gaining a friend and a great person to consult with and shoot the breeze with on hunting!

Here is a buck that I harvested off of my 80 acre property that Gabe Adair sold me. It is a great piece and I can't wait to hunt the 200 plus turkeys that were seen this winter there.

Gabe was great to work with. I have bought and sold quite a few properties in the past and I have not worked with anyone who was on the same page with my goals as he was. Even after the sale Gabe is still helping me set up my farm. I am more than happy with the way Gabe treated me and conducted himself to the end. I would definitely recommend him to anyone wanting to sell or buy a property in his area. You guys are lucky to have him on your team.

Gabe is an exceptional agent and over the course of several land transactions has become a great friend and trusted advisor. His knowledge of Southern Iowa is excellent and has been committed to helping me realize my land ownership goals. I hope to do more transactions with him in the future.

After two attempts and approximately 3 years of trying to sell our Iowa family farm, we decided to take it off the market. Gabe contacted us shortly after taking it off the market to discuss our situation to see if he could help us realize our dream of selling our farm and purchasing a new larger farm. I could tell from our first conversations that Gabe had our best interests at heart and was very motivated to help us. Within a couple months we had accepted an offer with his expert guidance. We then had to identify farms that would meet our needs and also fit into our 1031 exchange timeframe. In short order Gabe made a few suggestions for new properties and within a week we bottom lined our NEW dream farm. The results speak for themselves. Gabe and his staff are extremely professional, dedicated and very helpful through all steps of the listing & closings. You can tell this is not a job for Gabe; it is what the man loves to do. Gabe went above and beyond our expectations even helping us by moving equipment to our new farm. If you are serious about buying or selling, do yourself a favor and contact Gabe Adair. You won't be disappointed!

Gabe and Terri did everything possible to be sure that my transaction went as smoothly as possible.

Once again dealing with Gabe was great, from when I first talked about selling my ground, through closing Gabe was on top of all the details. If you are considering buying or selling in SE Iowa I would highly recommend working with Gabe.

Once again Gabe handled all the details very professionally from the listing of property, to the signing of the contract through closing. If your thinking of buying or selling ground in Iowa we would highly recommend working with Gabe.

Gabe is the best to work with and would highly recommend to anyone buying or selling property. We appreciate his professionalism and friendship.

I wanted to thank Whitetail Properties for sending out the Hunter Safety System and the ball caps. Also, the Hunterra Map came and is really cool, I put it on a canvass back and it's going on the wall in my office for now. I was down to the property for a couple days last week just to hang out and checking things out. I decided to go to the pond and try fishing, just to see if there was anything in there at all. I had no live bait, I just pulled out a brand new silver minnow lure, and on my first cast, I caught a nice crappie and plenty more after that. The next morning I went down early and tried again, caught a nice bass right away and then a big catfish, around 6 pounds. They all went back in so I guess I have a fishing hole! I've had the elevator out there to do mid-contract management spraying on two of the fields, I have a metal dealer who is going to take a lot of the metal, and I have talked with Bud Jones to bury all the rest. So thanks for your help on those contacts. Thanks for helping us realize this land purchase, as I said before it is about everything we were looking for. It was a good experience working with you Gabe and Whitetail Properties. You left no question unanswered and your knowledge in land, management, farm programs and hunting and fishing is "top gun"! One of the best things being born and raised in Iowa, is now realizing a dream to own a farm in Iowa isGreg Vanden Heuvel one of the best parts of the state!

Gabe met every expectation and high standard we'd held/desired for him going into the sale of my farm/home - couldn't have been happier with the outcome in every aspect. We also look to work with people that perform at a high level - we've found that, in Gabe and your team (Terri...). On a personal and professional level and as a person/family that works with people that take care of us and are loyal to us, we return the same considerations. This wasn't the first time we've worked with Gabe or Whitetail Properties, nor will it be the last. Gabes brother and father passed away as the process "started" which is naturally the most anxious of time periods during run-up to a sale for the seller. Rich Baugh stepped up and helped out which was very admirable and spoke to what kind of business Whitetail Properties is, and to "who" the people are that make-up your business and service...... something to be proud of. And even through that event in Gabes life, he was right back on the trail after 2-weeks, and had our 812 acres/home under contract in a months time. Look forward to continuing to work with Whitetail Properties, and will continue to refer friends, family, and clients/customers across IA, MO, MI, IL, KS, to Whitetail P'roperties. Good work, and thanks again. Sligh Family(s)

Once again the Lord blessed us and we were able to buy another farm in Iowa. This was one of those on again off again real estate deals. Gabe was on top of all the twists and turns and was able to bring both sides together to get the deal done. When your are working with Gabe you are no doubt working with one of the best in the business!


Great experience!!!! Gabe Adair and his team were wonderful to work with!!!


Because of the Lords blessings and with the help of Gabe we were able to buy another farm in Iowa. After several transactions with Gabe I have come to the conclusion that when you are working with Gabe you are without a doubt working with one of the best real estate men in SE Iowa.

With no hesitation I can say it's has been a pleasure working with Gabe, he has handled himself in a professional manner at all times through multiple transactions and I would not hesitate to recommend Gabe to anyone looking to buy or sell.

Gabe Adair was very respectful, knowledgeable, and honest. He was everything we could ask for in a realtor. I recommend Gabe and Whitetail Properties. We couldn't have dealt with a better person. He is the only realtor I want to deal with in southern Iowa.

Amazing work out of Gabe and would refer him on to all buyers and sellers I run across in the future. Look forward to dealing with Gabe and Whitetail Properties in the future.

It went much faster than expected. It was up on the Whitetail Properties site on a Tuesday and we accepted an offer 7 days later. Quite fast.

Gabe was very attentive, and answered all of our questions in a very timely manner. We would highly recommend Gabe Adair, he is the only agent that we would use in south central Iowa.




Gabe's knowledge of this property, the area, neighbors, hunting and his honesty was the key factor for us purchasing this property. Neighborhood is key, but also having an honest relator is just as important. We are very fortunate and very thankful that Gabe Adair was our relator!

Because of the Lord's blessings we were able to purchase another Iowa farm. Gabe's knowledge of the area and neighborhood specifically is invaluable, without a doubt he is a great asset to have especially living out of state. Thanks again Gabe another smooth transaction.

Gabe as always does us a great job. Outstanding agent and always represents Whitetail Properties very well.

Gabe was very helpful and upfront about the whole transaction. Enjoyed working with him.

Gabe and I are juggling multiple sales with multiple 1031's in order to make one big purchase, consolidating smaller satellite farms into one larger home farm! As always, Gabe has been outstanding and the support you all provide to him is very appreciated! Keep up the good work!!!!!!

Purchased 3 properties from Gabe, I trust him.

Very professional. Made the process easy. Worked out differences and problems. Very accommodating.

The Lord continues to bless and with Gabe's help we were able to purchase another farm in SE Iowa. For several years now and through multiple transaction as both buyers and sellers, without a doubt Gabe has been a great asset to us. If your looking to buy or sell ground in SE Iowa you will not find a better real estate man to work with. Thanks again Gabe for another smooth transaction. We could not be more pleased with Gabe and the way he handles buying or selling ground.

Once again Gabe Adair was spot on. Gabe sold our farm in a professional and timely manor. He was very well educated on our property and was able to put together a deal that benefited both the buyer and seller. No if ands or buts, if you want the honest truth and the best recreational land in southern Iowa, Gabe Adair is the only Realtor to deal with. Gabe was honest very professional and very detailed on our transition. Always great to deal with and is on top of the real estate market.


I have bought and sold farms with Gabe Adair in Iowa for the past 10 years. In my opinion he is the best at what he does. I am very satisfied with him. He goes above and beyond to make sure everything goes good. Thanks for everything Whitetail Properties.


Extremely professional and effective!

As always, Gabe is a stand-up guy & a pleasure to work with.

Thought it went well, buying during hunting season may not have been the best idea but Gabe did everything to make it a smooth transition and sale.

Great overall experience. Much more complex of a process than I ever realized and Gabe managed everything very smoothly. I strongly recommend Gabe to my friends who are looking for a property.

The entire process, from initial contact regarding the property through closing, was profeesional and cordial.

The entire transaction went very smoothly. Buying property from 750 miles away could be very stressful and difficult, but with the help of Gabe and the other people involved, the entire process was positive and manageable.

Gabe was great as usual. Gabe is as good as there is. Knows the area, the herd, the farming and hunting aspects of everything he sells. You won't find better.

Whitetail Properties Land Specialist was knowledgeable, professional and very educated about land management.

Gabe Adair is top notch. He's knowledgeable, helpful and well respected.

Gabe did an outstanding job. The transaction went very smooth and the communication from Gabe was first class.

I've know Gabe for many years and trust him. Always professional.

Went very smooth, Gabe is very good to work with.

Gabe was great! He was fair in representing the seller and myself. I read not to let the seller's agent represent you as they have a responsibility to the seller first and foremost. Gabe even assisted me with starting the process of estate planning with his personal lawyer. He went above and beyond.

"Gabe, we would like to thank you and Whitetail Properties, for all of your help. After originally going with another company, with no results, you made the whole process quick and easy. We will definitely recommend you to anyone looking to sell their property. You are fair and honest, two things that were very important to us."

Excellent communication, all questions answered, Gabe was attentive & helpful.

Gabe is top notch. Does everything right.

Once again Gabe was great to work with. Gabe and I have worked together on many transactions, he has always handled himself and the details of the closings in a very professional manner.

Great experience. Gabe is very knowledgeable and answered all our questions and concerns.


Gabe is professional and very knowledgeable about land in south central Iowa. His personal knowledge of growing up in the general area adds to his depth of specifics relating to the quality of land in this area. His knowledge and experience is unmatched and it shows.


Gave was the most pleasant person to work with. He went the extra mile to make it happen the way we wanted it, as far as closing before New Years, etc.. I look forward to doing some more business with you and Gabe as my agent.

Gabe has been great for us to work with. He is very professional and consultative. I appreciate that he acts with integrity and follows through on his commitments.

Extremely knowledgeable, professional and efficient. Previous interactions with this agent have all been very positive. I was confident that he would do an excellent job representing me.

Gabe did an outstanding job!
Contact Agent
Contact Agent
Contact Agent
Contact Agent