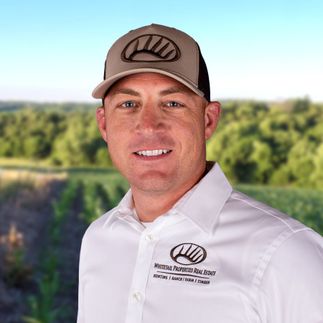 Garret Armstrong
Salesperson, Land Specialist / Licensed in IA
Garret Armstrong Land Specialist Team
Testimonial Quotes
Garret Armstrong:

What My Clients Are Saying
"I have worked with Garret on several properties. He does a fantastic job!"

"All good! Best opportunity to sell my type of property."

Very, very good. Met with Garret, liked his attitude and his determination to get the best price for the real estate and he did what he said he would do. Problems arose during the sale and Garret went above and beyond helping us get the problems solved and was very patient.

I am very happy with the way Garrett kept me informed and had everything prepared very nicely, thanks.

Garret did a great job for us!

It was a joy to work with Garrett

Garrett handled the sale of our property very well. I walked away from the negotiations with an impression Garret had represented my interests. I will recommend Whitetail Properties again, particularly Garrett .

Garret is a really cool guy and becomes your friend along the way and through the process. Garret is great at what he does, communicates very well throughout the process and also is a good sales guy. He not only sold me an amazing property in Adel, he worked to sell my acreage in Lovilia in roughly 12 hours of being on the website for full asking price, and has already talked me into purchasing another strong piece of property in Guthrie Co for CRP income. Overall I can't be more satisfied with how he works with me and for me throughout the process. He will benefit with future sales and purchases from me do to his hard work and dedication to helping me out. He deserves a strong high five or pat on the back for how he represents your company.

I have dealt with no less than 15 real estate agents in the past 20 years. Most of these agents had many years of experience. Garret could school the agents, I am referring to on what agents should be doing for the client.

Garret was amazing through the whole process.This was my first land/farm purchase and I had many questions throughout. Garret's assistance was superior! I greatly appreciate the 5 star service we received! I will forever be a customer of Garret's and Whitetail Properties. "Thank you from the Current Family"

Garret did an exceptional job in marketing my listing, listening to my needs, working with other agents on the 1031 exchanges, and demonstrated creativity in the closings.

Transaction was handled very well, considering we used a 1031 exchange, out-of-state sellers, and other matters requiring extended paperwork. Agent was very professional and gathered all documents/information promptly for the closing.

Garret is a great asset for Whitetail Properties. He is very knowledgeable, has great communication skills, and is easy to work with. My wife and I are so appreciative of all of his efforts. Please be sure to let him know how amazing he is.

Garret was very accessible via email/text and timely in responding to our questions.

Super happy with Garret and Tyler!

Garrett is a true professional who exceeds all expectations of customer service. His local knowledge and willingness to help has made this purchase a very positive experience.

Our agent Garret Armstrong in western Iowa exemplified professionalism at its finest. He was simply the best. In addition to serving out his standard duties and obligations to the finest degree and providing us with impressive market knowledge, he provided the added value that a client hopes to find in any kind of professional representative. He has been unwavering in his service to my family for not just the duration of this recent transaction, but for years leading up to it. From helping us navigate a multi-party decision making process, to researching various potential income options for us, to helping us understand the nuances and context of various aspects of our deal, he was our eyes, ears, hands, feet, brain, heart and more. While its common for sellers to feel that paying a commission is a heavy price for the service provided by an agent, my family and I feel the value Garret added to our transaction was unparalleled and worth every penny -- probably more. I would recommend anyone and everyone seeking a real estate agent in the area work with Garret. He is simply the best.
Thank you,

The whole experience was positive.

Garrett is truly a stand up person. The experience with Whitetail Properties and Garrett Armstrong was 5 star. I look forward to purchase more property in the near future.

Garret was excellent. Very good at communications and high expertise.

Garret was a pleasure to work with and meet all our needs.

Garrett was the ultimate professional. Being a Sales Director for a Transportation Company, I feel I have a good perspective on that. Professional, knowledgeable, kept us up to date on progress step by step. I've never given a 10 when reviewing my own sales personnel but Garrett is definitely a 10. My brother knew Garrett from purchasing another acreage from him and highly recommended we go with Garrett. So happy we did.
Contact Agent
Contact Agent
Contact Agent
Contact Agent