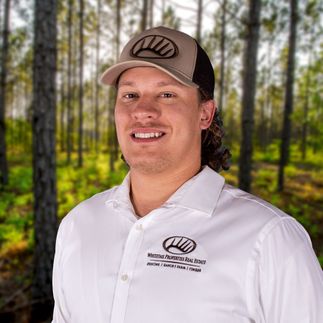 Grantson Martin
Associate Broker, Land Specialist / Licensed in GA
Testimonial Quotes
Grantson Martin:

What My Clients Are Saying
Grantson was professional and trustworthy.

Grantson Martin is highly professional at his job but yet so down to earth. He is by far the best land specialist we have EVER dealt with. He never once didn't take my phone call or the texts I had with him. Super knowledgeable, no matter what I threw at him as far as help or questions. You guys have a real jewel there for sure. He is INCREDIBLE and I would definitely recommend your company solely based on our experience with him. 100% completely satisfied!

We had an amazing experience. After speaking with Grantson, I knew he was the trustworthy person I needed. He did more than any other agent has done. Very grateful.

Grantson was awesome. Super knowledgeable and easy to deal with. Accessible, offered tons of help with all of our questions.

I had the BEST experience working with Grantson! He was very knowledgeable about our particular land deal and very helpful when I had questions.

I listed my land (52.23 ac) with Grantson right before hunting season 2019. He seemed like a great young man and a hard worker. He sold my land, but he did more than that, his parents lived not far from my land so to helped sale my place, he used his tractor and brush hog and cleared some shooting lanes to make the land more attractive to hunters. He kept us informed each time someone looked at the land and seemed really interested in buying it. He brought two different offers and we sold on the last one. I have told others with land when they are ready to sell to give Grantson a call. Many thanks to a outstanding young man. Thanks again Grantson, I consider you a friend.

Grantson Martin was readily available for the moment we wanted to look at the property and took the time to walk us through and provide as much detail as he could about the land. He was very knowledgeable and was able to answer our questions. We have spent the past few weekends on the property and already very happy with all that it has to offer! It was nice working with Grantson. He made for a quick and easy transaction. We highly recommend working with Whitetail Properties as they made this a very easy process. When the time comes for us to buy another piece of land, we will be reaching out to your team to help assist with finding the perfect piece.

Great experience! Very thorough! Great reputation for selling the type of property I was listing!

Grantson Martin was the best agent a person could have. From the very first contract to settlement, he was there for you. I am so happy to have had him as my land specialist.

My sister and I would like to thank Dale Burley, Grantson Martin and the Whitetail Properties team for a smooth, fast and very efficient property sale. I was speaking to a friend of mine about some property in Laurens County and he mentioned I ought to check with Dale Burley and Whitetail Properties. Dale is a former student and athlete that I had the pleasure of teaching and coaching. I knew from my past experience with Dale he was a hardworking, great guy that I could trust. I called him immediately. He went to work on organizing the sale of our property. He kept me informed with every detail. He and Grantson did a great job pointing out the many positive aspects of the land and offering multiple suggestions on the best way to sell the property. I actually first spoke to Dale in late September 2020 and the first section of property sold in October. The other 3 sections sold shortly after that. Thanks to all of you! My sister and I again feel blessed and extremely satisfied with the energy, enthusiasm, positive attitudes, and work ethic of your team in helping us sell our property. We would highly recommend Whitetail Properties to handle anyone's real estate needs. With great appreciation. Sincerely,

Cliff Tankersley and Jane Tankersley W

Granstson was outstanding from answering questions to working with both buyer and seller to get things needed for closing. He did a great job showing us the property and mentioning things we could do to make things even better on the property. He was very knowledgeable and easy to work with. He did a great job in representing us. I enjoyed working with him and I will definitely use Grantson and Whitetail Properties for my next land purchase or sell!

We would like to say "Thank you" to Whitetail Properties and Grantson Martin on the sale of our property in Soperton, Georgia. We are so appreciate of all that was done during the transaction.




Grantson Martin did such a fine job in all aspects of the sale including keeping. us informed along each phase of the sale, always punctual in letting us know what was going on and at the same time he was professional, personable and easily accessible to answer any questions or concerns. I even told him to "Tell your Daddy that he did a good job".




Whitetail properties, along with Grantson, did an excellent job in the sale of our property and we will recommend them to our friends and family.

They were referred by a friend and they were both great!

Very easy to get along with both Realtors.

Thank you for the opportunity to conduct business with Whitetail Properties Real Estate. Mr. Grantson Martin was very professional, knowledgeable and courteous. I would be happy to do business with you again. It truly was an honor.

After speaking to Whitetail agent Grantson Martin we knew Whitetail was the only way to go. Grantson was great. He was available to answer any questions we had 24/7. It was a pleasure working with him.
Contact Agent
Thank you
We'll have an agent contact you shortly.
Contact Agent
Thank you
We'll have an agent contact you shortly.