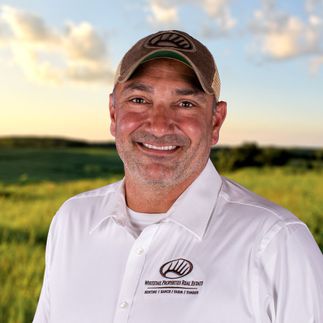 Greg Graczyk
Salesperson, Land Specialist / Licensed in MN
Testimonial Quotes
Greg Graczyk:

What My Clients Are Saying
"Greg went the extra mile to get this purchase done. Excellent job, A plus, very happy with the property."

Very good. Greg did a good job of keeping us informed throughout the process.




As a first time land buyer, I really appreciated Greg's knowledge and expertise. His write-up and comprehensive photo library of the property allowed me to buy it sight unseen! I couldn't be happier with the way everything went.

You guys are very lucky to have Greg. He is an extremely nice person. I had the best experience I've ever had with a realtor. I've referred him to many people already. Thanks again Greg and Whitetail Properties.

Greg has become a friend through this process. He not only was watching out for me but also for the land. He knew whence met the perfect new owner and I agree. His knowledge of land, land use and habitat management is such a bonus to sellers and owners alike! He is a good person and I am so happy with the whole process. Being about an hour from the property being sold had me worried, but Greg took care of anything and everything he could on my behalf, which took a huge amount of stress off of me. I was able to trust him as my representative and I never had any doubts or unease about that. Greg's familiarity with the county's requirements, codes, terms and contacts was priceless. I know that no one else could have looked out for my interests better than Greg.

I am writing to express our satisfaction with Greg Graczyk involving our recent land purchase. Throughout the entire process Greg provided us with detailed and timely information regarding the property. Greg was always quick to respond to our requests for information and took the time to understand our priorities. He also took additional time to meet with our extended family as part of the purchase which was very much appreciated. Greg worked with us to understand the complex property and prepare an offer. Greg was very helpful in explaining all of the closing requirements and in finalizing all the detail work involved in closing the deal and completing the contracts. We want to extend our thanks to Greg and Whitetail Properties for all their work in purchasing this property. Thanks!

I would like to take the opportunity to relay my overwhelming gratitude for your company and specifically one of your land specialists, Greg Graczyk. I truly cannot begin to explain what he has meant to my family, but I can give you a little background and hopefully you will get an idea. I grew up in Cokato, MN and my wife and I have been looking for land there to build a home so our children will have the opportunity for a lifestyle similar to what I experienced growing up. We had been looking for quite a long time but could never find a property that had all we were looking for in the right location. Upon my return from a military deployment in November last year, we came across the property we ended up buying. We first looked at it just after Thanksgiving and felt we found "the one". I called Greg first thing on Monday, Dec 1st to express our interest. As it turns out, he was set to meet with the seller later that day with 2 offers in hand and that we may have missed our opportunity. I immediately gave a verbal offer and expressed our sincere interest and asked that he pass it to the seller. Fortunately for us, the seller was willing to give us 2 days to get everything in order for a formal written offer complete with financials, etc. This is where it gets interesting. On the evening of December 1st, my wife went into labor and we were off to the hospital. I then proceeded to spend the next two days between delivery room, phone calls, emails and paperwork signing. Greg was there every step of the way. There were literally dozens of emails and phone calls late into evenings and early in the morning, and Greg never missed a beat. It would have been very easy for him to just do the minimum (after all, there were already 2 good offers) and we would have never been able to get everything in order in those 2 days, but he went above and beyond. On the morning of Thursday, December 4th, as I pulled into the garage with my 3 day old son, Greg gave me a call. After first expressing his congratulations on my new child, he said he would keep the vibe going and let us know the seller accepted our offer. We were going to have our dream land and our new son would have a new world to explore as he grows up! Needless to say, my wife and I were elated. I could tell Greg was sincerely happy for us, but he wasn't done yet. There was a mistake made over 20 years ago when the road leading to our property was surveyed. A simple number transposition, but because of the mistake, there was no building entitlement for the property. Greg worked tirelessly with the seller and kept us informed of all of the ramifications with every update or change. All of the new survey work and recording was not complete at time of closing, and Greg proved to be a great, honest voice that was truly looking out for our best interest. The closing went off without a hitch, but a few days later, Greg was still making phone calls to the county to ensure everything was cleaned up. He is also staying in touch offering his knowledge of Green Acres tax incentives and his experience in land planning, knowing our desire to enter some of the property into a Conservation program. The deal is done, but he keeps on giving. Prior to this purchase, I can honestly say I had never heard of Whitetail Properties. I will say that after the service that was given to us, I will be one of its biggest advocates. The hats that were graciously sent to us will be worn with pride and I will absolutely be telling people why I am proud to wear it. On behalf of my wife and family, thank you to Whitetail Properties for hiring great people like Greg Graczyk and for the service you all provide.

I have to say that Greg was the ultimate professional when it came to getting this land deal done. He always kept us informed about the paperwork that had to be snail mailed back and forth. I'm sure it was a tedious job for him as the other party didn't have technology resources at hand. That being said I thought he did a wonderful job with those circumstances and would recommend him to anyone looking to buy or sell property. Matter of fact I did, and he sold that property also. You are fortunate to have a guy like Greg working on your team.

I am writing to highlight our great experience with Greg Graczyk during our recent land purchase. From start to finish, Greg was consistently there for any and all questions that we might have. The open line of communication was great, and he also demonstrated his knowledge of the property, the surrounding market, and the purchase process. In addition, it was very apparent that Greg has a passion for his job (i.e. finding the perfect land property for buyers). This made the whole process that much more exciting. I look forward to keeping in touch with Greg in the years to come and would highly recommend working with Greg and Whitetail Properties for your future land purchase or sale.

I was very pleased to have worked with Greg to sell my land in MN. He was very knowledgeable, professional, and thorough. His people skills are way above average. He helped me with all the paperwork He made me feel very comfortable in the long distance business transaction. He was very good coordinating all efforts necessary to complete the transaction. I was always informed of what was happening in the process. I would highly recommend him to anyone.

Yesterday, April 3rd, my mother's Wright County, Clearwater property closed. She was the seller and I was the contact on her behalf throughout our long distance listing. I believe in giving credit where credit is due so, I am writing to let you know what a great experience it was working with your agent, Greg Graczyk. This property had a couple of unusual conditions. A portion of the parcel was allocated to Reinvest in Minnesota (RIM) and the parcel was accessed solely by a cart way. Other real estate agents I had spoken to did not have a clue what I was talking about. Imagine my relief when Greg immediately knew what I was referring to and exactly how to proceed. Throughout the process of listing, showing, discussions and the title process, Greg constantly informed me of any new developments, the progress status and promptly answered any questions. I never wondered what was transpiring or questioned the fact Greg was keeping our best interests in mind. He always worked above and beyond. My mother and I were impressed by Greg's friendly and courteous nature, as well as his knowledge and professionalism. It was a pleasure working with him and we would not hesitate to recommend Greg and Whitetail Properties for any future land transactions. My mother did have one regret; she wished she had more land to sell. Satisfied sellers,

This was a long distance sale. Greg was very proactive and knowledgeable throughout the transaction and kept me informed as to every step. It was a pleasure working with him.

Greg did a great job asking questions, identifying needs and helping me plan my land purchase.

Greg was awesome! Extremely knowledgeable and helpful agent, something that is hard to find nowadays in the RE industry! Would definitely call Greg again for future purchases!

Selling estate property is hard. Not having knowledge in regards to what the property could offer - made it an even harder task. Greg was very professional and HUMAN at the same time. Once the property was his to sell - my worries were done. His communication was AWESOME. He took care of everything from start to finish and his knowledge and willingness to communicate to interested buyers made the sale happen in a timely fashion. I have recommended Greg to several people already and he will be my only contact for the next piece of property I am interested in selling. Hats off to Greg for a job well done. I truly appreciate your help in selling this property to help close out the estate that I am working on. THANK YOU!

Greg was excellent to work with again.

Greg did a great job. He was patient as I waited for my financial situation made my purchase possible. When I was ready to go he acted very quickly to help me get the property. Jason Ziegler also did a great job making this happen for me. They both represent Whitetail Properties very well and I would recommend them to anyone looking for property.

I wanted to reach out and let you know how great Greg has been to work with on the property I just purchased. My purchase was a little unique as the property was set to go to auction. Greg helped me navigate this and I was successful in bypassing this process all together. His knowledge of conservation programs and habitat really made the transaction easy. Let me know if I can be of any assistance with anyone contemplating using Greg or Whitetail Properties. Sincerely,

Greg was very knowledgeable about the land we had for sale. He did all the leg work to help sell property. Greg walked the property several times to check out the lay out of land, deer and turkey signs so he could accurately describe to property to potential buyers. Very easy and good to work with Greg. Would highly recommend him to anyone selling hunting/recreational property or any type of land.

It went as good as one would expect. Agent was knowledgeable, friendly, easy to contact, and responded quick to questions and concerns. Very pleasant experience.

Greg was great, facilitated a long range sale/closing with no issues. Even though I have never met him, I feel like I have a friend!


Greg did an outstanding job! Made the process very easy. Thanks


Greg was a great agent and was very diligent in making sure everything was completed on time by all involved.

I was so impressed with the team at Whitetail Properties. I was originally referred to Greg who was extremely helpful in matters outside of the actual sale of the parcel. He connected me with Joe who listed the property, set up camera traps and marketed the property. It sold almost immediately. Joe was extremely responsive and didn't miss a beat! I'm so glad we opted to list with Whitetail Properties. We sold the property for almost $10K more than the original local realtor. Great work!

I guess I feel that selling land is emotional and can be stressful. We only feel excited and relieved to have sold our hunting land as we move into the later chapter of our lives and we can travel and move forward. I was shocked and relieved at how wonderful of an experience it was. Thank you Greg!!!!

Greg was someone with hunting and whitetail knowledge who walked property and wrote an exemplary listing with hunter in mind.

Greg taught me a lot about the unique conservation plan this property was emrolled in which allowed me the confidence to know what I was buying. Great experience with Greg and would seek him and Whitetail Properties out again on future acquisitions.

Greg answered the many questions I had and did so in a timely fashion. I had a great experience and plan on using Whitetail Properties in the future. Couldn't ask for a nicer guy to work with.

Greg Graczyk did a great job for us. He did a very good job finding us land to suit our needs and getting the best deal for us and the seller. Thanks Again,

Greg kept us well informed. He has a very good sense of the property, gave us great advise, and is pleasant to work with.

Greg was great, always in touch and helpful.

Greg sold the CREP adjacent to my property is how I met Greg. The neighbor said this is the crew to go with, with a few examples of other sales he was aware of. After meeting Greg, I knew this was the guy we needed to get the job done.

Greg did a great job during the whole process of purchasing the land and I will highly recommend him to others selling or buying property.

Good experience. Very thorough and responsive.

Easy to work with, knew his market. Highly recommend him.

Greg was excellent! As a first time recreation land purchaser, he helped me through the process, helped educate me on values and land programs.

Greg has high urgency and a strong attention to detail. This made for an expedient close.

Greg did a great job of explaining the property and connecting us with the land owners.

Very professional, knowledgeable, and did not drag his feet on getting things done or getting the information I requested.

Excellent in all aspects.

Greg was very professional, polite, yet personal. Very positive experience. Highly recommended.

Lots of realty companies but we thought with our unique challenges in our sale and location, we would be best suited to go with Whitetail Properties to get the job done. All was very very good. Greg did a very thorough job in helping us with our sale!

It was great. Greg knew his stuff. He knew the boundaries and all the stand locations. Excellent!!

It has been a year now since the sale of our property with the help of Greg Graczyk. We appreciate how Greg included both Dan & myself in each step of the listing and the sale. He showed us the pictures online of the deer signs on our property, reviewed the paperwork, and any changes or corrections needed.

I thought we wouldn't see many deer after the sale of the acreage in the deal. But, the deer still came up around the building site that we kept, to my delight and most recently, we had a bear visit our bird feeders near our dwelling, and bend one of the shepards hooks to the ground from it's base and ate the seeds. The other hook was left along but the feeder was knocked down, strewing seeds over our deck and wrecking the plastic feeder. The feeder cylinder was gone, but found about 50 feet away with a large bite hole in it! So, needless to say, the land near us has a lot of wildlife.

Greg was wonderful to work with. He was able to get my siblings to understand how it should be listed so we could get it sold in a timely manner. Greg is a great person to work with.

I've been a real estate broker for 35 years and Greg is by far the best agent I've worked with. He found a road the State had put into our woods to actually be on the neighbors land. This was corrected but could have caused lots of problems when we would've closed. He kept me updated and informed all through the listing time.

Greg's knowledge and communication and willingness to work with me as a broker is why I listed with Whitetail Properties Real Estate.

Greg worked very hard to get buyer and seller what we needed. We had 30+ conversations to get this deal done. The very best i've dealt with. Greg got back to me promptly, even on the weekends.

Things went very good, I was informed on every step of the sale by Greg. Greg was a big help!

Approximately three years ago I was faced with the task of dealing with the family farm in Western Minnesota. My grandfather had bought the land after homesteading in Montana. There was a close call during the depression when a life insurance policy was the only thing that saved the land.




My dad grew up on the land as well as myself, spending my days fishing with my dog on the Yellowbank River and hunting squirrels and ducks as I became a teenager. It was where my dad rode a horse and brought calves back on his saddle while the cows trailed behind. My dad loved the land but did move into Ortonville so my mom could be in better position to well real estate. She had carried too many washtubs of silage.




It was my dad's refuge and mine when I returned from college and began to work. Hunting with my dad and spending time showing him the pictures I was now taking of the river and displaying them was a treat to him and myself.




When he decided to enroll the farm into the CRP, it was a good move and the wildlife became very evident as we planted and clipped and burned. The native prairie flowers on the unbroken prairie became very important to myself. I timed my trips to the farm to photograph the purple cone flowers and they now are displayed at our clinic.




After dad passed I took over the CRP and worked with another farmer to keep it current. I did my best and some years it was a stretch when corn was 12 dollars a bushel. And I enrolled the land again.




The time came after mom passed that I knew I would have to sell to satisfy my sister and be realistic about my lifestyle in media.




I had gotten a Whitetail Properties card in the mail and that is when I met Greg. I knew this was going to be tough mentally and physically dealing with selling of the farm considering the family dynamics.




Then my sister passed, which opened a whole new family dynamic with family who had no ties to the land. During this time Greg worked hard in listing, researching and flying a drone over the land. He knew what the land meant to me and was very aware of the bond I had with the land and the desire to sell the property to someone who would treat the land like our family did and valued the natural beauty.




I was put together with the one person who could deal with all the pitfalls of driveways, and every possible legal issue to settle my sister's estate, buy out my brother-in-law, work with the bank and the attorney. Greg handled it great. Never once did I second guess him or his advice. When the Graham brothers came along, we both knew we had found the new owners who would take care of the land.

I have made a friend with Greg, gotten to see his daughters in action on Facebook and see how she shot a buck this year.




Now I know I was long with this but Greg, if you ever need someone to speak on your behalf pertaining to your honesty and ability, I would be willing to be that person.

Just wanted to let you guys know that I worked with Greg recently on a land purchase and it was a really great experience. Greg was informative every step of the way. He treated me with respect and humility which I think is really important for me being in the automotive service industry. I never felt pressured into anything, nor did I feel like I settled for a price that I did not feel comfortable with. His communication with both the seller and the seller's agent was very clear and fast! I would use Greg in the future had I not just purchased my dream spot! I will recommend him to everybody though.

It was a good experience for all of the loops that buying from multiple people can throw at you.



Contact Agent
Contact Agent
Contact Agent
Contact Agent