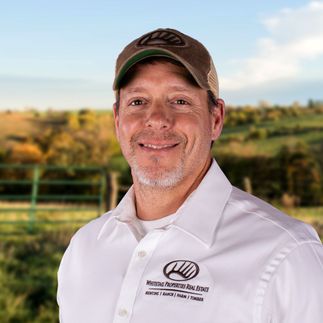 Greg Meade
Sales Associate, Land Specialist / Licensed in KY
Greg Meade Land Specialist Team
Testimonial Quotes
Greg Meade:

What My Clients Are Saying
"Efficient. Very easy to talk with. Was very pleased with him."

"Wow! Greg Meade is a super find. Don't know where to start!! Greg is so patient and great with his attitude. He has guided me in so many ways. Excellent balance between the buyer and the seller, and he knows what I'm looking for in a property. Excellent descriptions and pictures. Greg stays very very busy, but will guide with advice and is an exceptional listener. He is a great therapist in dealing with me. Lord knows, there are occasions I need one. He's very patient and indulges my excitement. Very knowledgeable with land management for wildlife. Advises pros and cons as if he would be the a client. I trust him dearly and consider him more of a trusted friend than an agent. He has guided me with contacts for property development. Greg is an above and beyond kind of guy. I constantly apologize for the time I spend in my communication with him. Greg really loves the wide open spaces and it shows. Awesome people person. Greg is a great find for your organization!"

"My experience was perfect. This was the second time buying from Mr. Greg and he did amazing as usual. He worked with us from start to finish."

Excellent, timely, professional service, great advice; was able to get me 30% more than I thought I would get on the sale! Greg was my agent in purchasing the property 5 years ago, and has given me great advice in the past 5 years on property improvement and deer management techniques.

Pleasant, very helpful and knowledgeable.

I have used him before and it always has been good.

Agent was a pleasure to work with and I have no negative issues at all. Greg is knowledgeable and attentive and I would chose him again!

Diligent, kept in touch, and was extremely nice.

Very friendly. Walked the property with me and showed me property boundaries and answered any issues I had with the property and transaction.

Greg was extremely knowledgeable and was a pleasure to work with. His listing and description of the property was spot on. He clearly knows a lot about wildlife and hunting properties. I would refer Greg to anyone looking for a hunting or recreational property.

Greg was professional, knowledgeable, and showed us 3 properties before we found the right one. He went the extra mile, literally walking each of the properties with us.

Greg Meade started off as our agent and became a friend. He is professional, dedicated and extremely knowledgeable. He is an asset to Whitetail Properties. He also referred us to another Ohio Whitetail Properties agent and we are scheduled to close on an Ohio property.

EXCELLENT experience from start to finish!

Greg went over and beyond expectations. He responded quickly to questions and provided solutions to all issues. Simply amazing! Deflected stress and tension, handling the situations VERY calm and professional!!

Greg has a great attitude, connects well with people, is honest and helped me every step of the way. Very accommodating and responsive. I never had to wait long for him to get back to me. I will be happy to do business with him again.

Greg Meade did a great job selling this property. He went the extra mile to make this happen for both parties. He did a great job keeping me informed throughout the process. I would highly recommend his work.

We wanted to sell our property quickly and Greg did just that! We listed in September or October, and we had the closing in April, that's fast because he worked hard to get it sold!

Greg is a quality guy. He was upfront and honest. He went far above and beyond to help me secure my property.

Our agent spent an entire Sunday with us looking at properties in the rain. He never rushed and made us feel like we had all the time in the world that day. He responded promptly to our many many emails. He was calm when we vented about the process and the sellers realtor being frustrating. All above and beyond his actual duties in realty. Could not have asked for a better more understanding or more knowledgeable person to help us thru the process. Many thanks to Greg Meade. Will definitely recommend him and Whitetail Properties to others.

Even though the property was not a large amount of money Greg Meade took all the time we needed to show us around, share his knowledge of the area as well as his experience with this property as well as surrounding properties. He answered all of our questions and if there was anything he was unsure about he got the answer and got back to us right away. He walked the entire property with us, asked what we were looking for and we loved this property. He was an awesome agent and will definitely do business with him in the future as we hope to buy more land joining ours if some properties come available.

Excellent personality and very knowledgeable. Does a great job to represent your company. Have already recommended him to other people and I usually will not do that.

Greg was really nice and the closing date went as planned.

Greg was quick to answer and return our calls or texts, did his best to answer all of our questions, and was more than willing to adjust his schedule in order to show us properties. Thanks again Greg! Thanks for all of your help and we wish you all the best! Best Regards,

Greg bent over backward to work with me and my colleague to visit several pieces of property, and identified the best aspects of the one we eventually purchased. He was tenacious in tracking down needed information from the seller's agent, and continues to help as we groom the property for use.

Greg was super, helped at every turn in our buying process!

Greg was very professional and passionate about his duties as a real estate agent.

Greg was amazing! From the first conversation we had on the phone, to the arrangements he made for us to see the properties we had picked out, to keeping me from losing my mind over all the myriad details and delays that come with any real estate transaction, he was simply amazing! In addition to being extremely knowledgeable about the area, he was very helpful throughout the entire transaction. I would highly recommend Greg to anyone looking to buy our sell property in the Eastern Kentucky region! He's absolutely terrific!

It all went pretty well, went to plan of what they said would happen. Greg seemed like he knew what was going on with the place and area. Also came off like a good genuine person, which helped me like it more.

I am extremely pleased with the manor in which my agent handled the sale of my property. I could not have asked for any better service or guidance than I received. I would highly recommend Mr.Greg Meade, very professional, personable, knowledgeable and timely.

Greg was very helpful and patient in a sales process that got complicated by the death of my mom, co-owner of the property. The closing wound up being delayed by almost 6 months as I had to go to probate court to finalize the deal. Greg did a terrific job in keeping the buyer interested and dealing with the closing attorney on my behalf.

Greg was very considerate of every thing he did for us. Such a gentleman!!

We are out of state buyers, Greg was great to work with...he made a long distance deal easy. We really appreciate all he did for us!

Agent took the time out of his busy weekend to show us the property even in the pouring down rain. He was every knowledgeable and friendly. Will recommend him to people we know when they are looking for property in his area.

Greg Meade represents Whitetail Properties very well. He was always very professional. He answered all my questions and was always very polite and courteous. I feel he is a true asset to your company. I would not hesitate to recommend him to anyone I know that would be interested in property in his area.

This was a difficult transaction. Greg was solid as a rock in his commitment and professionalism. His positive attitude and proactive nature persevered and we got the deal done to everyone's satisfaction. We will call Greg again if the opportunity arises!

Greg was a pleasure to work with. His willingness to resolve and untangle issues that could have jeopardized the sale made the difference between success and failure. I strongly recommend him! He is a true professional in his field and has great communication and customer service skills.

Overall a pleasant experience.

Greg made us feel at ease throughout the whole process with his knowledge, and professionalism. We formed an instant bond with Greg. He has a great personality, and sense of humor! We were an out of state purchase, but Greg made everything easy. He answered every question promptly and accurately, and went above and beyond with additional information in order to make things as easy as possible for us. I would highly recommend Greg to any of my friends or family.

My agent was Greg Meade and he was outstanding. I would recommend this gentlemen everyday and twice on Sundays. In addition, the title company he used was also great. I have never had a more rewarding and positive experience.

On a scale of 1-10 Greg was an 11. He explained the process perfectly, met us at the property, gave us as best as he could ride around on this very rugged and remote property. After our walk thru he answered every question concerning Covenants, mineral, gas, and surface rights. He was very professional as well as friendly.

I enjoyed working with Greg. He is very knowledgeable and is a pleasure to work with.

Excellent! Greg sold the property in a very quick time.

Greg was easy to work with and found what we were looking for on the first visit to the area. He was professional and returned our calls in a timely manner. We would recommend him to anyone looking for property in our area.

Excellent! Very professional and knowledgeable.

Greg provided excellent communication and ethical trusted expertise! Highly recommend!

As a result in our relationship there was no other individual or company that I would've considered to list my property other than Greg Meade and Whitetail Properties. I originally purchased this property through Greg. He is first class individual who is truthful and honest. He listen to me and directed me away from a couple properties that he had listed because he did not feel it would be five days. Then when he came across the perfect property, he walked me through the process of securing our property.

Great experience. Greg did a great job communicating with me and my wife. Had and found property that would suit us.

Greg Meade treated me like family. No matter what time of the day I called or texted him with questions, he responded quickly and friendly.

Very easy, it was nice that Greg had several listings to show us and is local to the area to answer all our questions.

Cory and Greg were more than willing to show off the property, get any details, and assist in putting the deal together. Made it very easy to do.

We have a great experience working with Greg and Cory in our effort to find apiece of land. They are very professional, kind, patient and knowledgeable. Will definitely work with them again.

Very good! Best oppportunity to sell larger tracts of property.

I will certainly recommend you to anyone I know who is in search of that right piece of property. You have been very patient with a couple of novices throughout this entire process, and that is much appreciated. The search was almost a year and a half, but has been well worth the endeavor. I am building a road to the clearing, and clearing for a future building site overlooking the creek. The property is almost spiritual, the quite peaceful breeze blowing through the tops of the tall oaks, its perfect for accomplishing my goal as a sanctuary for my family. Thank you again Greg, look forward to our continued friendship. Sincerely,

Greg did an awesome job. We would and have recommended him for any real estate need.

Wonderful no problems throughout process.

Overall very good. He was able to provide lots of info and walk me through the process. He made it easy and spent plenty of time showing me the property.

He was professional, knowledgeable on the property.


Greg Meade is the most professional land agent I have dealt with! It's the easiest company I have dealt with. They have a lot of good contacts.


Greg is awesome! I had let Greg know exactly what we were looking for in a property and when the perfect piece of land became available, he called me.

He was awesome and helped with everything!

Outstanding! Great buying experience. Knew the selling process would be just as great.

Truly enjoyed working with Greg, his knowledge, contacts, flexibility and sense of humor made it an enjoyable experience!!

Guys were great. Professional, thorough, patient and thoughtful. Highly recommend them both.

Excellent! I am glad I used your services. The way the agent, Mr. Meade, responded to my questions, his expertise, his customer courtesy and friendliness.




It was awesome, very hands on.

Very easy to work with. Quick to initial inquiry and maintained communication through texts and emails.

Greg has been fantastic through the whole process. He listened to what we are looking forward and found the perfect property for us. Greg's team was very helping as well in the process. Thank you for a great experience!!

Greg is absolutely great. He is friendly, personable and easy to communicate with. This was a difficult process for someone who has never done this before but he made the process smooth and he was very helpful.

Excellent, Greg Meade was fantastic. Very professional with a personal touch.

We bought from out of state, so communication was of the utmost importance. Greg was super responsive end to end, not just with the purchase but continuing to help us with ancillary information on local services.

"Greg was professional, friendly, and understanding of my needs in selling the land. And he was knowledgeable of the area."
Contact Agent
Contact Agent
Contact Agent
Contact Agent