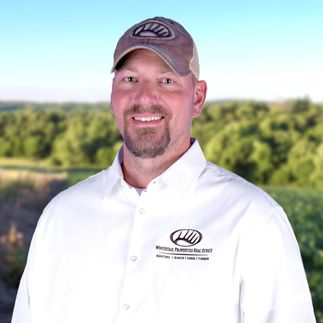 Harlan "Hersh" Smith
Salesperson, Land Specialist / Licensed in IA
Testimonial Quotes
Harlan "Hersh" Smith:

What My Clients Are Saying
"Hersh was always quick to inform me of new properties that hit the market that fit my criteria. I'm very grateful with the help and time that was put into selling my farm and purchasing a new one in the timeframe needed! If I ever had questions, I could count on fast answers through texts or phone calls. The last year it has been a pleasure working with Whitetail Properties, and I will not hesitate to reach out to Hersh with any future endeavors! Thanks for everything!"

Hersch met me to show countless properties over and over and was patient as I repeatedly contemplated only to decide it wasn't for me. He got word of a piece of land coming up for sale in a couple months so we contacted the owner privately and Hersch helped navigate the sale of an off market 2-parcel property. That's where most relationships end in a real estate deal, but not with Hersch. He has helped maintain my property when time and resources have gotten away from me. I couldn't recommend Hersch and Whitetail Properties Land Specialists enough!

They were easy to work with and always got back to us in a timely manner.

Hersch was very thorough and did everything he said he would. Very enjoyable to work with.

Hersch went above and beyond to meet with me on weekends due to being from out of state. I have worked with other real estate agents and none of then compare to the level of effort and communication that Hersch provided me thru the entire process. I would definitely recommend him to anyone looking for land in Southern Iowa!

What is there not to say about Hersh he is the hardest and most reliable agent I have ever worked with, always getting back to me in a speedy time no matter what I asked for or how silly the question. When it comes to recommending others to help your process move forward, I believe he only deals with hard working people and that's exactly what he is, he loves his job, and it shows! Besides me making a new friend I can assure you he will do all that he can to find your dream farm.

Hersh was top notch all the way through from the first time we talked. Very easy to work with.




Hersh is an all around great person. I would highly recommend him to anyone looking for land. Can't wait to work with him again!

My search for a great whitetail farm took several months. It was a difficult time to find the perfect property at a reasonable price. After searching on my own for several months I was introduced to Hersh. What a great guy and extremely knowledgeable about BIG whitetails! After walking several properties with me he found the perfect farm that checked all of the boxes for my family and I. Hersh is a great guy, an excellent representative for Whitetail Properties and now a good friend of mine. Thank you buddy!

"I am thankful for Whitetail Properties for getting full price for my 40 acres in Wapello County. Ben Harshyne and Rich Baugh made an excellent drone video to advertise my place. Hersh Smith's word was always good. He was prompt and did many little things for me. When my first offer was withdrawn he talked me down when I was disappointed. And he made many trips to show to show the property. I was very satisfied and traded my 40 acres for my dream home in Indianola. Thank you!"

Hersh was absolutely the best and was willing to drop everything to accommodate me. Seriously the best land purchase experience I've ever had.

Could not have asked for a better person to deal with. Five minutes after meeting Hersh it seemed like I'd known him for years. Overall a great experience purchasing this property

Harlan "Hersh" Smith was exceptional in helping me with the purchase of this property; from first suggesting the property, after looking at another place, right through the closing. He understood what I was looking for and responded quickly to all my questions throughout the process. He represented Whitetail Properties very positively.
Contact Agent
Contact Agent
Contact Agent
Contact Agent