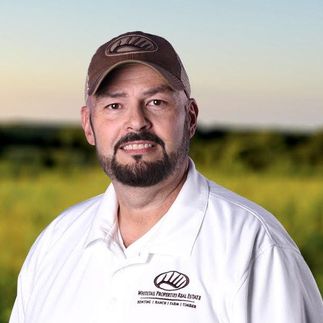 Jack Brown
Broker, Land Specialist, PA Team Leader / Licensed in PA, Reciprocal Salesperson, Land Specialist / Licensed in MD
Testimonial Quotes
Jack Brown:

What My Clients Are Saying
Jack was a pleasure to work with. He answered all questions and provided info in a quick and timely manner. I give Jack and Whitetail properties my highest regard.

Jack Brown is absolutely a first rate professional and knows his stuff! He clearly explained every aspect & step of the process, and communicated promptly updated details along the way. He was awesome to work with!

We are writing in praise of Jack Brown and our experience with him and Whitetail Properties, in our recent property sale. Jack was great to work with - thorough, professional, friendly, and accommodating. We listed our property in November, and were happy to have an offer within days of listing. We had a glitch on our end in the proceedings, which held up the closing, but Jack saw us through to a happy conclusion!




We would be happy to recommend Jack to anyone interested in selling their property. They couldn't go wrong with him as their agent.

Jack Brown was hard working and all business.

I very much enjoyed working with Jack. He is professional and a genuinely good person. I would have no problem recommending him to others.

Jack Brown was excellent! The best agent I have ever worked with. Great asset to Whitetail Properties. Will recommend him whenever I can.

Jack was very nice to work with. This was our first time buying land only, and he was helpful with the process and pointing us to other resources to help us to make our decision.

We would like to thank Jack Brown and Clint Stout for their outstanding efforts in helping us find the property we love.

Very positive from the initial contact to closing. Jack did an excellent job in preparing the advertising, pricing the property and negotiating with the buyer.

Jack was great! He answered all my questions in detail and got back to me quickly with all the information I needed.

It was a pleasure working with Jack.

Jack Brown was an amazing real estate person, always returned calls quickly, and answered all my questions. Even during lock down with covid he would keep his eyes on our property and go and put up no tresspassing signs that were torn down and put up new locks. As we are 1000 miles away and could not do it ourselves.

I was very pleased with the experience I had working with Jack. His hard work and knowledge of the properties he lists produced multiple offers. My property sold in less than a week on the market. Jack kept me informed, answered all my questions, and made the whole process easy.

Jack was great to work with. Very knowledgeable and an overall outstanding experience.

Very good, no issues. Large network not just local coverage.

From presentation to close Jack Brown was and kept everything professional. He took us for a tour and described along the way everything anyone would want to know about the land they are purchasing. Jack spent after hours with us through texting, email and telephone calls to make sure all of our fears of purchasing this land was resolved. Jack was a great guide and realtor to deal with and would highly recommend his services to anyone. Feel free to have Future buyers of land contact me personally. If I had more money, I would buy more land from Whitetail Properties.

We had a great experience working with Jack. He was very knowledgeable and helpful with all aspects of the entire process from start to finish. Jack always kept us up to date with what was going on during the process and was always available by phone, text or email to answer all the questions we had. Jack was very knowledgeable and I knew by speaking to him on the phone he was the person I wanted to sell my property.

We deeply appreciated Jack Brown and all his work and time he spent to sell our property. He always promptly responded to all questions and communicated regularly keeping us informed about how things were progressing. I would highly recommend Jack Brown.
I received a brochure in the mail on Friday and emailed Jack Brown. Even though I had a smaller acreage than what he normally deals with Jack was very interested in helping me sell the property.. Before the weekend was over Jack had visited, walked the property and sent me his assessment. I was very impressed with Jack and his quick professional work. I would highly recommend Jack Brown to anyone thinking of selling or buying land.


Awesome! Jack priced the home correctly and had the right buyers.

Jack was Excellent to deal with 10 Stars ⭐️

Our sale was a painless process due to the attention you showed us. I was thinking of selling the property and saw an advertisement for Whitetail Properties and placed a call. Jack Brown called me immediately and we began our discussions concerning the property that I wished to sell. The land had been in our family for over 75 year. I assembled the information and Jack took action. He was always responsive to any questions or problems that occurred during the negotiations leading up to the sale and was always available to answer questions. He made the sale easy for us by coming to our home with papers to be signed and providing information on all aspects of the sale. Jack negotiated the price to our satisfaction.




I gave your name and number to the forester I have used for 40 years, and would highly recommend Whitehall Properties and you.

Jack goes out of his way to answer any question, provides surveys, property information, anything you ask for within his means. He is very easy to get hold of, stays in constant contact thru the process and is willing to meet with you and escort you throughout the property. He is personable and very knowledgeable about timber the environment. Good man to be selling and representing your properties.

Robert McAnallen, McAnallen Family I

Absolutely wonderful! I had no hope of finding a buyer. Jack found one!

I would like to provide a testimonial on the services of Whitetail Properties and specifically Jack Brown their local realtor for southwestern PA. We were trying to sell a property that we had purchased 24 years ago. Local realtors that we contacted told us the property had very little value and we would have to sell it at a loss. About that time we received a postcard from Whitetail Properties listing Jack Brown as the local contact saying if we wanted to buy or sale land that they could help. I contacted Jack Brown he was positive and upbeat and said he would do an evaluation of the property and provide it to us for our consideration. Within 4 days we had a professional package showing local price comparisons, soil types, zoning, etc. The package indicated that the property could sell for 4 times what anyone else had valued it at. Because of the professional effort and value indicated by the package we decide to give Whitetail Properties a try. My wife and I signed the documents on a Monday and Jack Brown was at the property that afternoon to walk the area and take pictures. Within two days we got a copy of the proposed online description to review. Jack Brown was very accepting and responsive to our comments and suggested changes. On Friday of that week the property went live. Jack showed it to a couple that afternoon and the next day we had an offer for the full asking price and closed within a month. Overall our experience was excellent. Jack Brown was very professional, responsive and reliable. I am extremely glad we used Whitetail Properties.

Professional throughout the entire process.

Thank you for having people on your staff like Jack! He was always honest and upfront with us. The property was vacant and he put in extra time and work to make sure the property was ready.

All the way around, Jack is a great agent! It was a wonderful experience having him as our agent!

Jack Brown made the whole land buying process extremely easy and streamlined. His knowledge of the land and professionalism was unmatched. We would highly recommend Jack Brown and plan to use his services in the future should we look to purchase more land.

Could not have been better, Jack was upfront and honest with us from the beginning.




Our agent was Jack Brown. He was very professional and personable. Jack kept us up to date in all phases of the selling of our property. Jack's analysis and presentation of our property was fantastic. We can't say enough good about our experience working with Jack Brown.

I wanted to be sure to express my gratitude to Jack Brown for the many hours that he spent with me in an effort to subdivide and sell a 137 acre farm. It took two harrowing years to complete, but we achieved it. If not for Jack and his encouragement, I would probably have given up. There were many obstacles places before us; however, Jack and my Christian faith provided us with the confidence to successfully confront them. Without Jack's guidance I doubt that this would have been possible. Ultimately with Jack's guidance, we were able to achieve a goal that I had set for myself since I was the main one handling the sale. I wanted an individual family to purchase our share of the farm who would care for it and love it. This is exactly what happened.

The Secrest Family & Donna L

Very positive and professional. Jack did a great job listing the property and keeping us informed.




Jack was knowledgeable and kept me in the loop about showings and feedback.
Contact Agent
Contact Agent
Contact Agent
Contact Agent