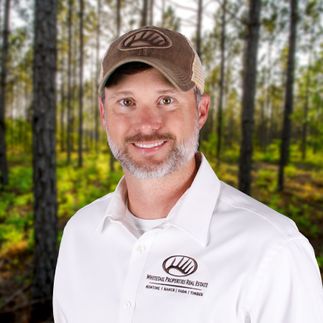 Jason McGee
Sales Agent, Land Specialist / Licensed in GA, AL
Testimonial Quotes
Jason McGee:

What My Clients Are Saying
"Jason McGee was the ultimate professional. He went above and beyond to make the sale work. He was patient and kind when things went sideways. He kept in contact with me every step of the way. I will be recommending him to others and will be using him again in the future."

"Outstanding work from both Cal and Jason in selling my property. Both land Specialists were knowledgeable presenting the property and had a solid grasp on type of buyer required to successfully move my property. Their expertise in in land and the area in which they worked assisted me greatly with presentation, pricing, and showing of my property. Enjoyed greatly the overall experience!"

They were knowledgable, professional, and attentive to my concerns through the entire process."

Jason was professional, knowledgeable, and always responded quickly. We were very pleased with everything he did to help us in the sale of our property.

As a forester, Jason's experience and understanding of how to value land and manage it was extremely valuable to me and my wife. Jason was able to sit down with us and explain the different components of our land that made it special, and he helped us put together a plan to accomplish our goals. He is well networked in the community and knows who to call to get things done. Whether you are buying or selling Jason can help you!

With Jason McGee's guidance our family successfully completed a complicated and difficult land sale. He is responsive, experienced, and always professional. His background and resourcefulness were invaluable when working with adjacent landowners to resolve difficult details. Jason had the answer for every situation that arose and he truly cares. I worked with him extensively through a long and complicated process and believe Jason to be the only person that could have completed our sale.
Contact Agent
Contact Agent
Contact Agent
Contact Agent